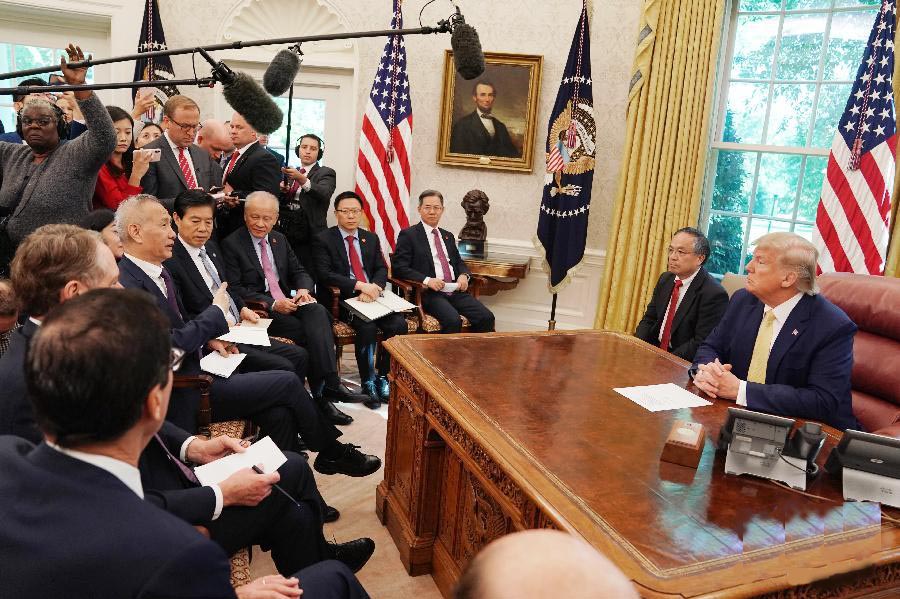 This is the second time the China-U.S. trade war has reached a truce. The current — and still waiting to be papered — agreement that Vice Premier Liu He reached with U.S. Trade Representative Robert Lighthizer is indeed a truce: China agrees to buy $40 to $50 billion worth of American agricultural products and makes a commitment to address issues including intellectual property rights, financial market access, the foreign exchange rate and technology transfers. In return, Washington suspends the imposition of previously scheduled additional tariffs on Chinese exports set for Oct. 15.
U.S. President Donald Trump called it phase one of the trade deal and said phase two will almost immediately follow. And he said possibly there might be a third phase as well. In light of the latest developments, the American strategy is starting to take shape more clearly. Essentially it is a phased approach to drive the Chinese side to address the trade imbalance and structural issues over time by incrementally relieving the tariff burden. This time it didn't reduce tariffs at all; it merely promises not to escalate. But I anticipate that in phase two some tariff reductions might be implemented in exchange for China's commitment to further address an additional set of structural issues.
My conjecture about the blueprint for future negotiations as we move forward is further buttressed by the fact that this time Beijing did not even insist on restoring all tariffs to the status they had before July last year, when the trade war started, which was precisely one of the three preconditions that Vice Premier Lu He emphasized when he was in Washington for the 11th round of trade talks back in May. Such a phased approach provides political cover for the thorniest problem so far, which pertains to the enforcement mechanism of the agreement, whose original language, according to various reports, was embarrassing and humiliating to China and bordered on an encroachment of its sovereignty.
What President Trump seeks is a very big deal encompassing many structural issues that are both complicated and in need of some time to address. These things cannot and will not be resolved overnight. Instead of taking a gigantic leap forward by working on a bloated mega-agreement with hundreds of pages of nitty-gritty legalese for the enforcement mechanism, it makes more sense to take several small steps along the way. Such a phased approach also nullifies the importance of the enforcement mechanism, since the tariff itself serves as both incentive and enforcement.
Against this background, what should we expect next? When and will we start to see phase two? How should China respond?
The answers, in my opinion, lie very much in how Beijing assesses three issues. First, what are Trump's reelection chances in 2020? With the election season just around the corner, is it imperative to deal with this administration anymore?
The two currently leading Democrat candidates, both Joe Biden and Elizabeth Warren are openly against tariffs. Biden once drew criticism from America's right-wing political groups by saying China is not a rival. And then there is the impeachment saga currently unfolding in Washington. Will Trump be impeached and removed from office, or will the impeachment process itself be politically damaging enough to ruin his re-election chances? If he is not going back to the White House in 2020, phase two and phase three, if they ever happen, may drag on for some time.
The second issue is whether the remaining structural issues are indeed negotiable from Beijing's perspective, as some of them are starting to touch upon core values in China's economic and political system. For example, China is not going to give up on the state-steering role for technology innovation. Nor will it privatize all of its state-owned enterprises.
Therefore China's proposal, in my opinion, will be a mixed bag of both yes and no. Some of the demands coming from the U.S. trade representative's office are not necessarily bad for China's further reform agenda, albeit certainly not made with goodwill. For example, we do need to get rid of some excessive state aid programs from both the central and local governments. Some of the other demands may be addressed partially. For example, although China is not going to give up entirely on its guidance of industrial policy, its implementation may not need to be on such a large scale. Another example is the issue of competitive neutrality with respect to SOEs, which is totally harmless to competition, in my opinion, and is something of which our central bank's president, Yi Gang, has already spoken positively.
Finally Beijing's willingness to continue the negotiations also hinges upon its assessment of the existing tariffs' impact on multinational companies' operations in China. Keep in mind that the remaining 25 percent tariffs are still there, representing a hefty burden, especially on the many businesses with razor-thin margins, amid the already broader trend of rising labor costs in China. So far, we have not seen a massive exodus of these companies moving out of China. But short-term statistics can be misleading, as decisions to move are irreversible once made, even though implementation will not be immediately visible. I suspect moving plans are already on the drawing board in some companies' board meetings. If Beijing is to stem that trend, it needs to move immediately and draw the remaining phases of negotiations to a close quickly to relieve foreign businesses of all the uncertainties they now face in China-U.S. relations. This needs to be done, and the sooner, the better.
From Trump's perspective, there is also incentive to accelerate the negotiation process. An interim deal is not going to be a big win for him with American voters going into the 2020 election season. An interim deal is also not going to muster enough political capital to fend off impeachment momentum in the Democrat-controlled House of Representatives. Moreover, indicators are starting to point to the risk of the U.S. economy sliding into recession, in which case maintaining the existing tariffs is certainly not going to be helpful.
Indeed there are signs that the Trump administration is softening its position. Before Vice Premier Liu He's trip to Washington, Trump was touting the idea of either a comprehensive big deal or no deal at all. During an interview on National Public Radio before the 13th round of talks, Trump's chief trade adviser Peter Navarro was boasting of Trump's "steely resolve," suggesting that he is not going to settle for anything less than a comprehensive big deal. Now we know what kind of deal it really is.
Both sides appear to have some incentive to call it quits soon. This trade war has dragged on for more than a year and wreaked havoc with both countries' economies and others around the world. Enough is enough. Let's jointly bury this nasty chapter in Sino-American relations and move on.