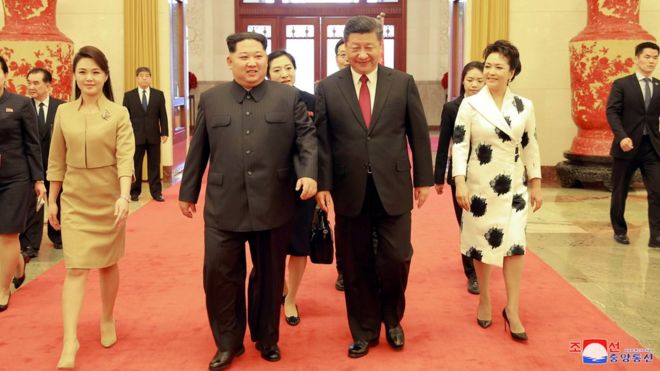 As Sino-American relations are heading towards a heightening of economic confrontation, the Korean peninsula has witnessed a rare amelioration of tension. North Korea's leader, Kim Jong-un, has made a series of charm offensives since early this year, including by sending a delegation in February to the Winter Olympics in Pyeongchang, South Korea, led by Kim's sister Kim Yo-jong and the DPRK's nominal head of state, Kim Yong-nam. Then, in early March, Pyongyang held talks with South Korean envoys, and reportedly initiated plans to meet with the ROK president Moon Jae-in and enter into direct negotiation with U.S. president Donald Trump. The Trump administration, having imposed "maximum pressure" on the North and insisted upon its permanent denuclearization, has accepted the offer. The Trump-Kim meeting is expected to happen in May.
Naturally, critics have cautioned against putting too much stock in Kim Jong-un's about-face. As they have argued, the secretive and mercurial leader of North Korea could be merely using these conciliatory gestures to relieve the damaging effects of economic sanctions, drive a wedge between Washington, Tokyo, and Seoul, and buy more time to develop and refine nuclear and missile initiatives. Regardless, with Washington, Seoul, and Pyongyang busily organizing and coordinating their respective summits, Beijing, which has always been deeply involved in the Korean peninsula crisis, has, according to some observers, been conspicuously "marginalized" or "side-lined" in the recent back-and-forth diplomatic deliberations. Recall China's proactive hosting of the Six-Party Talks in the 2000s and help forging the September 2005 agreement which committed Pyongyang to abandon its nuclear weapons program in return for security guarantees and economic and energy benefits. However, under President Xi Jinping, China's relations with the DPRK have strained due to Kim Jong-un's incessant pursuit of nuclear weapons and long-range ballistic missiles in defiance of Beijing's wishes. During the Kim Jong-il era (the father of Kim Jong-un who ruled North Korea from October 1997 until his death in December 2011) high-level official visits between China and the DPRK— including meetings between then Chinese president Hu Jintao and Kim— were much more intimate and frequent. While the Xi government has never entirely turned its back on North Korea, it has grown increasingly impatient and alarmed, since 2013, at Pyongyang's provocative tests. In light of these circumstances, Beijing has supported increasingly stringent United Nations sanctions that have reduced the North's exports of coal, seafood and other goods to China.
Thus, Kim Jong-un's latest outreach to the United States and the ROK can be interpreted as presenting both risks and opportunities for Beijing. Indeed, a more peaceful and stabilized Korean Peninsula with the prospect of total denuclearization is definitely conducive to China's national security interests. A war-torn North Korea would not only open the floodgates of a massive influx of refugees into northeast China but also lead to a unified Korea under the ROK, in addition to an American military presence on China's doorstep. Nonetheless, the Chinese leadership must be anxious that its influence and interests would be undermined if it is excluded from the latest round of negotiations, and that a closer U.S.-DPRK relationship would isolate Beijing just as Washington is pushing for a more hawkish Indo-Pacific strategic approach. Conducting diplomacy in a transactional style, President Trump has offered several times to shelve U.S. displeasure with China's trade practices and refrain from reconsidering support for the One China policy in return for a reduction of Beijing's support of Pyongyang. Nevertheless, the president's decision to sign the Taiwan Travel Act and begin waging a trade war against China have coincided with a potential U.S.-DPRK détente, generating the perception that Washington can handle North Korea without Beijing's participation.
In yet another surprise to observers of East Asian regional affairs, Kim Jong-un's unannounced visit to Beijing between March 25-27 could potentially reshuffle the volatile U.S.-China relationship. Rather than sidelining Beijing, Kim has reaffirmed the DPRK's longstanding ties with mainland China. The visit was his first international one since becoming the North's leader in 2011. Hence, visiting Xi before meeting with Moon and Trump underscores the political significance of China-DPRK ties. Moreover, Kim confirmed that he is "committed to denuclearization on the peninsula" and would be meeting with his American and South Korean counterparts to discuss this issue. Meanwhile, the "DPRK hopes to enhance strategic communication with China during the process, jointly safeguard the trend of consultation and dialogue as well as peace and stability on the peninsula."
As the Trump administration begins to populate its national security and diplomatic apparatuses with hardliners, Kim's decision to travel to China first might be grounded in a calculation that if the meeting with President Trump sours, the DPRK could continue to count on Beijing's reassurances and backup. For Washington, the Xi-Kim meeting may have two ramifications. First, the Trump government, if perceiving that Beijing would throw its weight behind Pyongyang and embolden the latter's position, may choose to escalate economic warfare irrespective of the two sides' current attempts to dampen the trade tension. Furthermore, Washington could continue to elevate its political relations with Taipei to serve as leverage. Second, and alternatively, the United States may appreciate that Beijing ultimately remains an indispensable and salient player in the effort to denuclearize the Korean Peninsula. Then, the Trump administration may act with more restraint on economic issues and recalibrate its policy toward the Taiwan Strait.
Even though Beijing has repeatedly asserted that it would be ready for a trade war with America and that the One China policy is nonnegotiable, it would prefer the second route. In the wake of Kim's visit, the Chinese government briefed the White House on the outcomes of the meeting. The communication included a personal message from President Xi to President Trump.
There are many uncertainties and moving parts, but one thing is certain: Kim's short trip to China has shaken up the strategic dynamics of East Asia.