Xi Jinping's upcoming summit with Barack Obama will be an important opportunity for the two leaders to set the agenda for U.S.-China relations going forward. At a time when tensions between the two countries seem to be growing, Xi and Obama will likely use this meeting to reassure each other of their mutual commitment to stable, constructive bilateral engagement and explore avenues to manage disagreements such as the South China Sea and cybersecurity.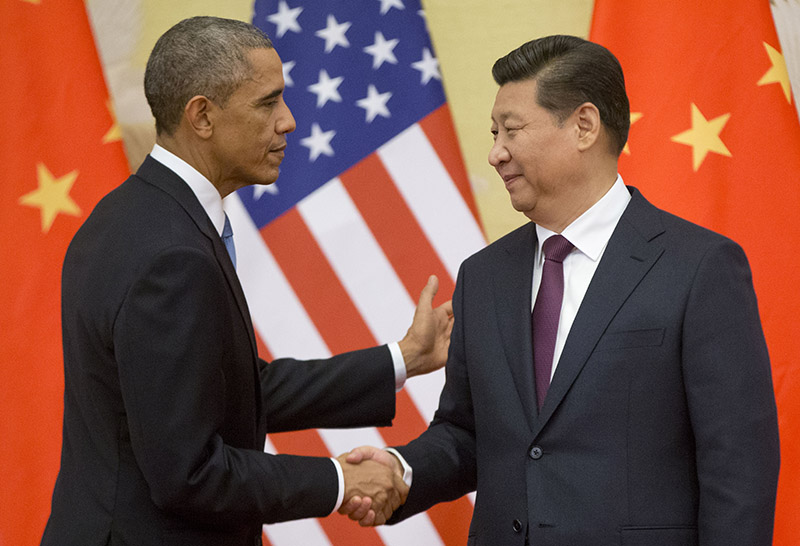 The two leaders will talk about many issues, as they did during previous discussions in Sunnylands, California, in June 2013 and in Beijing in November 2014. For instance, they will reaffirm the goal of building a new type of great power relations. There is disagreement on both sides about how to implement this agenda. China emphasizes mutual respect for core interests, while the United States does not see how a vague definition of core interests can produce constructive results. Now the main goal is for both China as a rising power and the United States as an established power to commit to avoiding major conflicts.
Xi and Obama also will likely exchange ideas about a variety of specific policy issues related to the bilateral relationship. This is a very complicated relationship, and many practical measures can be taken to work together more. Prominent issues like energy, climate change, counterterrorism, people-to-people exchanges, aviation, space cooperation, and cybersecurity all could be discussed during Xi's visit. Regional issues will be on the agenda as well. The two leaders will share their opinions about international challenges and may even coordinate their policy responses to such issues, including North Korea, Afghanistan, the South China Sea, and the P5+1 countries' nuclear agreement with Iran.
The timing of this visit is very significant, partly because of the U.S. presidential election cycle. Obama will be a lame-duck president, and next year his replacement will be elected. Historically, lame-duck U.S. presidents have shown that they can be very productive in promoting a cooperative bilateral relationship. In 1999, Bill Clinton helped facilitate a bilateral trade agreement with China, which paved the way for China to join the WTO. More recently, George W. Bush came to Beijing for the 2008 Summer Olympics, signaling a healthy bilateral relationship near the end of his second term.
Another reason that the September summit is significant is that the U.S.-China relationship has faced many recent challenges. It is not the first time. Ever since in the early 1970s, when Richard Nixon and Mao Zedong decided to reestablish bilateral diplomatic ties, the relationship has repeatedly faced serious challenges. The hardest one is how to deal with people on both sides who want the relationship to go in another direction.
At such moments, resolve from the leadership on both sides could be very crucial. It is extremely important that the top leaders reaffirm the overall direction of the bilateral relationship and reassure each other that both sides want to move it forward. This is an opportunity for the two leaders to make sure that competition and disputes do not in any way undermine long-term cooperation or the expectation of a healthy future relationship.
In recent years, there seem to have been more quarrels between the two sides on a variety of issues, including the South China Sea and cybersecurity. As Chinese scholar He Yafei put it, the bilateral relationship faces a "deficit of trust." Yet one important feature of the relationship is that, in the late 1970s, the United States and China established a principle of agreeing to disagree so that disputes don't sink the overall relationship.
Traditionally, people think the military-to-military relationship is the most difficult challenge, because military personnel focus on competition. Their duty is to prepare for worst-case scenarios—they don't design frameworks for peace, but for potential conflict. In recent years, disagreements have become more politicized, and that is the difficult part. Despite that, in the past few years, there have been sizable achievements in the military-to-military relationship. In November 2014, the Chinese and U.S. militaries agreed to two confidence-building measures.
The South China Sea is also a source of friction, because the two countries do not agree on how to define territorial waters or navigational rights. China is quite ambiguous about its nine-dashed line, which it uses to designate its maritime claims. For some time, the United States has insisted that China be more transparent. But maintaining ambiguity may actually help to stabilize the region. If China were to make a clear statement about its claims, it could trigger more disputes and conflicts.
Obama certainly will express U.S. concerns to Xi in September, but it is a positive sign that during the Shangri-La Dialogue in May 2015 both China and the United States seemed to tone down their rhetoric a little bit on the South China Sea. This reflects both sides' intention not to let this issue derail the overall bilateral relationship.
More broadly, there is uncertainty of intentions on both sides. China suspects that the United States may have a policy of containing China, while the United States has concerns that China wants to rewrite international rules and drive the United States out of the region. Both of these long-standing views are speculative. Leaders can learn from history how to overcome these suspicions and disagreements, and still move the bilateral relationship forward.
China and the United States do have disagreements, disputes, and even potential conflicts. The challenge is determining how to avoid politicizing the disagreements or exaggerating the degree of conflict, so as to make sure that the positive elements of cooperation remain the focus. What China and the United States choose to do may have worldwide implications, so both countries must be responsible for their actions, the consequences of their bilateral cooperation, and the consequences of their interactions with other countries in the region.