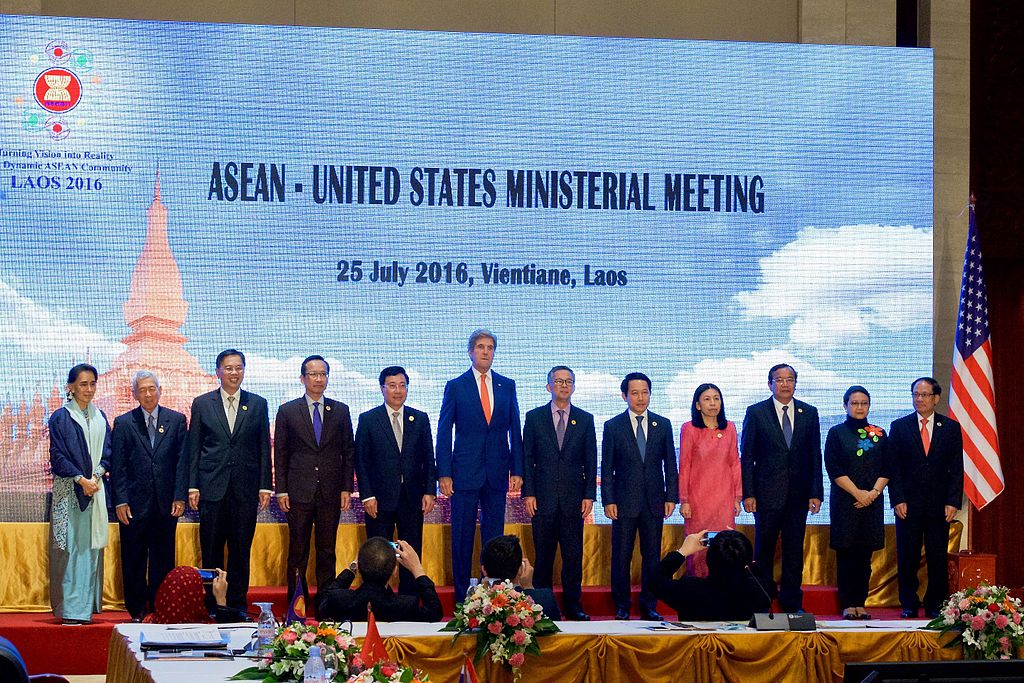 In July 2016, foreign ministers from ASEAN and China met in Vientiane, Laos, to discuss the full and effective implementation of the Declaration of Conduct (DOC) of Parties in the SCS.
The agreement for a single draft text as the basis for further negotiations for a Code of Conduct (COC) is a significant milestone in the long-running South China Sea saga. The SCS disputes continue to challenge China's ongoing efforts to demonstrate its peaceful rise and illustrate that it is a responsible major power rather than a revisionist power.
Failure to manage the disputes affects China's Maritime Silk Road (MSR) which passes by the decades-old flashpoint. Southeast Asia is also critical for China's neighborhood or peripheral diplomacy. China, as the largest claimant, therefore has a lot of incentive to work alongside ASEAN in pushing for the early conclusion of an effective and hopefully binding COC. Geopolitical and geo-economic developments are providing windows of opportunity for both sides, but these openings could be fleeting as the situation remains fluid. Hence, both sides, especially China, are stepping up.
Progress on Two Tracks
In the past two years, considerable efforts have been made in relation to dispute management in the SCS in both bilateral (between claimants) and regional (ASEAN-China) tracks. Aside from progress in setting up high level dialogue mechanisms, concrete steps have also been taken to manage incidents on-the-ground and foster confidence-building. Departing from its past behavior, China curiously displayed greater willingness to push forward with COC negotiations this time.
In July 2016, foreign ministers from ASEAN and China met in Vientiane, Laos, to discuss the full and effective implementation of the Declaration of Conduct (DOC) of Parties in the SCS. In September, both sides met again in the Laotian capital to discuss the application of a Code for Unplanned Encounters at Sea (CUES). In April 2017, guidelines for hotline communications among senior Ministry of Foreign Affairs officials of the eleven countries were adopted and test exercises conducted. In May 2017, senior officials from ASEAN and China met in Guiyang, China and approved a framework for the COC which, in turn, was endorsed by foreign ministers of both sides in a meeting in Manila in August. Early this August 2018, another breakthrough came when ASEAN and China concluded their first naval tabletop exercise with a field training exercise slated for October.
On the bilateral front, the second organizational meeting and inaugural meeting of the Joint Philippines-China Coast Guard Committee was held in Subic in February 2017. By May 2017, the first Philippines-China Bilateral Consultation Mechanism on SCS was held in Guiyang. This is notwithstanding the increased frequency of high level and working group level meetings between forward-leaning claimants Vietnam and Philippines, on one hand, and China, on the other. Vietnam was the first country President Xi paid a state visit to in November 2017 after consolidating power in the 19th Party Congress a month before. China's State Councilor and Foreign Minister Wang Yi also visited Vietnam before Xi's November visit. Wang Yi returned to Hanoi again on April 2018 where he met Party Secretary Nguyen Phu Trong, President Tran Dai Quang and Prime Minister Nguyen Xuan Phuc. Managing the maritime disputes was a prominent agenda in those meetings.
A gradualist approach in managing disputes in the SCS is emerging, building on earlier agreements manifested in joint communiques and post-meeting statements. Observance of CUES and establishment of hotline communications are low hanging fruits that are less politically sensitive, can be easily implemented and have practical and immediate value for dispute management. The slow, but nonetheless steady, progress resonates well with the incremental ASEAN way. This may raise possible concerns of the process playing into China's hands. However, this overlooks the nature of ASEAN's lengthy grinding consensus-based decision making and avoidance of divisive issues as greater factors behind the snails-pace progress. Hence, there is some cause for optimism that an improved political climate may create greater traction. Nonetheless, while concrete confidence-building measures are positive steps, the adoption of a framework and a single draft text is only the start of a long and winding process that may be both draining and frustrating.
Strike While the Iron is Hot
Improved relations between key claimants and the still-incipient U.S. strategy towards Asia are providing China the environment to step up and play a leading role in managing disputes in the SCS. The COC negotiations offer one potent avenue for this. Distancing himself from the confrontational stance taken by his predecessor, President Rodrigo Duterte downplayed the landmark 2016 arbitral award and pursued direct talks with Beijing. Despite interference in Vietnam's offshore hydrocarbon activities in its exclusive economic zone, Vietnam has maintained dialogue with China and keeps their maritime spat still largely within the bilateral framework. Meantime, President Donald Trump's Free and Open Indo-Pacific remains in its nascent stage and is saddled by America's imposition of tariffs not only on China, but also on key allies and partners in the region and beyond. Failure to sustain leadership of the Trans-Pacific Partnership which could have served as an economic complement to the U.S.' regional security alliance is a continuing predicament.
However, these variables can easily change. Electoral cycles may bring about foreign policy changes among ASEAN countries. Malaysian Prime Minister Mahathir Mohammad's decision to cancel and renegotiate some China-backed projects which form part of the Belt and Road Initiative is a case in point. President Duterte also said that he may bring up the matter of the 2016 arbitral ruling again before he steps down. In a rare display of criticism, Duterte said that China should temper its behavior in the contested sea. U.S. is also bolstering its commitment to the region, pledging $300 million worth of new security assistance and $113 million for technology, energy and infrastructure initiatives. While the economic amount is small compared to regional demand and China's BRI, it signals America's attempt to rollback, if not counter, Beijing's growing regional influence.
In sum, an agreement on a single draft for COC negotiations fits into a pattern of improving SCS dispute management in both the bilateral and multilateral tracks. There has been much traction in the past two years thanks to China's growing regional influence, more receptive political leadership in frontline states, and America's still fledgling regional strategy. That these foundations may easily change compels ASEAN and China, especially the latter, to act fast.