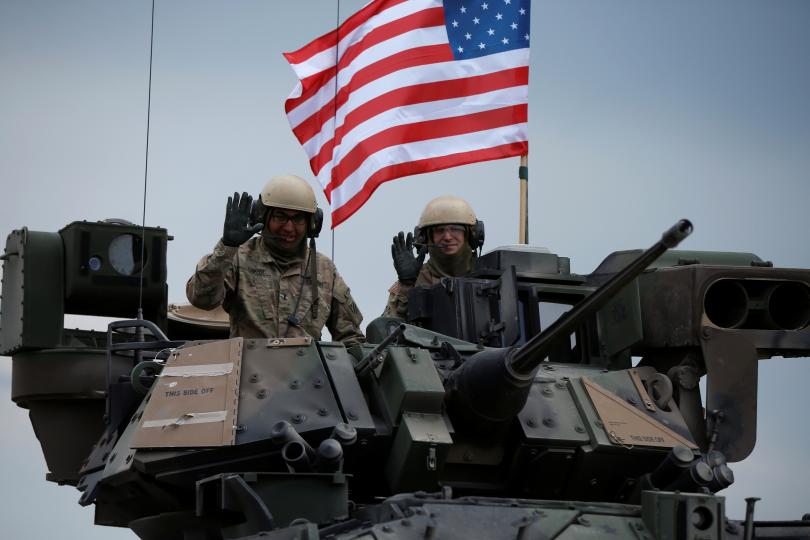 U.S. servicemen drive their armored vehicle during an opening ceremony of the U.S.-led joint military exercise "Noble Partner 2016" in Vaziani, Georgia, May 11, 2016. Photo: Reuters/David Mdzinarishvili
Military ties between China and the United States were discussed at both the summits between Chinese President Xi Jinping and US president Donald Trump in Mar-a-Lago in Florida in April and in Hamburg, Germany, in July, and also at the First China-US Diplomatic and Security Dialogue (D&SD) in Washington, DC, in June. It is a positive development,and a reflection of the right judgment by both sides of the current situation of the Sino-US relations. In order to prevent the two countries from falling into the so-called Thucydides Trap, the two countries are now working together to deepen their mutual strategic trust. Many international observers believe that the level of the military ties between the two countries is usually viewed as a very important parameter of the strategic trust. Therefore, it is worthwhile to improve military ties between China and the US.
New progress has been made in strengthening military ties between the two countries since Trump became the US president in January. US Secretary of Defense James Mattis joined his Chinese and US colleagues in the First China and US D&SD in June — a change from the Obama era when the Pentagon chief was absent from all the bilateral high level dialogues. Another step forward is the planned exchange of visits by the Chinese defense minister and the US defense secretary within the year. Though it remains to be seen whether the plan will materialize, it is better than the failure of Obama's defense secretary, Ashton Carter, to visit China by when he was encouraged to do so publicly. Still another is the planned first dialogue between the joint staff departments of the two armed forces in November. The exchange of visits of defense chiefs and the first dialogue between the joint staff departments require a lot of discussions and exchanges between the leaders of the two armed forces, which certainly help increase mutual understanding and strategic trust.
What to discuss between the military leaders remains the key. Traditional or conventional approach to dealing with the current extraordinary complicated military ties won't produce remarkable results. But astonishing progress could be made when the statement"the US has no intention to contain or weaken China"is translated into continued pragmatic actions.
Let's assume that statement was made in the US national interest and by observing and analyzing China's development of its military power. Then, there are two layers of issues: One is to understand why China's military power grows even under US blockade of transfer of military equipment and technology to China. Such blockade has been proved counterproductive or at least ineffective, and the question is whether the US could benefit from lifting such blockade. The other topic might be whether less-restricted expansion of military cooperation between the two countries could produce the result of 1+1 is larger than 2 for world peace and security.
How to make Chinese believe that the US is not containing or weakening China? Actions speak louder than words. At present, from the Chinese perspective, there are many obstacles or restrictions artificially imposed unilaterally on China by the US for the sake of impeding China's expansion of military power. These include US arms sales to China's territory Taiwan and covert or overt military and official ties between Washington and Taipei in the last 38 years; increased US intense reconnaissance of China at close range; repeated military provocations and infringements upon China's sovereignty in the South China Sea; blockade of transfer of military equipment and technology to China; and articles in a few US domestic laws forbidding military exchanges and cooperation between the two countries. All of this shows that the US is not truly treating China as a close partner or a friend. There might be complicated reasons behind these actions, but the US' obstinate pursuit of strategic advantage in the assumed competition or confrontation with China is the chief cause. China has declared that it is the priority of its foreign policy to realize win-win cooperation with the US based on no confrontation, no conflict and on mutual respect. It is urgent for the military leaders of both countries to discuss in detail how they could work together to achieve this goal.
It is interesting to note that expanding cooperation between the two armed forces is hindered by a misconception in the US that China's growth of military power equals a threat to the US or the US military. Almost every new naval vessel or warplane designed, manufactured in China and commissioned into the Chinese armed forces is described as a serious threat to the US military in some US research papers or media reports. Their erroneous logic is that China is to fight a war against and defeat the US when it has developed an overwhelming military force. Therefore, the US must increase its military budget by a big margin even when the federal budget is tight and their military equipment already is highly advanced and sophisticated. This notion comes from their misjudgment of China's strategic intention and will seriously harm the US interests in the long run.
China will not follow the US in such an assumed competition of military equipment, and this has been proved by its scaling down of the increased range of its defense budget. China sincerely wants to achieve win-win cooperation with the US, and this has been proved by the fact that China has never done anything to harm US national interests and welcomes the US to participate in bilateral and multilateral economic, scientific and financial programs, such as the "Belt and Road" construction, Asian Infrastructure Investment Bank, planned space station, and so on. The US will spend more to step up military competition, but would gain more to enhance cooperation with China. For example, Sino-US cooperation in space could be an opportunity: A peaceful outer space benefits all.
To conclude, it is high time to realize that the US Cold War mentality and zero-sum game logic are fundamentally impeding the expansion of cooperation between the two armed forces. China's innovation and development of military equipment should not be taken as a stimulus for competition. In fact they have provided the two armed forces with new opportunities for brand-new cooperation. Our two armed forces should not let slip those valuable opportunities as they may not come again and again.