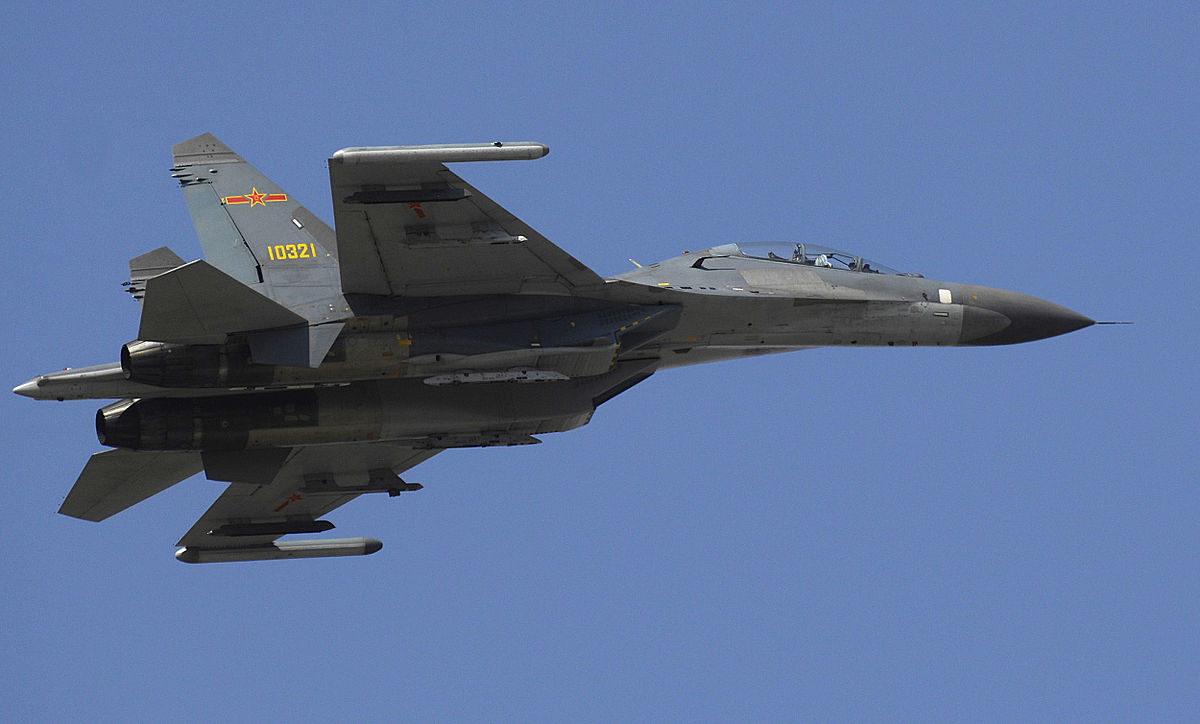 A Chinese Su-27 Flanker fighter
At the 19th Chinese Communist Party Congress in October 2017, President Xi Jinping reaffirmed China's ambition to complete the modernization of the People's Liberation Army (PLA) by the middle of the 21st century. This has involved two decades of deepening civil–military integration as well as more recent reform of China's defense and technological industrial base, the introduction of competition between Chinese state-owned defense enterprises and further integration of the private defense manufacturing sector. But what role do defense exports play in China's diplomacy and foreign policy?
New agencies have been created, such as the Central Commission for Integrated Military and Civilian Development and the Scientific Research Steering Committee, to push forward the research and development of state-of-the-art weaponry. In 2017 and 2018, China's Central Military Commission Equipment Development Department released thousands of declassified defense-related patents to the public in an effort to support private companies entering China's defense industry. Similarly, China is looking to the private sector to integrate artificial intelligence (AI) technology into the PLA. One only needs to look to China's investment in AI start-ups to get a sense of scale: China has overtaken the United States, with 48% of total worldwide equity funding to AI start-ups in 2017 attributed to China compared to 38% for the United States.
The reform of China's defense industry is far from complete, and the industry still faces obstacles including the dominance of state-owned enterprise monopolies and a lack of clear legislative and regulatory frameworks for civil–military integration. But overall, Beijing's reform efforts have had an impact. A number of Chinese firms are leading the development and export of unmanned aerial vehicles (UAVs). In 2017, the China Electronics Technology Group Corporation and the China Aerospace Science and Technology Corporation worked with a commercial fixed-wing drone model by Skywalker Technology to launch in the world's largest fixed-wing drone swarm. By 2018, China had exported heavy and armed UAVs to more than 10 countries worldwide.
The modernization of the Chinese defense industry, in combination with competitive pricing, has enabled China to become a major arms exporter and not be dependent on imports. While the volume of Chinese arms exports grew by 275% between 2000 and 2017, its arms imports decreased by 56%, according to the Stockholm International Peace Research Institute. Over the past ten years, China accounted for 5.2% of total arms trade, behind the United States (32.4%), Russia (23.7%), Germany (6.6%) and France (6.2%).
But the geographical distribution of Chinese arms sales has not varied significantly over time. China still mainly sells to its traditional customers Pakistan, Myanmar, and Bangladesh, which account for 63% of its total exports over the past five years. The only region to which there has been a visible increase in Chinese arms exports is Latin America, from 0% in the early 2000s to 5% by 2017. This includes arms transfers to Bolivia and Venezuela in particular.
Chinese arms sales appear to be more transactional than an instrument of foreign policy. For instance, there has been no uptick in Chinese arms deliveries to core Belt and Road Initiative (BRI) partner countries since this initiative was announced in 2013. Indeed, out of the 74 countries that are directly linked to BRI projects, only 23 of them — 31% — have received Chinese major weapon systems since 2013.
Further evidence of China's transactional arms exports is the arms diplomacy that China and Taiwan have tried to apply to woo allies on the world stage. While economic incentives have been widely used to influence changes in diplomatic recognition from Taiwan to the People's Republic of China, China has not, in the past five years, transferred any major conventional weapons systems to countries that recognize or used to recognize Taiwan.
Both of these examples reflect the fact that arms sales are not a straightforward foreign policy tool. Arms sales take place if and only if recipient states have the need for new weapons systems and have a preference for Chinese products. China still traditionally sells to states where Western exporters will not sell due to sanctions (like Iran), states that cannot afford to purchase Western weapons systems (like Zambia) and states that fall into both categories (like Sudan and Venezuela). The only niche market where China has been able to make inroads into traditional Western export markets such as Gulf countries has been that of UAVs. This again was possible because Western exporters, in this case the United States, refused to sell their own systems.
China's strong defense–industrial modernization drive undertaken in the past two decades has served the PLA's ambitions. This does generate some opportunities for Chinese arms transfers, but Chinese defense companies still have to make a more significant mark in the global arms market if defense exports are to become part of the Chinese government's broader foreign policy toolkit.
This article was originally published by East Asia Forum. British spellings have been changed to U.S. spellings.