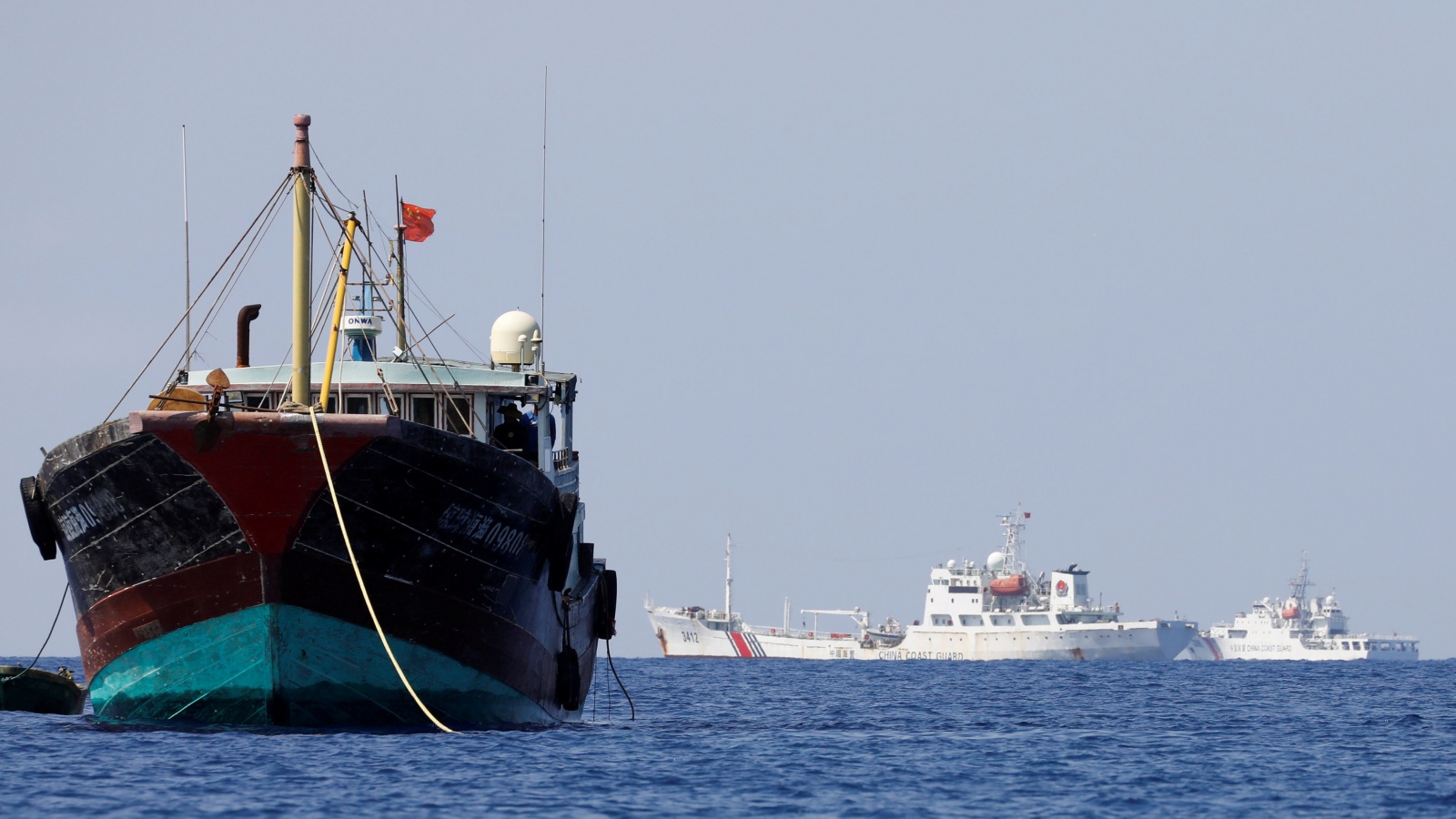 (Reuters)
One of the biggest geopolitical shocks of Rodrigo Duterte's presidency is the dramatic realignment in strategic relations among Southeast Asian claimant states, particularly between the Philippines and Vietnam.
What looked like a promising alliance-in-the-making has suddenly turned into low-intensity bilateral tensions, with the two protagonists openly clashing over how to best deal with the China threat in the South China Sea.
As a result, Beijing feels more empowered than before to press its advantage in adjacent waters, as its smaller neighbors struggle to adopt a common front.
From Foes to Friends
In recent years, Manila and Hanoi gradually forged a de facto alliance against Beijing, as the Asian powerhouse expanded its strategic footprint in the South China Sea at the expense of its smaller neighbors.
Beginning in 2011, both countries were at the receiving end of China's increasingly assertive posturing, including the harassment of energy exploration projects as well as fishing activities by Filipino and Vietnamese counterparts. What emerged shortly after, especially in the aftermath of the 2012 Scarborough Shoal crisis, was the decision of both states to advocate a tougher stance against Beijing within the ambit of the Association of Southeast Asian Nations (ASEAN).
Thus, the liberal democrats in Manila, under then President Benigno Aquino III, began to shed their ideological and historical suspicions towards their communist neighbor in Hanoi in order to confront the larger, common threat from Beijing. The Philippines' decision to file a landmark arbitration award against China in 2013 was both encouraged and supported by Vietnam, which quietly considered a similar option if and when necessary.
The following year, Hanoi made the unprecedented move of deploying its Russian-made missile-guided frigates, its flagship warships, for a "good will" visit to Manila. It was a carefully choreographed event to send a clear message of growing cooperation between the two neighbors.
The Philippines' American-trained and armed military warmly welcomed the gesture. A senior naval official, Lieutenant Commander Marineth Domingo ecstatically welcomed Vietnam's "first port call" as a "a positive and good sign of the improving and deepening relations between the Philippine Navy and Vietnam People's Navy."
The not-so-subtle strategic message was not lost on China, which immediately fired back. Foreign Ministry spokeswoman Hua Chunying urged, "all sides [to] do more to increase mutual trust and safeguard regional peace and stability." It was a thinly-disguised criticism of warmer defense ties between the two rival claimant states in the South China Sea.
The year 2014 also saw troops from both countries building camaraderie and mutual-trust through sports and festivity in the contested Southwest Cay in the Spratly chain of islands. The location was highly symbolic. Back in 1975, (South) Vietnamese troops opportunistically wrested control of the formerly Philippine-controlled land feature as soon as Filipino troops temporarily moved to Northeast Cay for recreational activity.
The incident, coupled with (united) Vietnam's subsequent invasion of Cambodia, left a profoundly negative impression on Filipino leaders, many of whom came to see Hanoi as a mirror, albeit in smaller scale, of the communist threat in China. Despite the end of Cold War, the Philippine security establishment has often viewed communist states through the prism of ideological conflict. Bitter disputes in adjacent waters simply compounded that paradigmatic antipathy.
Turn of Events
By the second decade of the 21st century, however, the Philippines signed a strategic partnership agreement with communist Vietnam on the sidelines of the Asia Pacific Economic Cooperation (APEC) summit, which saw no less than Chinese President Xi Jinping in attendance. Both sides promised to deepen their defense, diplomatic, and economic relations, with particularl focus on maritime security.
At this point, Vietnam was openly considering seeking the Philippines' assistance for a prospective parallel arbitration award against Beijing, though covering both Paracels and Spratly chain of islands, which are also claimed by the Southeast Asian state.
Vietnam also supported, albeit with certain caveats, the arbitration award by an Arbitral Tribunal, under the aegis of the United Nations Convention on the Law of the Sea (UNCLOS), which nullified China's nine-dashed-line and "historic rights" claim.
The election of Duterte, however, completely overturned the whole strategic equation. Eager to revive frayed diplomatic and economic ties with China, the Filipino leader effectively set aside the Philippines' arbitration award, which Vietnam desperately hoped to leverage for its own strategic advantage.
Moreover, as the chairman of the ASEAN, Duterte advocated for a softer stance on China in the South China Sea and went so far as shielding Beijing from any criticism over its massive reclamation activities in contested waters. As a result, Vietnam, which openly opposed the Philippines' soft-pedaling, was left to wage a lonely battle against China's expanded footprint in the area.
Duterte's decision to scale back joint military exercises with the U.S. in the South China Sea provided China a greater room for maneuver in the South China Sea. In response, Vietnam hastily fortified its position in contested areas.
Recent weeks have also seen greater tensions between the two neighbors over illegal fishing activities by Vietnam within Philippine waters. The two countries risked a diplomatic crisis, when a Philippine Navy warship fired upon several Vietnamese fishermen, killing 2 and wounding four others.
Aside from growing concerns over illegal fishing activities by Vietnam, however, some Filipino commentators have gone so far as openly portraying Hanoi as Philippines' main threat in the South China Sea.
In a strange twist of events, for Filipinos, Vietnam went from a foe to a strategic partner, just to be portrayed as a leading threat and rival (once again), thanks to the rollercoaster shift in the Manila's strategic outlook in recent years. Meanwhile, amid infightings among its rivals, China is extending its de facto sovereignty over an expanding portion of the South China Sea.