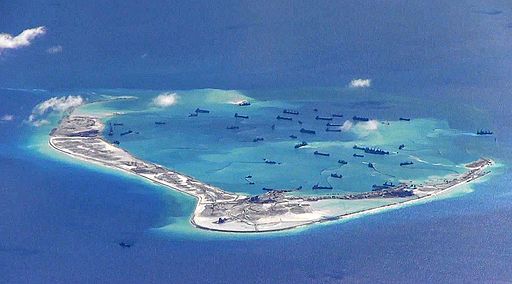 Subi Reef in the South China Sea
How rapidly the security situation is changing in the Indo-Pacific region can be gauged from the fact that it was just five years ago that China began pushing its borders far out into international waters by building artificial islands in the South China Sea. Today, it has not only militarized the newly reclaimed outposts but also presented a fait accompli to the rest of the world — without incurring any significant international costs.
The developments in the South China Sea carry far-reaching strategic implications for the Indo-Pacific and for the international maritime order. They also highlight that the biggest threat to maritime peace and security comes from unilateralism, especially altering the territorial or maritime status quo by violating international norms and rules.
When the U.S. aircraft carrier, Carl Vinson, recently made a port call at Da Nang, Vietnam, it attracted international attention because this was the first time that a large contingent of U.S. military personnel landed on Vietnamese soil since the last of the American troops withdrew from that country in 1975. The symbolism of this port call, however, failed to obscure the fact that the United States has had no coherent strategy against China's island-building program. It was on President Barack Obama's watch that China militarized the artificial islands, while his successor, Donald Trump, has focused on North Korea and trade; the South China Sea is not even on his radar.
As a result, China, with its expanding diplomatic, economic and military reach, is incrementally imposing its will on the region. For example, soon after the USS Carl Vinson's visit, Chinese pressure forced Vietnam to suspend a major oil-drilling project in the South China Sea. The project, located off Vietnam's southeastern coast, was being led by the Spanish energy firm Repsol, which, along with its partners, had already invested nearly $200 million in it.
In response to China's creation of artificial islands, the United States has repeatedly sent warships to sail through nearby waters in "Freedom of Navigation Operations" (FONOPs). Such operations, however, cannot make up for the absence of a coherent U.S. strategy in the South China Sea; they neither deter China nor reassure America's regional allies. After all, FONOPs do not address the rapidly shifting dynamics in the region brought about by China's island-building strategy. Beijing is asserting increasing control over the South China Sea, including by installing sophisticated weapons on the newly reclaimed islands. In doing so, it is gaining de facto control of the region's hydrocarbon resources, estimated at 190 trillion cubic feet of natural gas and 11 billion barrels of oil in proved and probable reserves.
Some commentators have argued that if China had its way in the South China Sea, it would turn its attention to the Indian Ocean and the western Pacific. This is precisely what is happening now. In essence, such developments mean that China's cost-free change of the status quo in the South China Sea has resulted in costs for other countries, especially in Asia — from Japan and the Philippines to Vietnam and India.
Countries bearing the brunt of China's recidivism have been left with difficult choices, especially as Beijing has made its determination clear. Japan has reversed a decade of declining military outlays, while India has revived stalled naval modernization. Smaller countries, however, are in no position to challenge China. Instead, the Philippines for example, has proposed joint oil-and-gas exploration with China in the South China Sea.
With the U.S. distracted as ever, China's land-reclamation in the South China Sea still persists. China is now using a super-dredger, dubbed by its designers as a "magical island-building machine." Thanks to the free pass it has got, China last year alone built permanent facilities on 290,000 square meters of newly reclaimed land, according to the Asia Maritime Transparency Initiative. China's sprawling artificial islands that now double as military bases are like permanent aircraft carriers, whose role extends to the Indian Ocean and the western Pacific.
Against this background, the rapidly changing maritime dynamics in the Indo-Pacific are injecting greater strategic uncertainty and raising geopolitical risks. Today, the fundamental choice in the region is between a liberal, rules-based order and an illiberal, hegemonic order. As America's National Security Strategy report stated in December, "A geopolitical competition between free and repressive visions of world order is taking place in the Indo-Pacific region." Few would like to live in an illiberal, hegemonic order. Yet this is exactly what the Indo-Pacific will get if regional states do not get their act together. There is consensus among all important players other than China for an open, rules-based Indo-Pacific. Playing by international rules is central to peace and security, yet progress has been slow and tentative in promoting wider collaboration to advance regional stability and power equilibrium.
For example, the institutionalization of the Australia-India-Japan-U.S. "Quad" has yet to take off. In this light, the idea of a "Quad plus two" to include France and Britain seems overly ambitious at this stage. Once the Quad takes concrete shape, Britain and France could, of course, join. They both have important naval assets in the Indo-Pacific. During French President Emmanuel Macron's recent New Delhi visit, France and India agreed to reciprocal access to each other's naval facilities. This accord is similar to India's Logistics Exchange Memorandum of Agreement (LEMOA) with the United States.
Unless the Quad members start coordinating their approaches to effectively create a single regional strategy and build broader collaboration with other important players, Indo-Pacific security could come under greater strain. If Southeast Asia, a region of 600 million people, is coerced into accepting Chinese hegemony in such circumstances, it will have a cascading geopolitical impact in the Indo-Pacific and beyond.
A constellation of democratic states linked by interlocking strategic cooperation has thus become critical to help institute power stability in the Indo-Pacific. The imperative is to build a new strategic equilibrium, including a stable balance of power.