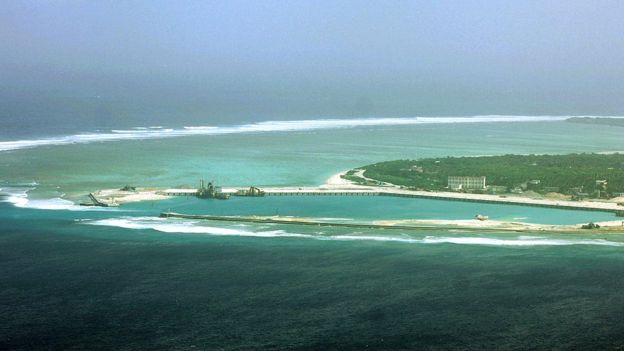 In his second year in office, Philippine President Rodrigo Duterte has pressed ahead with solidifying his strategic cooperation with Beijing. During his State of the Nation Address (SONA) on July 24th, he praised China as a generous and friendly partner for national development. He perfunctorily discussed the South China Sea disputes, while emphasizing the importance of sustained dialogue to manage territorial disputes in the area.
He directed much of his anger, however, at Western countries, particularly the European Union and the United States, for criticizing his controversial war on drugs. Despite Washington's assistance to Manila's ongoing counter-terror operations in Mindanao, the tough-talking Filipino president is bent on pivoting away from traditional partners in favor of Beijing.
During his post-SONA press conference, Duterte reiterated his preference for a non-confrontational approach in the South China Sea, particularly through joint development agreements (JDAs). "If we can get something there with no hassle at all, why not?" he explained, underlining the importance of avoiding conflict at all cost.
For Duterte, a resource-sharing arrangement is far more preferable to continued diplomatic tensions and, if the situation continues to escalate, potential war in the disputed areas. Throughout the months, he has increasingly portrayed the disputes as simply a choice between all-out conflict and dialogue (on China's preferred terms).
As the rotational chairman of the Association of Southeast Asian Nations (ASEAN), Duterte has blocked efforts by certain member nations, particularly Vietnam, to adopt tougher language vis-à-vis Chinese reclamation activities in the area.
Beijing has been certainty pleased by the Philippines' diplomatic volte-face under Duterte, who has effectively set aside a landmark arbitration award in the South China Sea, which was initiated by his predecessor, Benigno Aquino III.
In theory, a resource-sharing agreement among competing claimant states seems as the best possible solution. In practice, however, Duterte will have to overcome significant legal and political hurdles to finalize a JDA with China, which claims sovereignty over almost the entirety of the South China Sea.
The New Golden Age
Right after Duterte's SONA, Foreign Minister Wang Yi visited Manila, where he received warm welcomed by the Filipino president at Malacanang. He hailed the "strong momentum" in Philippine-China relations, and called for an exclusive China-ASEAN solution to the South China Sea disputes.
Underscoring the "full capabilities and wisdom [of ASEAN and China] to handle differences between us and maintain stability in the South China Sea," he called upon "non-regional forces", namely the United States, not to "stir up trouble" in the region.
At first glance, JDAs seem to be an ideal solution to the regional maritime disputes. According to one authoritative definition, it pertains to an "Agreement between two states to develop so as to share jointly in agreed proportions by inter-state co-operation and national measures the offshore oil and gas in a designated zone of the seabed and subsoil of the continental shelf to which both or either of the participating states are entitled in international law."
In fact, it is a potential modus vivendi, which is enshrined in international law, namely the United Nations Convention on the Law of the Sea (UNCLOS). It also resonates with the strategic dictum of China's late paramount leader Deng Xiaoping. In the years between 1970 and 1984, Deng, in a series of oft-cited speeches, pertained to joint development arrangements as an idea solution to territorial disputes between Beijing and its neighbors.
Intent on maintaining regional stability for China's export-oriented economy, the Chinese leader forwarded the following formula: 'sovereignty remains ours; shelve disputes; pursue joint development.' Deng's formula was adopted by his two adopted successors, Jiang Zemin and to a lesser degree Hu Jintao, who oversaw a string of territorial delimitation with China's myriad continental and maritime neighbors.
As Taylor Fravel, a leading expert on China's territorial policy shows in his influential book, Strong Borders, Secure Nation, in in 17 of these 23 conflicts, Beijing either reduced the scope of or completely abandoned its original claims in order to improve relations with its immediate neighbors, mostly continental.
An Uphill Battle
In recent years, China has proposed JDAs in its adjacent waters, particularly in the South China Sea. The difference, however, is that this time the Asian powerhouse is doing it from the position of strength and with greater assertiveness.
Since President Xi Jinping took power, he has overseen the establishment of massive artificial islands across the Spratlys and Paracels. This has gone hand in hand with growing Chinese naval, para-military and fisheries footprint across the disputed waters, raising concerns over creeping intrusion into traditional waters of smaller claimant states.
Meanwhile, growing concerns over energy security has encouraged claimant states to explore untapped resources in disputed areas. For years, the Philippines hasn't been able to conduct exploration activities in places such as Reed Bank due to geopolitical uncertainty and prospect of Chinese harassment.
Amid concerns over dwindling domestic energy resources, particularly in the Malampaya Plant, Manila is considering moving ahead with developing the Reed Bank later this year. Duterte has suggested that this could be done in cooperation with China: "When they [China] start to excavate the gas and oil [in the South China Sea], I tell you it's going to be just like a joint venture... it will be fair."
As far as the Philippines is concerned, there are at least three hurdles to any JDA with China. First of all, it is the baggage from the past, particularly the fiasco under the Gloria Arroyo administration (2001-2010). In 2005, shortly after China offered major infrastructure investments in the Philippines, President Arroyo signed the trilateral Joint Maritime Seismic Undertaking (JMSU) in the South China Sea with Vietnam and China.
It didn't take long, however, before both Chinese investments as well as the JMSU were challenged as unconstitutional and embroiled in massive controversy. Opponents accused the Arroyo administration of accepting Chinese capital as a bribe in exchange for a potentially treasonous and highly resource-sharing agreement in the South China Sea.
Amid public backlash, the Philippine government refused to renew the JMSU once it expired in 20008. Today, China continues to be highly unpopular in the eyes of Filipino people and broader defense establishment, largely because of the Arroyo era baggage.
The second hurdle is the Philippines' 1987 constitution, which places extremely restrictive and draconian provisions regarding the exploration and development of resources within the country's Exclusive Economic Zone (EEZ).
Specifically, Article XII, Section II on National Economy and Patrimony states, "the exploration, development, and utilization of natural resources shall be under the full control and supervision of the [Philippine] State." Any joint venture with should be exclusively with a company, which is majority-owned (60 percent) by a Filipino citizen. Most importantly, the contracting party should acknowledge the Philippines' sovereignty.
Finally, the landmark arbitration award at The Hague also made it clear that Manila and China have no overlapping EEZs in need of delimitation. Only in the Scarborough Shoal, which was ruled as a traditional fishing ground for several claimant countries, there is a room for a resource-sharing agreement in accordance to the tribunal's ruling under the aegis of UNCLOS.
But China claims sovereignty over almost the entirety of the South China Sea, while consistently rejecting The Hague ruling. Thus, the only way for a JDA to push through is if Duterte managed to amend the Philippine constitution, largely ignore his country's arbitration award victory, and overcome deep-seated public antipathy towards resource-sharing agreements with China. This will be an uphill battle with a lot of potential hiccups along the way. Without a doubt, the audacious Filipino president is entering a tricky territory.