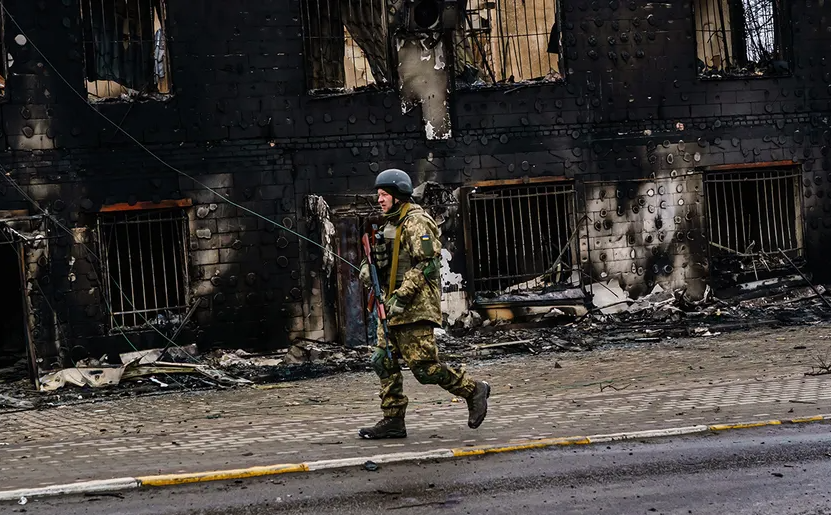 Events unfolding in Ukraine over the past two months are tragic. The casualties of the crisis are a chilling reminder that military confrontation and great power politics often leave as their victims those who are helpless and powerless.
Thousands have been killed in the ongoing military conflict, with Ukrainian citizens subjugated to unprecedented levels of rampant violence. At the same time, innocent Russian citizens have found themselves embroiled in sanctions and punitive measures taken against Russia.
China's reaction to the Ukrainian situation has been mixed and complex. There are three core prongs undergirding the country's response.
First, it is apparent that China has been reticent to take the side of either Ukraine or Russia. This can be seen through its repeated and explicit emphasis that the ongoing events are a bidirectional military conflict. There are several reasons for this. Both Ukraine and Russia are important partners of China, with the latter occupying a position of particular strategic and political significance in China's conception of a multipolar global order. China views Ukraine as a pivotal entry point into Eastern Europe for its Belt and Road Initiative. China's taking an overtly political, or one-sided, position would contravene its broader commitments in foreign policy to respect the UN Charter and other principles.
Second, as a significant power whose ascent is inevitably intertwined with successes reaped through multilateral institutions (e.g., the United Nations, World Trade Organization, World Bank), China has every interest and reason to lean on international institutions and multiparty talks as the primary modus operandi of conflict resolution. Much of Beijing's advocacy and rhetoric has been centered on advancing peace, stability and stabilization to the fraught geopolitical situation through talks, negotiations and mediation.
The virtual summit between President Xi Jinping, German Chancellor Olaf Scholz and French President Emmanuel Macron in early March, as well as the in-person dialogue between China's leading diplomat Yang Jiechi and U.S. National Security Adviser Jake Sullivan, attest to the fact that China remains broadly open to working with other parties in coordinating an end to the crisis. Of course, the extent to which such multilateral diplomatic efforts are pursued and enacted remains to be seen.
Third, China has been engaged in a complex balancing act beyond juggling the demands of Russia and Ukraine. On one hand, Beijing remains concerned by what it perceives to be the dangerous implications of inaction in the face of NATO's expansion. It is equally anxious, however, that its strategic-political commitment to Russia does not overwhelmingly override the central economic and financial ties that tether China to the United States and the rest of the global financial order. Indeed, America and China alike have interest in preventing financial decoupling from becoming the norm — though with the imposition of sweeping sanctions and measures designed to curtail Russia's international presence, this could well become the default position undergirding global politics in the coming decade.
The EU's concerted push for financial sanctions and an economic blockade against Russia, while perhaps incongruous with China's stance on the matter, is understandable from the perspective of the European security community. Germany and France view the recent Russian incursion into Ukraine as a watershed moment, one that — if mishandled or neglected — will only encourage more Russian aggression in the long run. The EU is also likely to scrutinize with care China's response to the matter. Its member states appreciate in part the nuanced and complex relationship China has with both Russia and Ukraine, yet are also seeking to infer from the Chinese response the form and extent of bilateral ties between Brussels and Beijing.
There are several reasons China should remain cautiously and comprehensively cognizant of the above. The most apparent reason has to do with the prospects of China's deepening, broadening and mutually beneficial ties with Europe. The shelving of the Comprehensive Agreement on Investment in mid-2021, as well as the feisty exchanges between diplomats over the past three to four years, are not conducive to a sustainable Sino-European partnership. Such a partnership, across a multitude of fields, is vital as the world seeks to take on challenges ranging from the ongoing pandemic to climate change. It is equally seminal in precluding escalation in geopolitical tensions and the removal of much-needed off-ramps to military confrontations, such as the one we are currently witnessing in Ukraine.
A further reason pertains to China's strategy relative to its foreign policy. Key tenets of Beijing's proclaimed foreign policy emphasize pushing back against unilateralism, engaging international and regional stakeholders in reducing military conflicts and upholding states' sovereignty — all through multilateral dialogue, mediation and cooperation.
China would benefit from playing an active part in working with the European Union to moderate the tensions between Russia and Ukraine. Should it succeed in pushing for a modus vivendi agreeable to as many people as possible on both sides of the conflict, this would prove pivotal not only in demonstrating that Beijing has a critical role to play in 21st century international peacekeeping but also in refuting the claims of those who allege that China is an irresponsible stakeholder. The more unstable Ukraine is, the more likely it is that regional and international actors with a stake in the situation will militarize and add fuel to the fire. Thus a defused Russia-Ukraine situation is in all parties' interest.
Peace must be given a chance in Ukraine. As a great power with substantial economic and financial leverage and prowess, China can — and hopefully will — act with prudence in relation to the Ukraine crisis. None of this pro-mediation, pro-engagement effort need imply that China should abandon its broader strategic resolve to provide a healthy alternative to unipolar hegemony dominated and dictated by select parties. Nor should China's strategic ambiguity be construed as akin to supporting one side over another.
Yet the window for resolving the crisis — before it spirals out of control — is rapidly closing. It is all the more important now that China and Europe work together in managing the risks and that they establish closer and deeper ties across domains of strategic and security considerations in a win-win fashion.
Here is a concrete solution that is clearly actionable and adheres to the principles outlined above concerning Sino-European collaboration: Both China and Europe agree upon the need for humanitarian aid for Ukrainian civilians. Both Brussels and Beijing could consider positioning themselves as enforcers of humanitarian aid — deliverers of key medical and sanitary supplies to the Ukrainian people.
More generally, both parties should exercise their economic and political capital in pressing for a cease-fire. We should spare no effort in an undying commitment to peace.