A community space to discuss the China-U.S. relationship and beyond.
Dear Focus Readers,
After months of little to no dialogue between Beijing and Washington, this summer has proven to be one brimming with activity. It has produced a series of diplomatic exchanges between high-level officials and multiple trips to China made by U.S. leaders, including Antony Blinken, Janet Yellen, John Kerry, and most recently, renowned former diplomat Henry Kissinger.
During his trip, Kissinger met with Xi Jinping and emphasized that the relationship between the United States and China is crucial for the peace and prosperity of both countries and the world as a whole. The visit is one of immense historical significance, as noted in, "Kissinger's Recent Visit to China," by Sun Chenghao, a fellow at Tsinghua University's Center for International Security and Strategy. It was 52 years ago that Kissinger's landmark visit initiated the normalization of China-U.S. relations, fundamentally altering the course of their relationship and shaping the trajectory of global development. As we find ourselves at another critical juncture in the U.S.-China relationship, Sun advocates for decision-makers to draw valuable insights from the past 52 years of shared history.
Only time will tell the true impacts of these diplomatic exchanges on the long-term dynamics of the China-U.S. relationship, as well as their potential to foster cooperation and collaboration amid competition. Meanwhile, we invite you to keep reading and delve into our latest Focus content exploring the shifting perspectives of U.S. allies regarding a cross-strait conflict, the repercussions of U.S. sanctions on Chinese tech companies, and the current state of China's economy.
Have a great weekend!
Team Focus
Focus Insights
Quote of the Week
"Territory and boundaries are a core element in international politics."
Jade Wong
Senior Fellow, Gordon & Leon Institute
Notable Number
10
The number of hours that Secretary Yellen spent talking with Chinese Officials during her recent trip to China.
Read more
from Nathaniel Schochet and Earl Carr.
Beyond Our Shores
With national security being a paramount concern shaping diplomatic relationships, this panel from the 14th annual Aspen Institute Security Forum,
The China Challenge: Is the U.S. Getting China Right?
, brings an engaging discussion where guest speakers, including long-time Focus contributor Joseph Nye, delve into the impact of resurging great power conflicts and the ever-evolving technology landscape on national security, particularly with respect to China.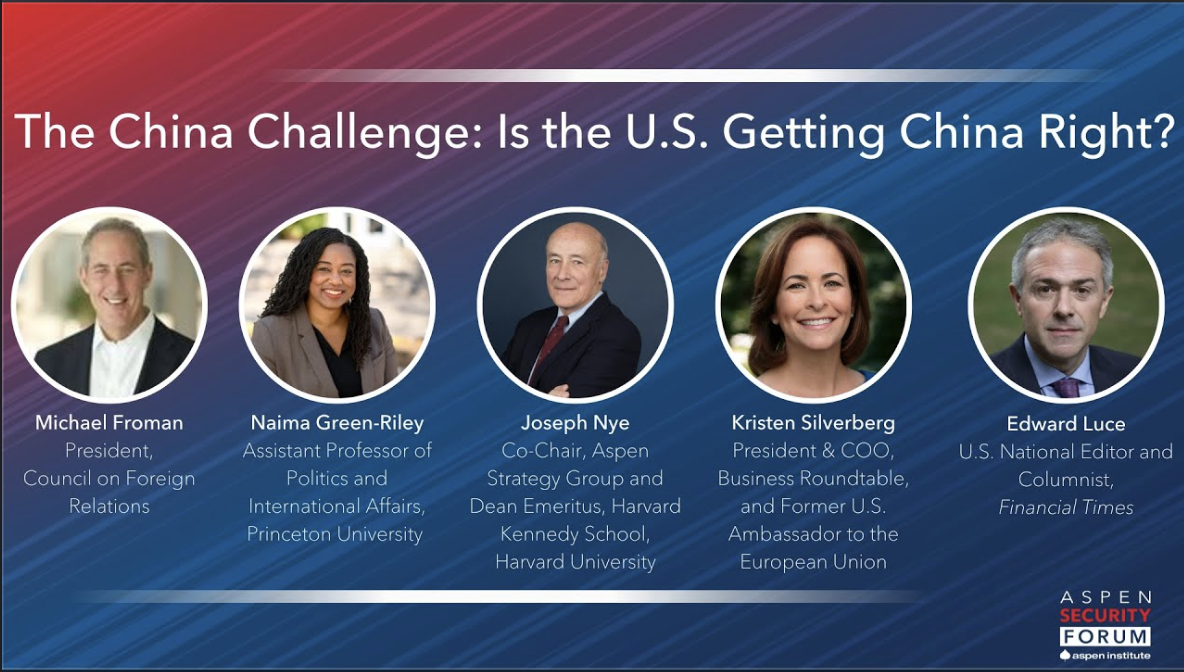 Discover More
How depopulation affects conservation | Kyle Obermann
Watch Video
China is no longer the world's most populous country. By 2050, the number of people aged over 65 in China is expected to double. These demographic and aging trends combined with rapid urbanization are steadily driving depopulation in China's remote, mountainous, and agrarian areas closest to wildlife. How will these changing demographics affect the future of conservation in China?
Community Connections