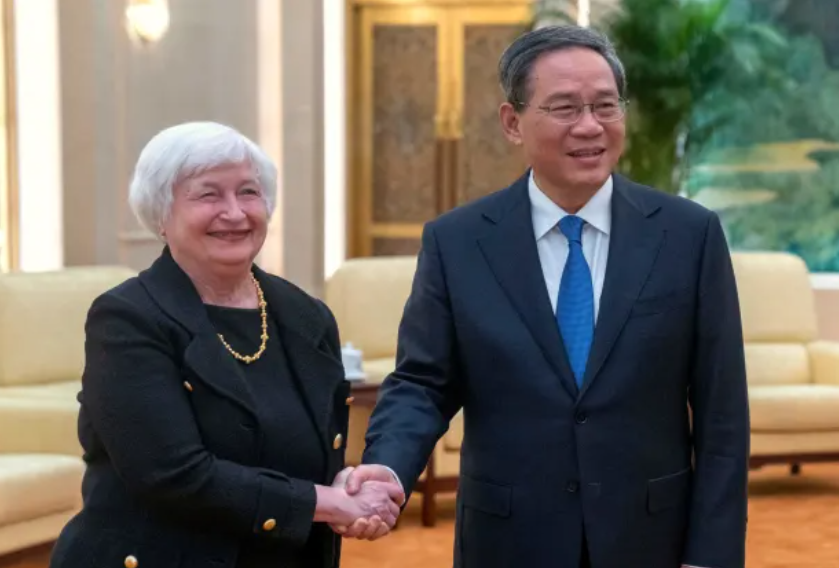 After months of antagonism and tit-for-tat policies, there is indication that a process toward renewal and increased communication between the United States and China has finally begun. As U.S. President Joe Biden predicted in late May regarding tensions with Beijing, "you're going to see [them] begin to thaw very shortly." Treasury Secretary Janet Yellen's four-day official visit to discuss prominent issues of concern underscores this point.
Secretary Yellen recently completed her trip to China. While there, she spoke with Chinese Premier Li Qiang, Vice Premier He Lifeng, Finance Minister Liu Kun, and former Vice Premier Liu He in Beijing, as well as Central Bank Governor Yi Gang and Secretary Pan Gongsheng. Her talks with these officials totaled ten hours. While she wasn't able to meet with President Xi Jinping, her engagement with numerous high-level officials and the length of her stay speak volumes about the importance of the meeting.
Prior to Yellen's trip, the Treasury stated that the goal of the journey was "to responsibly manage our relationship, communicate directly about areas of concern, and work together to address global challenges." Additionally, she seized the opportunity to engage in face-to-face discussions with high-ranking Chinese political and economic leaders, reemphasizing the three fundamental principles that shape America's economic relationship with China. These three principles, originally stated in an April speech, aim at securing the United States' national interests, establishing and maintaining a mutually beneficial and healthy relationship with China, and cooperating on major global issues of concern.
Chinese grievances were made clear during her meeting with the newly appointed Chinese ambassador to the U.S., Xie Feng, before her departure. After the discussion, Embassy spokesperson Liu Pengyu tweeted that Xie "raised #China's main concerns in economic & trade areas, and required the U.S. side to take them seriously and take actions to resolve them." China's most significant desire is for Washington to decrease restrictions on Beijing's ability to receive chip imports.
Moreover, the United States' concerns regarding Chinese coercive economic measures have been extensively publicized and featured in the media. On July 7, Yellen acknowledged concerns to U.S. business leaders about new export controls by China on two critical minerals used in technologies, such as semiconductors. "We are still evaluating the impact of these actions, but they remind us of the importance of building resilient and diversified supply chains," said Yellen. On July 4, Chinese officials announced it would impose restrictions on gallium and germanium—minerals used in computer chips and other technologies. These restrictions hark back to the infamous 2010 incident when China restricted rare earth minerals to Japan. In the Chinese publication, the China Daily, former vice-minister of commerce Wei Jianguo stated, "This is just the beginning of China's countermeasures, and China's tool box has many more types of measures available. If the high-tech restrictions on China become tougher in the future, China's countermeasures will also escalate."
Both countries recognized that despite their shared desire for continued high-level meetings, the relationship would remain competitive in the near future. As a result, both sides sought to highlight their strengths and set the tone ahead of the visit.
Most recently, the U.S. has sought to restrict China's access to cloud services, on top of its other restrictions placed on Beijing over the past few months.. This leniency in allowing Beijing to maintain access to these services facilitated China's ability to manipulate a loophole in the Biden administration's restrictions on chip exports to China. In addition to smuggling, these cloud-computing services were the predominant route for Chinese companies to gain access to the most advanced chips. China also sought to remind the U.S. of its power in the region during Yellen's stay in Beijing, as the China People's Liberation Army deployed thirteen aircraft and six vessels into the airspace and waters around Taiwan over the weekend.
In an end-of-visit press conference in Beijing, Yellen highlighted that conversations with officials during her trip yielded a greater understanding of each country's individual economies and policy choices. She also emphasized three key points from their discussions. First was the Biden administration's desire to have healthy economic competition where sides benefit. She also noted that the U.S. will continue to take action that protects its national security and promotes human rights. Finally, Yellen communicated hopes to cooperate on major global challenges. Notably absent from her remarks was anything mentioning de-risking, a term first used by European Commission president, Ursula von der Leyen, but denounced by Chinese officials. Instead she stated that "There is an important distinction between decoupling, on the one hand, and on the other hand, diversifying critical supply chains or taking targeted national security actions."
Predictably, like Blinken's visit to Beijing, Yellen's trip did not produce any immediate or tangible outcomes or policies. Its true purpose was to broaden a platform for both sides to openly express their grievances in a constructive face-to-face manner. As she stated during her press conference, "My objective during this trip has been to establish and deepen relationships with the new economic leadership team in place in Beijing." In this context, these types of meetings are instrumental in furthering the U.S.-China relationship, but they also reflect the enormous pressure the Biden administration is under from Republicans in Congress for meetings with Chinese officials to produce concrete results. President Biden is equally under pressure heading into his re-election campaign to demonstrate that his foreign policy strategy is working. These talks paved the way for Anthony Blinken to meet with top Chinese Diplomat Wang Yi during the sidelines of the ASEAN Summit held on July 13th. Additionally China's Commerce Ministry recently reiterated that the U.S. should lift "unilateral" sanctions against Chinese enterprises ahead of a possible visit by the U.S. Commerce Secretary Gina Raimondo. The next noteworthy U.S. official to journey to Beijing will be made by U.S. Special Presidential Envoy for Climate Change John Kerry from July 16th-19th, who aims to decrease the barriers that are preventing the two countries from engaging in meaningful discussions on environmental issues.