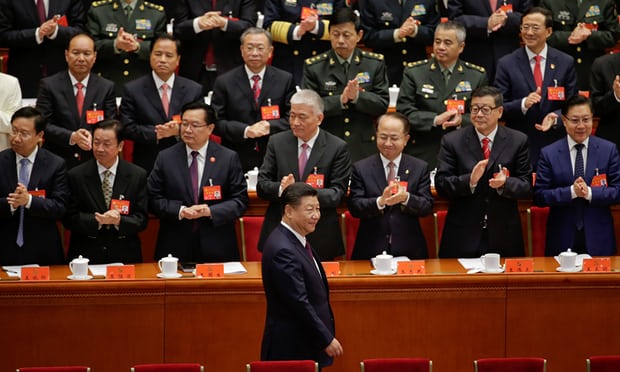 Chinese President Xi Jinping arrives for the opening of the 19th National Congress of the Communist party of China at the Great Hall of the People in Beijing Photograph: Jason Lee/Reuters
"Major-country diplomacy with Chinese characteristics" has witnessed tremendous progress since the CCP's 18th National Congress, and will blaze new trails after the upcoming 19th Congress, serving as a powerful engine for China's rise.
The last five years
Diplomatic strategy was clarified in two meetings. The first was a Symposium on peripheral diplomacy, outlining new strategies for relations with neighboring countries。 The second was a central conference on foreign affairs, where CCP General Secretary Xi Jinping first expounded the idea of "major-country diplomacy with Chinese characteristics".
"Major-country diplomacy with Chinese characteristics" can be summed up as "three adherences, one concept, and one outlook": adhering to CCP leadership and socialism with Chinese characteristics; adhering to the independent, autonomous diplomatic principle of peace-oriented foreign policies, as well as the path of peaceful development; adhering to democratization of international relations, as well as preservation of fairness and justice in international affairs; the concept of "win-win cooperation"; and the "correct outlook on righteousness and utility," which calls for balancing oft-contradictory concerns.
Chinese diplomatic philosophy was reformed with the idea of a "community of shared destiny for humanity" at its core. As major western powers backpedal out of selfish considerations, and multilateralism and global governance encounter unprecedented challenges, this approach is refreshing.
China's recent diplomatic successes include:
1) China's hosting of key international events, like the APEC, G20, and BRICS summits;
2) China's Belt and Road forum, and;
3) Protecting its territorial integrity by building projects on geographical features in the South China Sea, patrolling the Diaoyu Islands, and managing the Doklam border dispute with India.
The next five years
With new guidance from the 19th CCP National Congress, "major-country diplomacy with Chinese characteristics" will continue to progress.
First, China will propagate the "pragmatic kingly way" of diplomacy, which stresses balancing righteousness and utility, virtue and might, rigidity and flexibility, moral and behavioral propriety. This is in contrast with the "hegemon's way", which seeks nothing but profits, respects nobody but itself, and has a hopeless obsession with force.
Second, China will implement a new diplomatic strategy. In an uncertain world it will tackle diplomatic conundrums whilst maintaining its stability against any attacks from those fearful of its growing strength.
Third, China will promote a new diplomatic equilibrium. On the one hand, it will consolidate existing arrangements, participating in global governance, assuming major country responsibilities while defending its rights and protecting its interests; on the other hand, it will concentrate more on its periphery, effectively managing regional issues like the North Korean nuclear crisis, its border dispute with India, and its disputes in the East and South China Seas.
Fourth, China will effectively manage its external risks, including risks posed by major western countries, security risks at borders and disputed areas, risks involving overseas investments, cyberspace risks, and risks stemming from non-state actors.