The Chinese government's recent decision to issue "Foreign Permanent Residence Identity Cards" to foreign nationals working in China is a great step forward in facilitating the introduction of overseas talents. The change is not just in name, from the previous "residence permit" to the present "residence ID". The new ID cards are almost equivalent to the ID cards for Chinese citizens in functions in everyday use. Prior to this, the Chinese "green cards" were more like long-term visas, unrelated to the corresponding rights and interests as well as conveniences they're supposed to bring.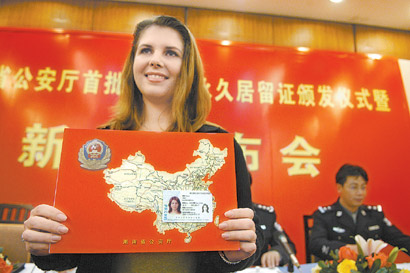 Besides reforms at the national level, Beijing, Shanghai and Guangdong have already made breakthroughs since 2015 on the basis of the existing "green card" regime. In general, experiments have concentrated on "through-train" "green card" issuance for high-caliber talents of foreign nationalities, points-based "green card" issuance, transition from employment-based residence permit to permanent residence permit, and permit issuance schemes incorporating market mechanisms. There have been three major changes in the national "green card" regime: The subjects of service have expanded from system insiders, or state sectors, to various enterprises, social organizations; qualifying criteria have extended from position and professional titles to tax contribution, and salaries; and there has been more emphasis on providing convenience for exit and entry as well as permanent residence.
From 2004, when the permanent-residence permit system was first adopted, to 2013, only 7,356 foreign nationals reportedly received Chinese "green cards". In 2016 alone, 1,576 were reportedly issued, almost tripling the previous year's total. Take Beijing for example. The city issued more than 1,700 "green cards" from 2004 to 2015, fewer than 150 a year. In 2016, 460 were issued.
Considering the constant breakthroughs in Chinese "green card" policies, application will be more and more convenient, and the cards' functions will be further enriched, and it will be easier for overseas talents to work or conduct exchanges in China.
But the present system has room for improvement. We therefore make the following suggestions:
1. Build an immigration bureau so as to improve our country's international immigration administration and service. Integrate corresponding functions and responsibilities, unify administration of visa, residence and immigration services for foreign nationals, and put the bureau in charge of overseas talents introduction, immigrant rights guarantee, and integration.
2. Set up service outlets for permanent residence application, further propose, exempt them from the requirement for pre-application stay in China, and give full play to the Chinese "green cards" functions in talent introduction.
3. Offer more preferential treatment for overseas Chinese talents. The Zhongguancun area in Beijing has issued "overseas Chinese cards" to foreign PhDs of Chinese origin. The threshold can be further lowered. The five-year special visas Guangdong province has issued to foreigners of local origins allowing multiple entry-exits should be extended to all foreign talents of Chinese origin.