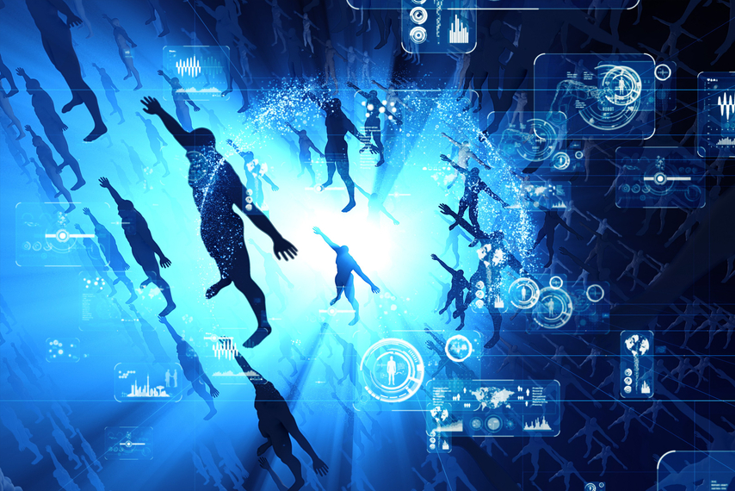 A new year is a time to take stock and to reflect on the past, present and future so the beginning of this Year of the Tiger in China is a perfect opportunity to do just that. As a technophile, I've been reflecting on one of last year's most trending terms, Metaverse and what it portends. I'm an early adapter not a Luddite, nevertheless I'm not impressed, not a believer and not ready to enter an artificial, escapist virtual world of "lying flat 2.0" despite whatever bells, whistles and diversions this "MEHtaverse", as I call it, may offer. There are just so many existential challenges in the real world that urgently needs our undivided effort, even if we want to merely survive in this century and the next.
The Metaverse concept was coined three decades ago in a science fiction novel that today has come to mean one unlimited single immersive socially-connected network of 3D virtual worlds replacing our current old-fashioned, outmoded internet as a standalone universal alternative world enabled by cumbersome virtual and augmented reality headsets.
A more primitive version of the Metaverse, Second Life, was tried two decades ago, and failed because it was too early but its founder, Philip Rosedale, thinks now the time is right. Even more so does, Mark Zuckerberg, founder and CEO of Facebook, who believes so fervently in the concept that he's gone all-in, not only changing the company's focus but its name to "Meta". Chinese companies like Baidu and ByteDance are likewise betting on it.
The Metaverse, however, isn't ready for prime time. Don't take my word for it; just look at the American stock market's verdict on February 3rd. Due to several factors, including Meta's repositioning, company stock plummeted 25.4%, more than 250 billion dollars, the largest one-day drop of a single company in stock market history.
Frankly, we have too many pressing existential challenges to life as we know it to allow society, especially young people, to, as Timothy Leary, Harvard's famous 1960s counter-culture professor famously said, "turn on, tune in, drop out" of society at a time when they're sorely needed. Concurrent contemporary challenges are depressingly daunting: global pandemics, great power confrontations, an unsustainable environment on the cusp of passing the point of no return. No wonder the Bulletin of the Atomic Scientists for the last three years in a row have kept its famous 75-year-old Doomsday Clock at 100 seconds to Armageddon, the closest it's ever been, even at the height of the Cold War.
President Xi Jinping has been urging China to tell its story better and China has spent billions doing so, even currently hosting the Winter Olympic Games. The results are not all encouraging. In the US, the impressive opening ceremony was watched by less than 16 million people, half of the previous one. A mere 5% of total US population tuned in.
Public opinion polling by the Pew Research Center released last summer show that unfavorable views of China have reached historic highs in 17 advanced economies, including the US. Even less than the Beijing 2008 Summer before it, I don't believe the billions invested in the 2022 Olympics has moved the needle appreciably.
What's to be done? New China's first Premier, Zhou Enlai, had a good answer that is more relevant and doable than in his time because now a renovated China has stood up and is rich, powerful and confident. He called it "folk diplomacy," a parallel, supportive track to the formal diplomacy of ambassadors and their embassies that most people never encounter in a lifetime.
Today we call Zhou's idea "people-to-people diplomacy" (P2P). It relies neither on impersonal mass media, nor tuned-out humans enmeshed in an artificial alternative reality, but on successive, sustained up-close and personal human interactions. It takes advantage of what China has in over-abundant numbers: human talents, especially young people. Each one has the ability to develop deep relationships and make long term friends for China abroad under the banner of common prosperity and mutual respect.
I call it China's Panda Pals, Premier Zhou's P2P folk diplomacy 21st century style. It's a clear win-win for all stakeholders.
There's no need to reinvent the wheel since several countries have already been doing this for years. As an American, the one I know best is the US Peace Corps started by President John F. Kennedy in whose 1961 Inaugural address I heard him say words I will never forget: "Ask not what your country can do for you. Ask what you can do for your country." The program has been tested and improved upon globally for six decades, but never reached its full potential for lack of sufficient financial and human resources, both of which China has in abundance.
Another model is the United Nations Volunteers, administered by the UN Development Program. Last year alone, it provided over 10,000 volunteers to 55 UN entities in 160 countries. Its doctors, nurses, public health officers and community workers were pivotal in helping contain Covid-19.
P2P diplomacy is a win-win for all stakeholders. In China, with a record number of over nine million college grads last year, too many capable students faced the daunting challenge of finding jobs that would permit them to put their knowledge to work, giving them not only real-world work experience and income, but also further developing their skills. For example, last summer a story went viral in Henan province that of the 135 new workers in a factory processing tobacco leaf and rolling cigarettes, nearly one-third had a master's degree. All their money, their families' money, and the Chinese people's money spent on an education to better serve society, literally went up in smoke.
Such talent could be put to work abroad in helping other countries meet unmet needs. At the same time, each Chinese volunteer would be not only receiving on-the-job training, but building life-long friendships for China, improving their professional and interpersonal skills and building peace and international understanding around the globe.
Now that China is rich, strong and proud, this model can enable it to help other nations eliminate extreme poverty and at the same time earn their respect and admiration. Premier Zhou's idea is ripe and the time to act is now, especially in the Year of the Tiger that is said to represent bravery, courage, resilience and strength.