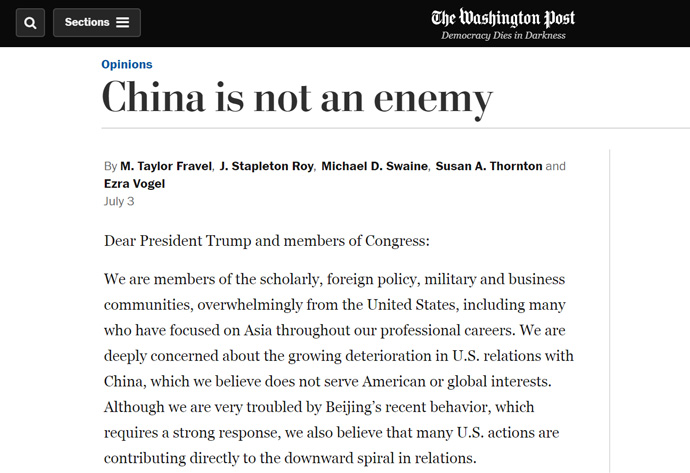 On July 3, the Washington Post published "China is not an Enemy," an open letter to US President Donald Trump authored by five US-based China experts and signed by 95 other US experts, scholars, and former government officials. After it was posted on social media, the pool of US signers and supporters further expanded.
When the open letter reached China, it went viral and triggered widespread discussions. Only excerpts were published by Chinese traditional and online media platforms, as the open letter was hyper-critical of Beijing's behavior both at home and abroad. Still, communities of Chinese intellectuals singled out the last line of the letter in private discussions: "there is no single Washington consensus endorsing an overall adversarial stance toward China, as some believe exists." At first, many felt excited, thinking that the open letter overturned domestic claims that recent adjustments in the US's China policy represented a "bipartisan, cross-governmental and cross-sector consensus." However, after a few days of thought, the academic community has put forward sober views that shed light on the letter's pros and cons.
The author believes that the open letter can be seen as a phenomenal event in the twists and turns of Trump-era China-US relations. Despite its rebukes of China's recent behavior and its charge that China raises a challenge for the US, the letter ultimately questions the Trump administration's increasingly extreme approach to China and calls on Washington to deal with bilateral relations in a more rational way. This indicates that US intellectual communities are meaningfully reflecting upon bilateral relations despite the president's struggling and wrestling. This signal brightens currently grim and precarious China-US relations forecasts and could bring both countries back on track to gain a proper understanding of each other's policy.
Moreover, it forces decision makers in Washington to confront the fact that there are many skeptical voices in the country regarding how they have handled relations with China. Notably, the Trump and his administration have closely fine-tuned their strategy towards China and foreign strategy following the publication of the open letter. Realizing that US business and agricultural interests would be directly compromised by ruthlessly pressuring China and adding tariffs, Trump signaled that he would be willing to negotiate with China and ease restrictions on Huawei. He even managed to keep the far-right wing in the White House away from the US-North Korea negotiating table and unexpectedly arranged a third meeting with North Korean Supreme Leader Kim Jong-un in Panmunjom, North Korea. He showed restraint regarding the nuclear issue in Iran, resorting to rigorous sanctions rather than military means. These strategic decisions hopefully indicate the administration's intention to restore rational decision-making to its foreign relations.
On the Chinese side, the open letter has drawn researchers' attention back to US domestic politics and reminded many of its pendulum effect on China. Since the subprime crisis of 2007, the political pendulum of the US has swung from the central left to the central right, with Trump's election indicating a further rightward push. As conservatives take control, they not only accelerate retrenchment of foreign strategy but also call attention to international strategic competition. China has been named as the US's principal "strategic competitor" and blamed for domestic conflicts, tensions between the two countries have spread from economy and trade to technology, and the long-standing pendulum effect in China-US relations has begun to show signs of rapid deterioration. Chinese strategists have heatedly discussed whether the US is determined to turn against China, whether a "new Cold War" is inevitable, and whether China and the US are bound to be decoupled. When China-US trade talks suffered severe setbacks in late April and early May this year, in a sudden burst of rage, China's state-run media lashed out against the US, accusing the latter of being a bully and denouncing capitulation. Voices advocating a rational and comprehensive view on China-US relations, however, were almost silent. Yet this open letter indicates that the efforts to restore rationality and stop the pendulum from swinging to the extreme are not altogether dead. It also encourages supporters on both sides of a healthy and stable China-US relationship to continue trying to save it.
The timing of the open letter was deliberate. In late May, the 2020 US presidential campaigns kicked off as Trump announced his bid for re-election and Democrats held their primary debates. In mid-June, President Xi Jinping and President Trump held talks in Osaka, Japan, and agreed to call a truce in the tariff war and resume economic and trade negotiations. Previously, Chinese leaders had helped bring Trump and Kim Jong-un back to the meeting table. In the US, the open letter, released at this auspicious moment, has kept itself relevant in the US presidential campaign, created topics for upcoming debates, and secured a favorable foothold in the future political environment. Globally, the letter urges US foreign policy to re-employ the pro-establishment approach: to continue engaging with China, repair their relationship with US allies, and place renewed emphasis on multilateralism and global cooperation. It also puts a hold on China's attempt to renew its position on the US and roll out systematic and tough policy against it.
Nevertheless, an open letter can hardly alter the style of the Trump administration, nor can it challenge China's viewpoint that "the US's China policy is experiencing fundamental shifts."
First, the open letter does not speak for US elites writ large. The letter's authors and signers are overwhelmingly liberal scholars and former government officials who have connections with the Democratic Party. Their current institutional affiliations—think tanks and universities—are home to liberal elites and young people. Some, out of consideration for political affiliations or career prospects, have not signed the open letter. These include think-tank personnel and former government officials with Republican Party ties, fourth-generation China experts, and some former high-ranking officials with Democratic backgrounds.
Second, the open letter has a limited impact on the Trump administration. Since Trump assumed office, he has labeled his predecessors' China policies "failures," concentrated the decision-making power within his inner circle, and refused the advice of think tanks. Meanwhile, due to their antipathy towards and disapproval of Trump and his policies, most signers have been alienated from the policy-making circle, marginalizing their clout. The Trump administration's recent soft approach to China is a voluntary adjustment made after the administration's plans backfired, not one prompted by the expertise of US think tanks.
Third, and most important of all, the open letter does not negate the fundamental direction of the Trump administration's China policy. Instead, it enumerates and criticizes China's domestic and international behavior, admits that the shift of China's domestic and foreign policies raises "serious challenges" for the rest of the world, agrees on the naming of China as a "strategic competitor," and endorses the argument that the US should give tough, firm, and effective responses to China's rise. In this sense, the open letter is only challenging the way Trump handles relations with China, rather than challenging his overall goal of containing China's rise. Calling for a "smart contest" to replace "reckless competition," it shows that, US opinion on the country's China policy is majorly divided over strategic approaches, but not over the strategic direction.
Although the open letter emphasizes that "there is no single Washington consensus endorsing an overall adversarial stance toward China," it does not deny that the US government has reached the consensus that "China poses a challenge to the US and the US should strengthen its containment strategy towards China." Therefore, the letter may fail to sooth China's short-term worries about bilateral relations, even if Chinese Foreign Ministry Spokesperson Geng Shuang stated a day after its release that "China has confidence in China-US relations" and that "objective, rational and inclusive voices will eventually defeat intolerant, crazy and zero-sum views."
As the US enters its general election cycle, China-US relations will probably continue to face challenges in the years ahead. The next few years are likely to include provocations in election campaigns, recurrent economic and trade frictions, the continuation of military sword rattling in the South China Sea, fluctuations in the Taiwan and Hong Kong issues, the "shadow war" in cyberspace, and links between Xinjiang and human rights issues, to name a few. Therefore, China should exercise strategic patience to cope with ongoing changes in the US.
To this end, we should clarify three notions.
First, "strategic competitor" and "strategic adversary" are two different concepts. "Strategic competitor" is a neutral term, and competitors can be benevolent or malevolent. As two great powers, China and the US will inevitably battle over various fields, the question is which form the competition will take. A cut-throat competition will make them adversaries, which is sure to cause de facto decoupling and trigger a cold war, perhaps even a hot one. The confusion between the two concepts, intentionally or otherwise, is quite prevalent in both the US and China. In the US, policy action antagonizing China has gone beyond the threshold set by policy makers, and in China the country has a strong tendency to regard the US as an imaginary enemy and a primary security threat. The discrepancy between policy orientation, actual practice, and subjective consciousness has impacted how China and the US interact with each other and, ultimately, has undermined the foundation of mutual trust. The open letter speaks to the dangerous situation in which the two countries mistake a rival for an adversary and make disastrous decisions based on incorrect strategic assumptions.
Second, Beijing must make adjustments to cope with the US's changing strategy towards China, as rigid practices will only lead the country to a more passive position. However, sweeping and reckless adjustments are not encouraged. Instead, China should learn from the Trump administration's mistakes: they allowed various agencies to seize power and introduce radical policies that damaged China-US cooperation and eventually trapped them in a dilemma. Thorough deliberations are needed to work out best interests in exchanges with the US in the new era and the limit of US internal "consensus." Efforts should also be made to enhance coordination to ensure that different agencies act in line with central government guidelines. Such agencies should develop rational plans, conduct professional operations, coordinate their actions, and create synergy. While actively adapting to new circumstances, China should maintain continuity in its policy towards the US to avoid fractured adjustments.
Third, it is important to recognize that current changes in China-US relations can be attributed to two factors: national mindsets have shifted as the power gap between the countries narrows rapidly, and both sides have changed their approaches to global interactions in recent years. Domestic politics, admittedly, also have an unprecedentedly direct and strong impact on their policy towards one another. At present, the real challenge for China-US relations remains: though competition is inevitable and a friendly rivalry remains possible, there are still too many adverse factors and potential points of tension to cultivate healthy competition. China and the US should make concerted efforts to contain and manage the impact of domestic politics on their foreign policies. In this regard, if efforts to convince the Trump administration are unlikely to deliver tangible results in the short term, it is necessary to adopt longer-term approaches that engage with the pro-establishment camp and jointly bring China-US relations back to normal to prevent the worst from happening.
The open letter will likely incite a new round of debates in the US over its China policy. China's strategists should take this opportunity to voice their views and influence the discussion. Instead of exchanging ideas solely within their own community, they should engage with the US to explore future patterns of bilateral relations in the collision of ideas.
Ultimately, I appreciate the open letter signed by US scholars and former government officials, as it is a timely reminder for their Chinese counterparts that they must view the US from a more comprehensive perspective and think rationally. Such comprehensive and rational thinking is urgently called for as the two countries deal with bilateral relations in the next phase.