2019 saw the rise of two new giants in the plant-based meat industry: Impossible Foods and Beyond Meat. Consumers in the United States and Europe have likely seen these brands in their local supermarkets, as well as on restaurant menus ranging from Burger King to the Cheesecake Factory. So far, however, these two companies have had a limited presence in China, outside of Hong Kong. The reasons are indicative of how China's alternative meat industry may shape itself in the coming years.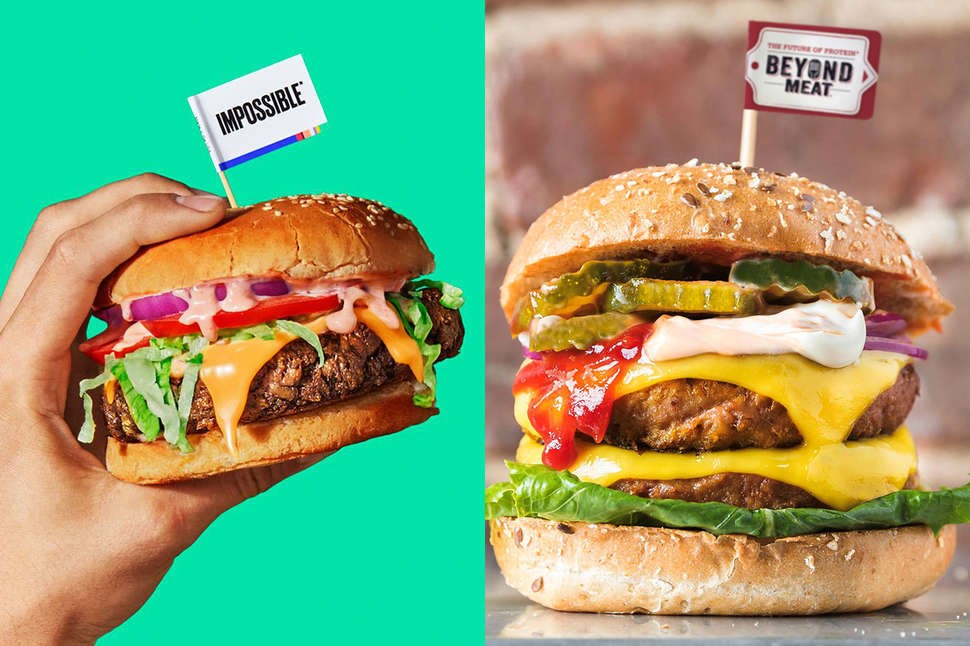 Photo Source: Thrillist.
For both Impossible Foods and Beyond Meat, entering the Chinese alternative meat market is a priority because of its sheer size. According to a study published in May 2019 by the Good Food Institute, the market for China's domestic plant-based meat industry was approximately 6.1 billion yuan (910 million USD), showing a year-on-year increase of 14.2 percent. The same study showed that the growth rate of the US market was higher at 23 percent, but the overall size is a humbler 684 million USD. What stands out is that over 90 percent of the survey's Chinese respondents do not identify as vegan or vegetarian, illustrating that these market share gains represent an increased general public interest in consuming plant-based meat. Furthermore, China's meat industry is massive; the nation consumes nearly a third of all of the world's meat. Any meat-based company looking to scale up its sales would be wise to look to China.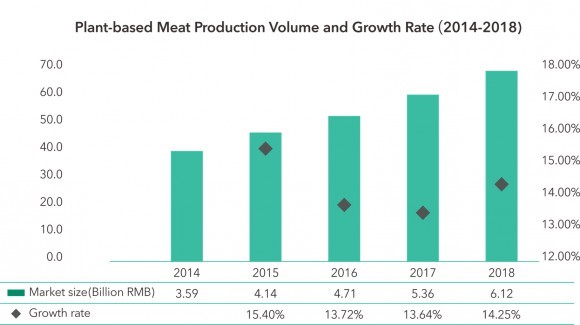 Good Food Institute's 2019 study has shown growth in the plant-based industry in China in 2018, bringing the size of the industry to approximately 6.1 billion yuan (910 million USD). Source: Good Food Institute.
There have been two main obstacles to Impossible Foods' and Beyond Meat's entrance into the Chinese market. The first obstacle is regulatory: as foreign companies, there are a number of hoops each plant-based meat producer will need to jump through in order to have their products approved for sale in China. While Beyond Meat is aiming to begin selling within China by the end of 2020, Impossible Foods is facing another set of regulatory hurdles due to the genetically modified, yeast-based "heme" that serves as the key ingredient of the company's recipe. While heme has already been approved by the US Food and Drug Administration, genetically modified organisms strictly regulated for human consumption in China. This could further delay Impossible Foods' China entry, despite initial success at the China International Import Exposition in Shanghai last November.
The second obstacle that these food giants must confront in entering the Chinese market is competition with local, smaller scale Chinese companies. Although Impossible Foods and Beyond Meat have been physically absent from China, during the year that they have surged into Western menus and public consciousness, they have given Chinese domestic producers a boost. One such enterprise is Zhenmeat, a plant-based meat startup based in Beijing. Though the company is less than a year old, it has already raised around 5 million RMB (723,181 US dollars) and hopes to raise an additional 2 million US dollars in capital in 2020. According to Vince Lu, Zhenmeat's founder, his company has a leg up on the two major American companies trying to enter the Chinese market, despite their much greater size. Because Zhenmeat is a Chinese company, Lu says, it will have an easier time working within the Chinese business environment and can better cater to Chinese tastes.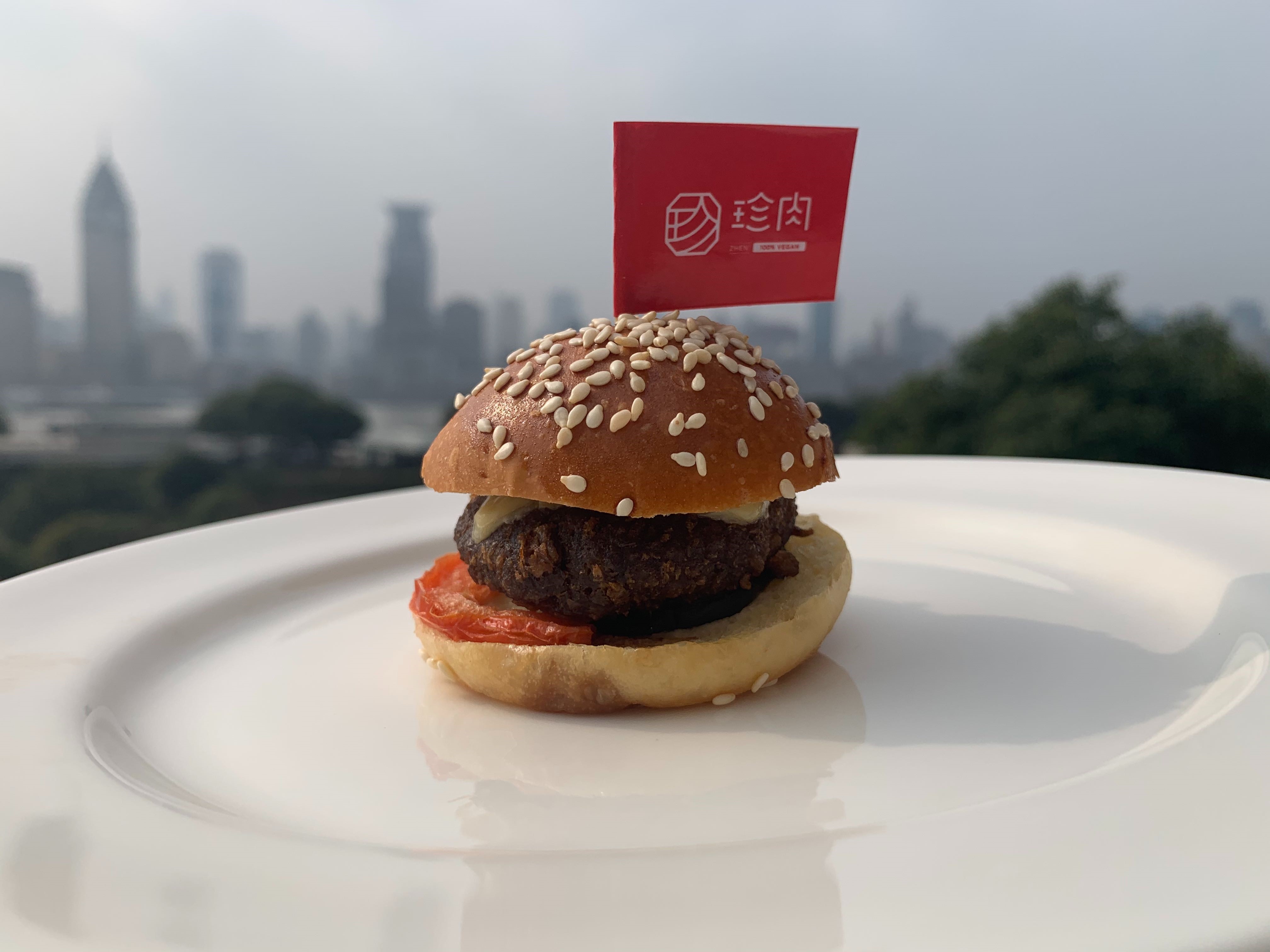 A Zhenmeat burger, ready to eat in Shanghai. Source: CNBC.
Lever VC, a New York-based early-venture fund that served as one of the early backers of Beyond Meat, already invested in two China-based alternative protein startups in 2019, betting on the fact that this industry will continue to flourish domestically. The new wave of investment in China's alternative meat industry stands on the basis of a long tradition of meat alternatives established there, traceable back to the Tang dynasty. Further, over the past decades, Chinese-founded companies such as Omnipork, Whole Perfect Food, and Hong Chang Bio-Tech (Suzhou) Co., Ltd. have established thriving alternative meat operations within China.
Among the main reasons that it is important for China to continue expanding its alternative meat industry are two important environmental concerns: livestock illnesses, such as African Swine Fever (ASF), and climate change. ASF hit China in August 2018 and resulted in the culling of millions of the nation's pigs, a drop in annual pork production of 20 million tonnes, and price spikes in pork of nearly 70 percent in 2019. Reports from early 2020 have shown that although ASF has recently began to be contained, early January food price inflation was still at 17 percent, a lingering effect of the outbreak. While food price inflation could remain high for several months to come, the effects send a more general signal that the 65 percent of China's meat consumption constituted by pork puts the nation's food security in a dangerous position when outbreaks like ASF strike.
In terms of environmental impact, plant-based meat has a dramatically lower impact on the environment than traditional meat production. Impossible Foods has stated that its burgers require 87 percent less water and 96 percent less land to produce than regular beef, while Beyond Meat's burgers have been found to require 46 percent less energy to produce than beef from a cow. Respectively, the burgers generate 89 percent and 90 percent less greenhouse emissions than regular burgers.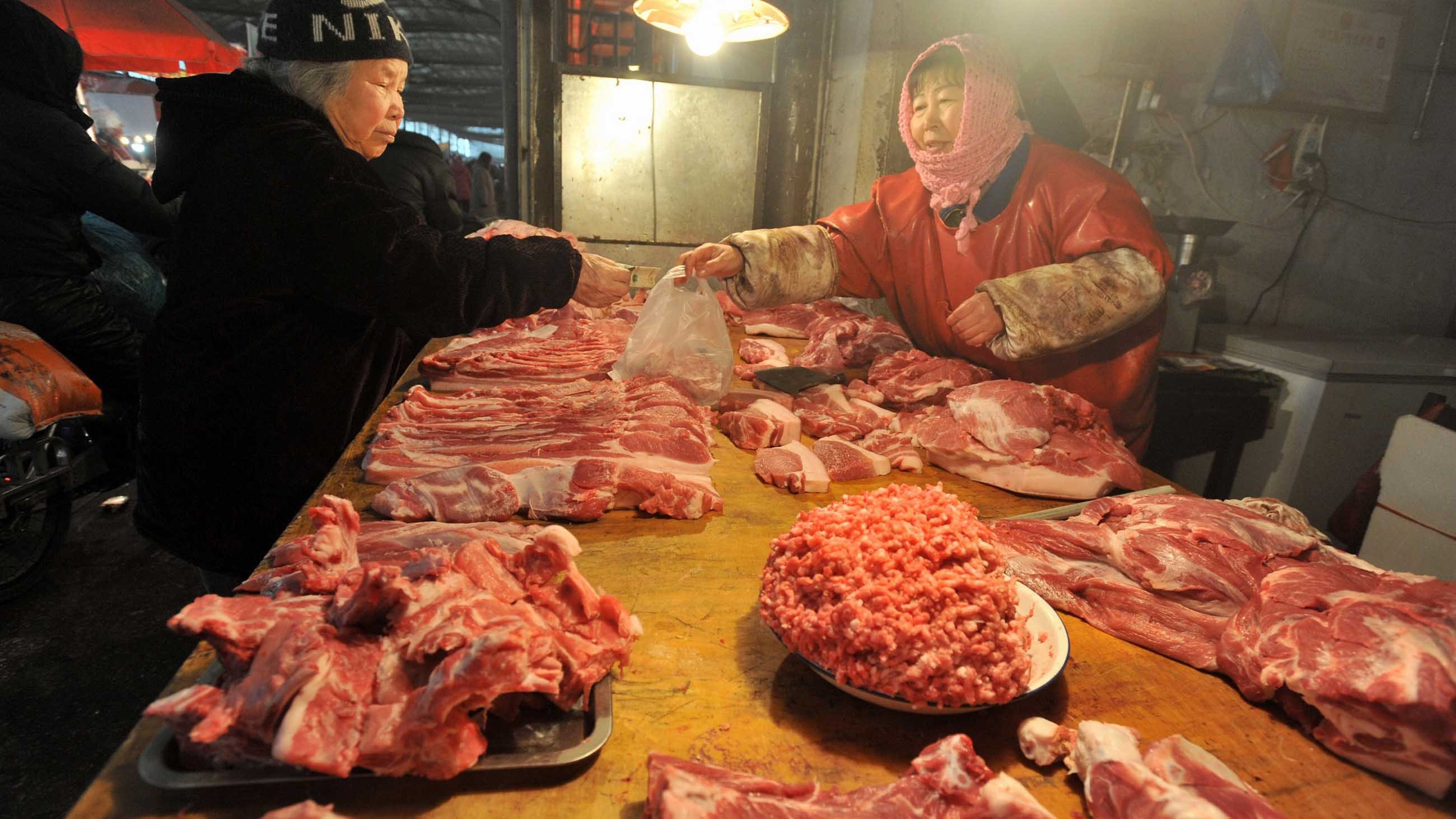 China is among the top meat consumers world-wide.
Photo Source: Undark
As is the case with any major global issue, it is important to consider animal meat and plant-based meats' roles in the Chinese market, considering the size of China's population and economy. In 2018, China ranked as the second-highest consumer of beef. Because not all cattle are raised domestically, the impact of China's appetite for beef is spread out halfway across the globe in the form of habitat conversion in South America.
China is the world's second-highest importer of beef, much of which comes from Argentina, Uruguay, and Brazil. Cattle ranching is a significant contributor to deforestation and ecosystem destruction in South America. The other major agricultural product of concern for the region's environment is soy, which is used in products that are directly consumed by humans, but even more frequently as feed for animals raised for their meat, such as pigs and cows. As a result, in order to feed its population's meat consumption needs, China has become the largest global importer of soy.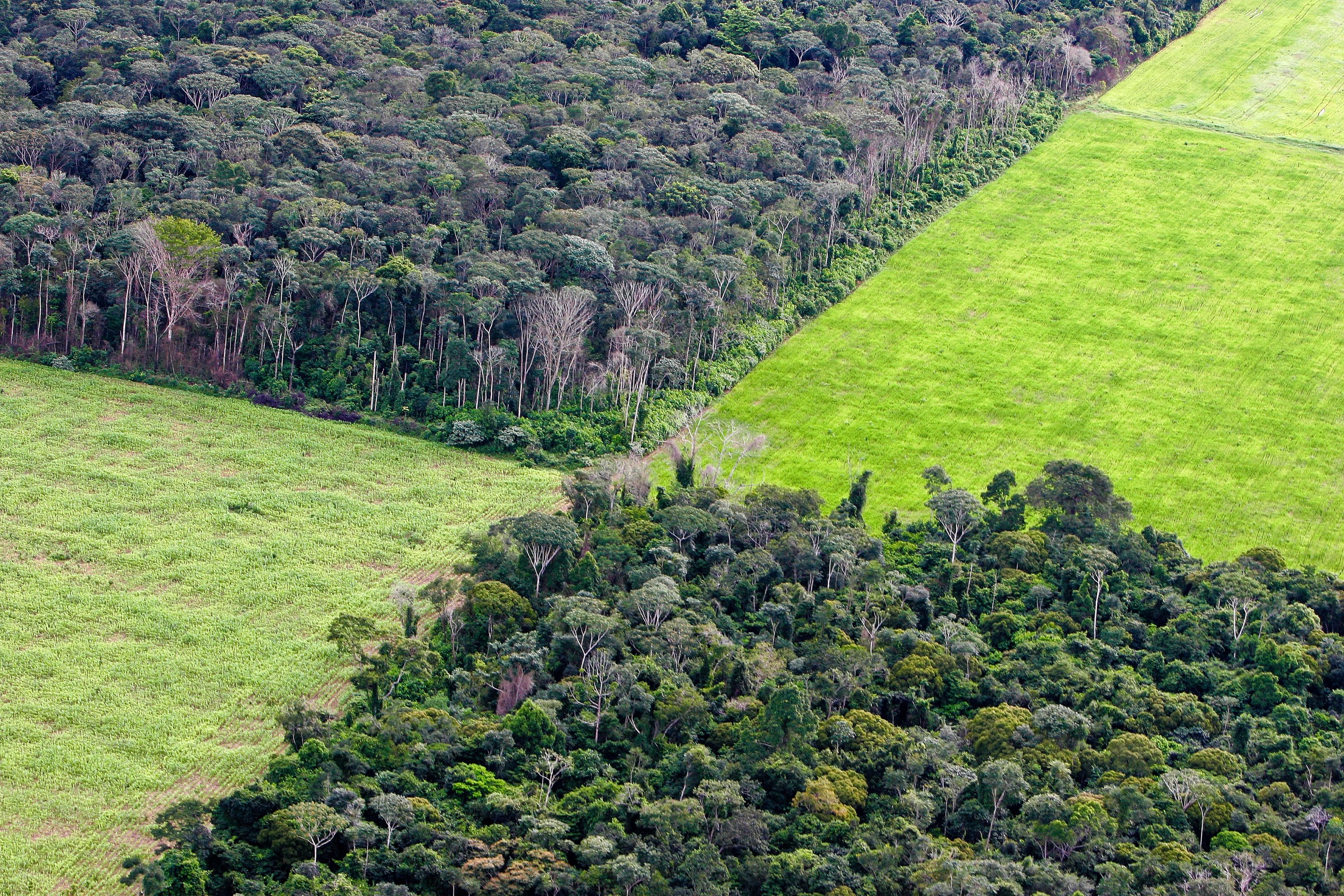 Soy plantations in the Brazilian Amazon. Source: WildAid.
South America is eager for improved agricultural trade prospects with China, as China is the largest importer of Brazilian, Argentine, and Uruguayan beef and the largest importer of Brazilian and Argentine soy. If this growth is not regulated and controlled, however, meat consumption will have an amplified impact in some of the world's most sensitive ecosystems located in South America, such as the Amazon rainforest and Brazil's Cerrado woodland-savannah ecosystem. Over time, agricultural production in these sensitive areas could become the driver that pushes them past their tipping points, which would have further disastrous effects on top of the dramatic climactic changes already underway.
Given China's desire to serve as a leader in climate governance, in addition to the risks posed to food security by livestock illnesses like ASF, and the surging trend of producing high quality meat alternatives, China stands to gain greatly by further embracing plant-based meats. Along the way, Chinese entrepreneurs and veteran plant-based meat producers can also ride the wave of the current plant-based meat craze, using their domestic advantage to expand within the current Chinese plant-based meat market as foreign competitors create attractive alternatives within China in the coming year.