Canada-China relations have been complex and at times fraught over the past decade. On the one hand, Canada has over 1.8 million Canadians of Chinese origin– more than 117,000 Chinese students studying in Canada– and when you combine trade from Mainland China and Hong Kong, approximately 4.1 % of Canada's total trade–$CAN 24.5 billion– is associated with China. On the other, while there have been some areas of cooperation and economic engagement, such as the signing of the Canada-China Foreign Investment Promotion and Protection Agreement (FIPA) in 2012, issues including the case of Huawei executive Meng Wanzhou, Chinese influence operations in Canada, allegations of electoral interference, and the actions of the United Front Work Department (UFWD) have brought bilateral relations to their lowest point since establishment of diplomatic relations in 1970. A current survey of trade concerns and security allegations present between China and Canada is needed to assess the state of the overall bilateral relationship.
The arrest of Huawei executive Meng Wanzhou in December 2018 marks a downward trend in the Canada-China relationship. Meng was detained in Vancouver at the request of U.S. authorities, who sought her extradition to face charges related to alleged violations of U.S. sanctions against Iran. The arrest of Meng and subsequent extradition proceedings soon evolved into a tit-for-tat series of allegations and escalations with China accusing Canada of violating Meng's human rights and engaging in political interference.
In response to Meng's detention, China detained two Canadian citizens, Michael Kovrig and Michael Spavor, on charges of espionage. Canadian Robert Schellenberg, who was sentenced in November 2018 to a 15-year prison term in China over allegations of drug smuggling, was also retried and sentenced to death a month after Meng's detention. The detentions and death sentence were and continue to be widely understood as a retaliation for Meng's arrest. Beijing's use of "hostage diplomacy" against Canada but also against Japan and Australia has raised concerns about its willingness to use arbitrary detention as a tool of statecraft.
The Meng case has had a significant negative impact on Canada-China trade relations in particular. China imposed several trade restrictions on Canadian goods, including canola, pork, and beef. These restrictions have had a negative impact on Canadian farmers. As a result, Canadian exporters have made calls for the Canadian government to diversify its trade relationships, reduce its reliance on China, and protect against economic coercion and weaponization of trade relations. While China is an important market for Canadian goods, the trade restrictions have demonstrated the potential for political and economic retaliation by China in response to actions taken by the Canadian government. Canada has used various channels to diversify its trading partners, including through its new Indo-Pacific Strategy and by working with G-7 members– as exemplified in the G-7 Hiroshima Leaders' Communiqué and the G-7 Leaders' Statement on Economic Resilience and Economic Security.
The Canadian government has also designated the issue of Chinese influence operations in Canada as an area of concern, as outlined in the May 2023 Interim Report of the Special Committee on the Canada – People's Republic of China Relationship and the First Report - The Right Honourable David Johnston, Independent Special Rapporteur on Foreign Interference.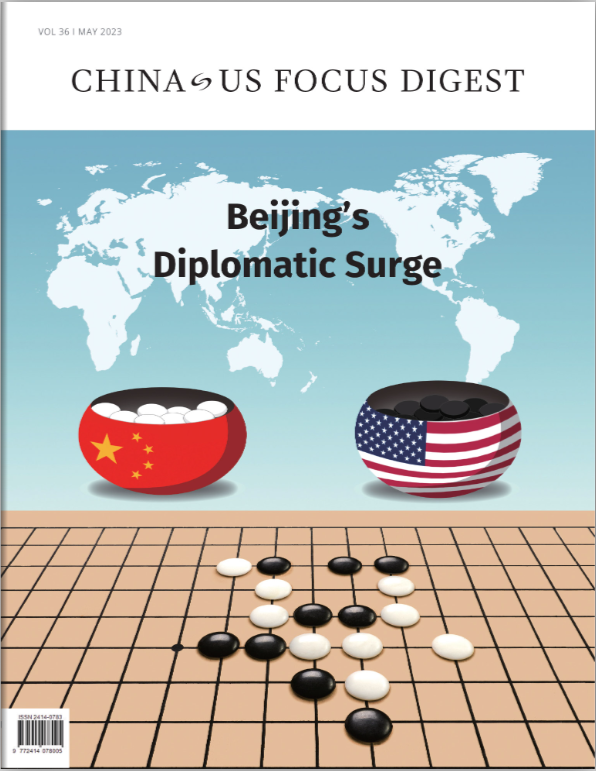 Click to read the latest issue of China-US Focus Digest
There have been several high-profile cases of alleged Chinese interference in Canadian politics and academia, including in 2021, when the Canadian Security Intelligence Service (CSIS) reported that the Chinese government had been looking at ways to intimidate Conservative MP Michael Chong and his extended family in Hong Kong. Additionally, in 2019, a Senate committee released a report that detailed the extent of Chinese influence operations in Canada, including the activities of the United Front Work Department (UFWD), an agency of the Chinese Communist Party that seeks to promote China's interests abroad. The report called for greater scrutiny of Chinese activities in Canada and the development of a coordinated response to counter Chinese influence.
The Canadian government has also made allegations regarding Chinese interference in Canadian elections, particularly in the lead-up to the 2019 federal election. In 2018, the CSIS warned that foreign interference in the election was a "realistic possibility," and cited China as one of the countries that posed a threat to Canadian democratic institutions. While there were no definitive reports of foreign interference in the 2019 election, the case galvanized Canadian policymakers to increase scrutiny over China, and established a new task force to monitor and address foreign interference in the election. The task force worked closely with social media companies to identify and remove false or misleading content and took steps to protect the integrity of the election process.
The Trudeau government has faced significant challenges in managing the Canada-China relationship over the past decade. While the government has sought to deepen economic ties with China and engage in constructive dialogue on areas of mutual interest, it has also been critical of Chinese human rights abuses and has taken steps to address Chinese interference in Canada.
Hitherto, Ottawa's approach to Beijing has been characterized by a "China engagement" policy that seeks to balance economic opportunities with concerns about human rights and security. This approach has been criticized by some as being too accommodating to China, while others have argued that it has not done enough to address the risks of Chinese interference in Canada.
The recently adopted Canadian Indo-Pacific Strategy adopted a new two-pronged approach, highlighting that while Canada recognizes "China's sheer size and influence makes cooperation necessary to address some of the world's existential pressures, such as climate change and biodiversity loss, global health and nuclear proliferation. And China's economy offers significant opportunities for Canadian exporters" it will "at all times, unapologetically defend our national interest, be it with regard to the global rules that govern global trade, international human rights or navigation and overflight rights. Our approach to China is shaped by a realistic and clear-eyed assessment of today's China."
Looking ahead, it will be important for Canadian policymakers to continue to monitor and address Chinese interference in Canada, while also seeking to deepen economic ties with China in a manner that is consistent with Canadian values and interests. This will require a coordinated and proactive approach that takes into account the risks and opportunities of engaging with China, and that seeks to promote a stable and constructive relationship between the two countries.