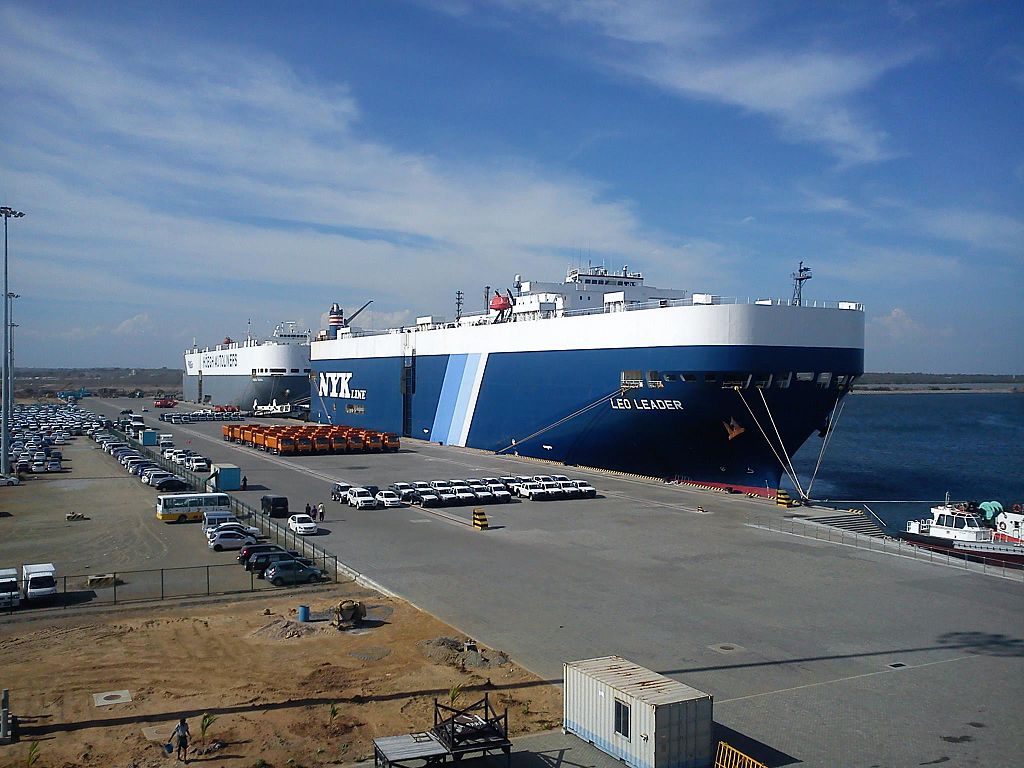 China claimed Sri Lanka's Hambantota port on a 99-year lease after the latter failed to repay its debts on time
Grand on ambition but short on transparency, Chinese President Xi Jinping's marquee project, the Belt and Road Initiative (BRI), seeks to refashion the global economic and political order by luring nations desperate for infrastructure investments into China's strategic orbit. The BRI is essentially an imperial project aiming to make real the mythical Middle Kingdom.
The BRI, rolled out in 2013, attracted many countries with China's offer to finance and build major infrastructure projects, including ports, highways, energy plants and railroads. Nations neglected by multilateral lending institutions flocked to the BRI. Xi, seeking to put the international imprimatur on his initiative, hosted a BRI summit in Beijing 17 months ago that was attended by a number of world leaders.
But after smooth sailing, the BRI is beginning to encounter strong headwinds, as partner-countries worry about China ensnaring them in sovereignty-eroding 'debt traps.' China has extended huge loans to financially weak states, only to strengthen its leverage through debt entrapment.
Beijing has converted big credit not just into political influence but also a military presence, as its first overseas naval base at Djibouti illustrates. Trapped in a debt crisis after borrowing billions of dollars, Djibouti was left with no choice but to lease land for the base to China for $20 million in annual rent.
Malaysian Prime Minister Mahathir Mohamad, with Chinese Premier Li Keqiang by his side in Beijing's Great Hall of the People, recently criticized China's use of infrastructure projects to spread its influence. By warning China against "a new version of colonialism," Mahathir highlighted international concerns over Beijing's use of geo-economic tools to achieve geopolitical objectives.
A number of countries have now begun trying to renegotiate their deals with Beijing. Some have decided to scrap or scale back BRI projects. Mahathir, during his Beijing visit, announced the cancellation of Chinese projects worth nearly $23 billion. And China's close ally, Pakistan, has just downsized its main BRI railroad project by $2 billion.
The BRI not only seeks to export China's model of top-down, debt-driven development through government-to-government deals clinched without competitive bidding, but is also creating new markets for China's state-owned manufacturers and infrastructure developers at a time when they are facing sharp slowdown and overcapacity at home. But, increasingly, the BRI is being seen internationally as an attempt to remake global commerce on China's terms and project Chinese power far and wide.
Vulnerable countries are awakening to the risks of accepting loans that are too good to be true and then slipping into debt entrapment. From Myanmar to Kenya, China's big-ticket BRI projects are facing criticism for their potential to saddle countries with debt that they cannot pay off, which would leave them with no option but to transfer their strategic assets to Beijing.
This is exactly what happened to the small island-nation of Sri Lanka. Last December, China acquired the strategic Indian Ocean port of Hambantota on a 99 year lease in exchange for shaving $1.1 billion off of Sri Lanka's debt.
By financially shackling smaller states through projects it funds and builds, China is crimping their decision-making autonomy in a way that encourages these states to stay within its strategic orbit. China is even replicating some of the practices that were used against it during the European-colonial period; for example, the concept of a 99 year lease emerged when Britain leased the New Territories from China for that period in 1898, causing Hong Kong's landmass to expand by 90%.
In the Maldives, China has managed to acquire several islets in that heavily indebted Indian Ocean archipelago. While the terms of the various lease agreements have not been disclosed, the acquisitions have come cheap; for example, China paid just $4 million for Feydhoo Finolhu, an island that previously served as a police training center. Mohamed Nasheed, the nation's first democratically elected president who was ousted at gunpoint in 2012, said that, "Without firing a single shot, China has grabbed more land in the Maldives than what [Britain's] East India Company did at the height of the 19th century."
Despite these criticisms, the BRI is still bagging new contracts in some other countries. U.S. punitive policies and sanctions against countries as varied as Russia, Pakistan and Zimbabwe are aiding China's geo-economic objectives. Internal political developments in some nations have also advanced Chinese interests.
One example is the Himalayan nation of Nepal, which became the world's sixth communist-ruled country in February. China helped unite warring communist factions in Nepal and funded their election campaign. Now Beijing is reaping the rewards. The new communist government in Nepal in September reinstated a deal with China for a $2.5 billion dam project that was scrapped by the previous government. China won the contract without an open bidding process, and further, critics in Nepal say China has massively inflated the project cost, which will leave Nepal struggling to repay the Chinese loan.
Laos, another communist-ruled nation, is also seeking more BRI financing and investment. In continental Southeast Asia, while Myanmar, Thailand, and Vietnam are now wary of getting too close to China, Laos, and Cambodia see the BRI as critical to boosting their economic growth.
The reality, however, is that after the initiative's heady first phase, the pace of new contracts under the BRI has slowed, as concerns spread about China's debt-trap diplomacy and as heavily indebted nations recoil from accepting more Chinese financing in the form of market-rate loans. This trend is likely to intensify in the next few years.
With the BRI funding largely going to economically weak and politically fragile countries, China's business logic could face greater scrutiny even at home, especially as the security costs of some projects mount.
Take Pakistan, the largest recipient of BRI financing. The Pakistani military has created a special 15,000 strong force to protect Chinese projects. In addition, thousands of police have been deployed in some provinces to protect Chinese workers. Yet sporadic attacks on Chinese in Pakistan have underscored the rising security costs. The BRI has also contributed to Pakistan's deepening financial crisis, with the country now seeking an international bailout package.
Within China, the BRI is now starting to face criticism from intellectuals who question the wisdom of plowing hundreds of billions of dollars into overseas projects when the government is still grappling with poverty and underdevelopment in a number of provinces. Critics are also concerned that Xi's aggressive, in-your-face quest for Chinese dominance is inviting an international backlash. The BRI — the world's biggest building program, which Xi has hailed as "the project of the century" — exemplifies how China is flaunting its global ambitions.
The larger pushback against China's neocolonial practices is likely to intensify in the coming years, putting greater pressure on the BRI. The initiative, however, will continue to benefit from a U.S.-led sanctions approach that seeks to punish countries in the name of human rights or nuclear nonproliferation. Thanks to this approach, the BRI is still bagging major lucrative contracts in countries as diverse as Iran, Sudan, and Cambodia, in spite of the looming risks to each country's financial future.