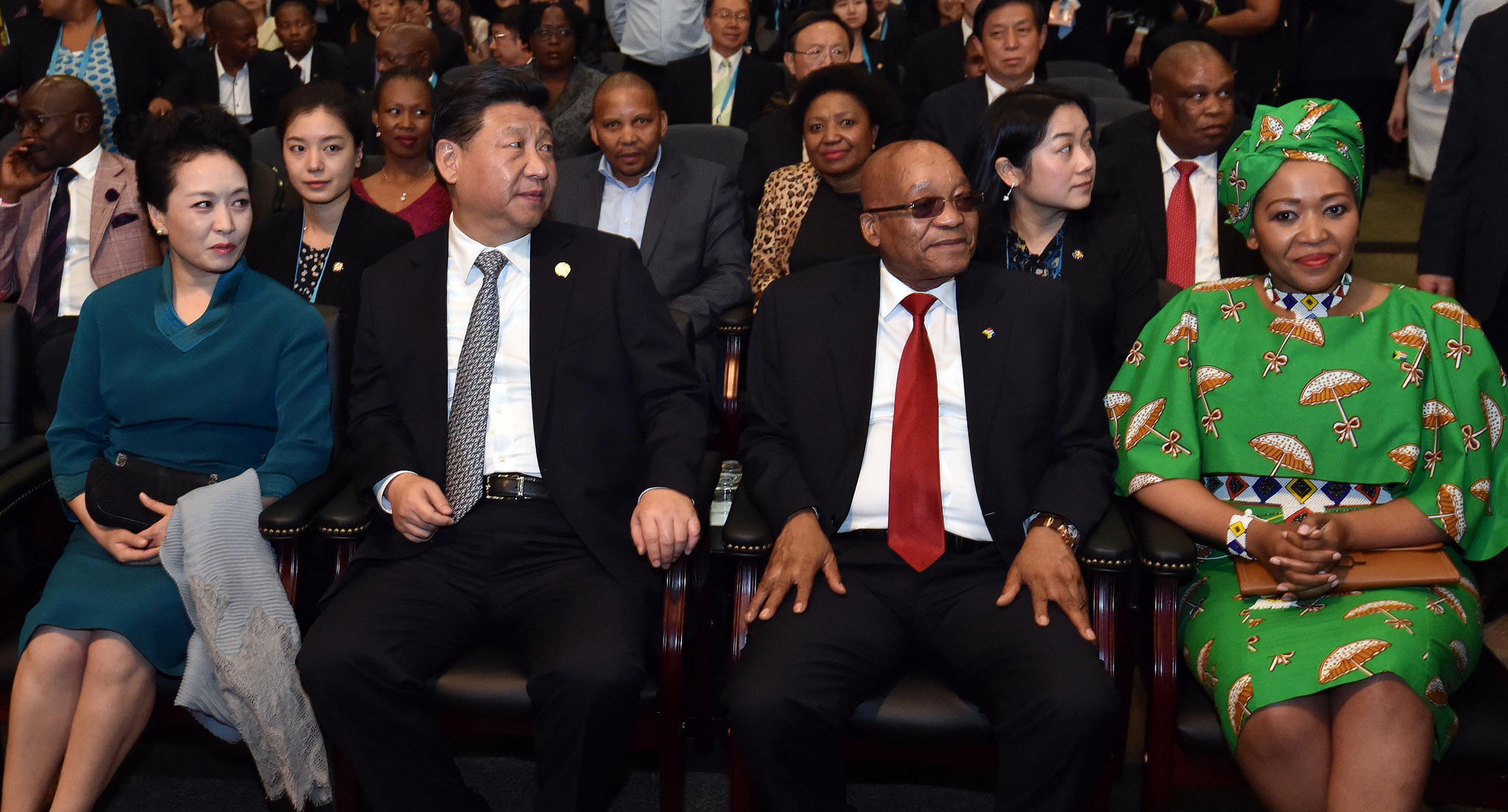 Chinese President Xi Jinping and his wife Peng Liyuan, President Jacob Zuma and his wife Tobeka Madiba Zuma are joined by several Heads of States and Government at the closing ceremony of the 2015 Year of China in South Africa cultural evening in Sandton, Johannesburg.
As the Trump administration outlines its strategy for cooperation in Africa, it paints Beijing as a rival to be contained. Despite these efforts, Chinese analysts and policymakers argue that China will provide much needed development: a pathway, they argue, to stability and improved quality of life. This broad vision of stability and progress often ignores potential political and security risks and raises questions about the sustainability of Chinese development on the continent.
The reality is that while the Trump administration may object to China's growing economic influence in Africa, there are limits to American economic partnerships with African nations. The US no longer depends on Africa as an energy supplier, given the increasing availability of domestic shale and natural gas. Additionally, while African economies are still growing, they only account for around 3% of global GDP. American firms also face an unfriendly business environment in African nations that are still developing productive business practices, further limiting US economic engagement on the African continent.
Instead of seeking insubstantial economic benefits that require further capacity building, US policy in Africa should focus more heavily on mitigating security threats. Instability in the region feeds global terrorism, governance violations, and migration crises — challenges that heavily impact American interests; as well as those of American allies. By focusing on mitigating security risks, the US can secure its influence in Africa without competing for economic benefit, which will be minimal and not easily won. Instead of anti-China bluster, Trump would be better served by concentrating American efforts to promote security and refocus areas of current success. In doing so, the US can set standards on loan practices that encourages good governance practices and safeguard stability. While China argues that economic development will encourage stability, its loans are explicitly non-ideological. This is a feature that can either be viewed as an opportunity for all nations to grow their markets, or as a choice that allows for the continued survival of repressive regimes.
"Prosper Africa": Trump's foreign policy shifts
The Trump administration has signaled that it will seek to shift US policy on Africa, focusing on beating out China and Russia for economic influence while largely ignoring security risks. In his speech at the Heritage Foundation in December 2018, National Security Advisor John Bolton said, "They are deliberately and aggressively targeting their investments in the region to gain a competitive advantage over the United States." Instead of good investment practices, "China uses bribes, opaque agreements, and the strategic use of debt to hold states in Africa captive to Beijing's wishes and demands. Its investment ventures are riddled with corruption," he argues.
Moving forward, Trump's Africa Strategy has three core components: advancing US trade and commercial ties with African nations, pursuing bilateral trade agreements in the coming years, and assisting key African governments in building security capacity. In October, Trump authorized legislation that revamped the process for delivering foreign aid, by creating the U.S. International Development Finance Corp. This $60 billion agency combines existing foreign policy institutions and explicitly aims to counter China's growing influence in the region. On the policy, Trump asserted that the US has achieved limited results in Africa and that he intends to use US aid more effectively and efficiently in areas ranging from health care to rule of law.
China Responds
The Foreign Ministry spokesperson Hua Chunying fiercely refuted Bolton's remarks and Trump's antagonism, arguing that Beijing is working to incorporate all voices in its development strategy and that such criticisms are biased and unfair attacks on China. This response supports China's more longstanding rhetoric on Africa, arguing that Beijing is not a colonial power and will not act as such. Instead, Xi and other Chinese lawmakers seek to present China as the ally that developing nations need, a nation that understands their struggles based on shared experiences as a developing country.
China seeks to differentiate itself from the approach of colonial powers. At the Forum on China–Africa Cooperation (FOCAC) in September 2018, President Xi Jinping announced the core components that define China's Africa strategy, dubbed the five 'Nos' and four 'Cannots'. The five 'Nos' serve as a clear defense against charges of colonial behavior, stressing that China will not interfere in African countries' development strategy or sovereignty, will not attach political strings to assistance, and will not seek political gains in investment.
What are China's goals in Africa?
China's needs in Africa are diverse, ranging from energy security and access to the continent's oil reserves, to diversifying its economic strategy amid slowing growth rates. China has growing oil needs. It became a net importer of oil in 1993, and in recent years has surpassed the United States as the world's largest importer of oil. Africa provides 22% of China's crude oil imports, the second largest source after the Middle East. Among African nations, Angola, the Republic of Congo and South Sudan are key suppliers. Aside from oil, China's trade with Africa is varied, surpassing the US as the continent's top trade partner in 2009. China's primary exports to Africa are mineral fuels and lubricants, but it also exports iron ore, metals, various commodities and machinery, communications equipment, and manufactured goods.
In exchange for oil and trade, China offers development loans to resource-rich nations, such as Angola, in addition to developing trade cooperation zones in a variety of countries, including Ethiopia, Nigeria, and Zambia. Between 2000 and 2014, the Chinese government, private firms, and subcontractors provided $86 billion in loans to Africa. Chinese loans and credit are generally provided by the People's Bank of China, the China Development Bank, the Export-Import Bank of China, and the China-Africa Development Fund. In 2018, FOCAC generated $60 billion in grants, credit, and investment to African countries.
As China's engagement in Africa increases, critics raise questions about loan terms, as well as its impact on governance and business standards. China has explicitly framed its foreign policy as non-ideological, meaning that it will develop trade and diplomatic relations with nations regardless of their regime type or governance practices. For nations that are developing new infrastructure standards and business practices, "value free" engagement has a cost, including the potential of limited long-term benefits, exploitative workplace practices, and the facilitation of political corruption. Of course, these costs need to be evaluated on balance against large scale Chinese investment, but regardless it's clear that a counterweight to Beijing in the region is needed to push conversations on standard-setting. If the Trump administration wants to refocus the US strategy in Africa, Trump might consider what would best benefit the region: further scrabble for resources or efforts to improve security.