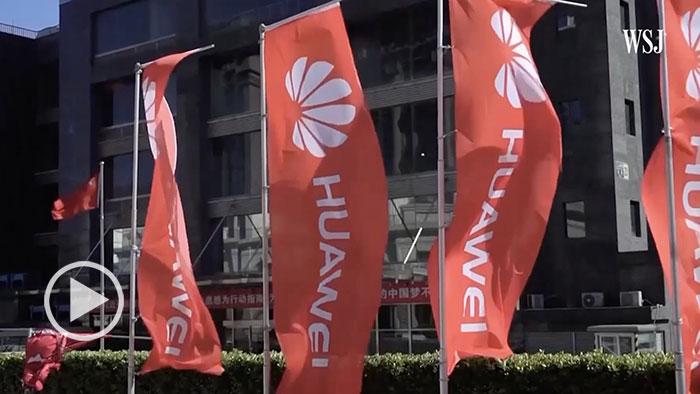 When it comes to Huawei, the Chinese technology giant, British Prime Minister Boris Johnson is holding out against U.S. President Donald Trump.
According to a Reuters report on Jan. 14, Johnson told BBC TV: "The British public deserve to have access to the best possible technology. We want to put in gigabit broadband for everybody. Now, if people oppose one brand or another, then they have to tell us what's the alternative."
According to Bloomberg, Johnson's words show that even in the face of great pressure from the United States the British government is ready to allow Huawei to provide at least some equipment for the 5G network in the United Kingdom.
Reuters said the United States has time and time again tried to discourage the U.K. from using Huawei technology, arguing that any use of the equipment in the British 5G network presented an unacceptable security risk. It would be "nothing short of madness" and would jeopardize the intelligence sharing relationship between Five Eyes intelligence partners — U.K., Canada, U.S., New Zealand and Australia.
The head of Britain's MI5 believes this is an exaggeration. The U.K.'s Secret Intelligence Service will not change its assessment that any security risks posed by the Chinese company's technology to British citizens are manageable.
Johnson was also reminded that banning Huawei technology means having to remove it from existing infrastructure, which may force a delay in providing gigabit broadband services to each household by 2025, as he promised.
There is a special relationship between Britain and the United States, and Johnson has always toed the line with Trump. But he had the courage to say "no" in the face of American pressure, which at least shows that the crackdown on Huawei does not make sense and is so unpopular that even U.S. allies are not convinced. It also shows that the extreme U.S. approach is disgraceful and annoying for others.
Established in 1987, Huawei is a 100 percent employee-owned private enterprise. It currently has 190,000 employees. It provides an employee stock ownership plan through a trade union. The participants are only employees of the company; there is no government department or agency that holds Huawei equity.
The company provides customers with secure, competitive products and services for communication networks, IT, smart terminals and the cloud. It currently operates in more than 170 countries and territories, serving more than 3 billion people.
Taking the lead among its peers worldwide, Huawei has developed rapidly based on its advantage as a late starter, a huge R&D investment and a high-quality research team. According to the 2018 EU Industrial R&D Investment Scoreboard, a survey of 2,500 companies in 46 countries and territories, Huawei ranks fifth in the world and first in China in terms of R&D spending.
According to its founder, Huawei has at least 700 mathematicians, 800 physicists, more than 120 chemists, nearly 7,000 basic researchers, more than 60,000 engineers and more than 6,000 talented people in applied science.
In recent years, Huawei has been a global leader in 5G technology. Countries with the right conditions to develop and apply 5G have sought cooperation with Huawei. Huawei has reached 5G agreements with nine European countries, including Italy, Germany, France, Switzerland, Portugal, the United Arab Emirates, Brazil, Russia and Indonesia.
European countries favor Huawei in their own national interest despite the pressure from the United States. The Global System for Mobile Communications Association reports that if Huawei equipment is banned, the cost of 5G networks in Europe will increase by 55 billion euros, and the introduction of 5G technology will be delayed by 18 months.
Spanish writer Aguadedo explained why Europe loves Huawei: "The relationship between the 5G network and telecommunications is like high-speed rail and railway. The 5G technology developed by Huawei is the engine of development. No matter how the current owner of the White House hates China's 5G, Europeans take this technology very seriously."
No country except the United States believes the use of Huawei technology and equipment will pose a threat to its national security. On May 15 last year, President Trump declared a state of emergency in an executive order. U.S. companies were forbidden to use telecommunications equipment produced by companies that pose a risk to national security. Almost all media that reported on the event suggested that the move would pave the way for banning all business between Huawei and U.S. companies — and, of course, it was also an international plan to curb Huawei.
To kill a private enterprise, the world's strongest country declared a state of emergency. This was not just unprecedented: It was hysterical.
In addition, major U.S. politicians, including the president, vice president and secretaries of state and defense, did not hesitate to use every opportunity and occasion to discredit Huawei. Use of Huawei technology became a touchstone for relations with the United States, which induced other countries to join the U.S. in blocking it. Some media ridiculed the U.S. for lobbying everywhere without decency.
To cripple Huawei, the United States also manufactured the indecent Meng Wanzhou incident. On Dec. 1, 2018, Meng, Huawei's chief financial officer, was detained by the Canadian police on behalf of the United States as she was changing flights in Canada. They said she had been a director of a company that violated U.S. sanctions against Iran by selling computers to it. In fact, Meng had long left this company. The United States was deliberately applying pressure to Huawei on invented grounds.
Meng is the daughter of Huawei founder Ren Zhengfei. She is set to become one of the future leaders of Huawei. Meng continues to be detained in Canada, violating her human rights. Some experts say that the United States has set a bad precedent in international relations in doing everything it can to suppress a company.