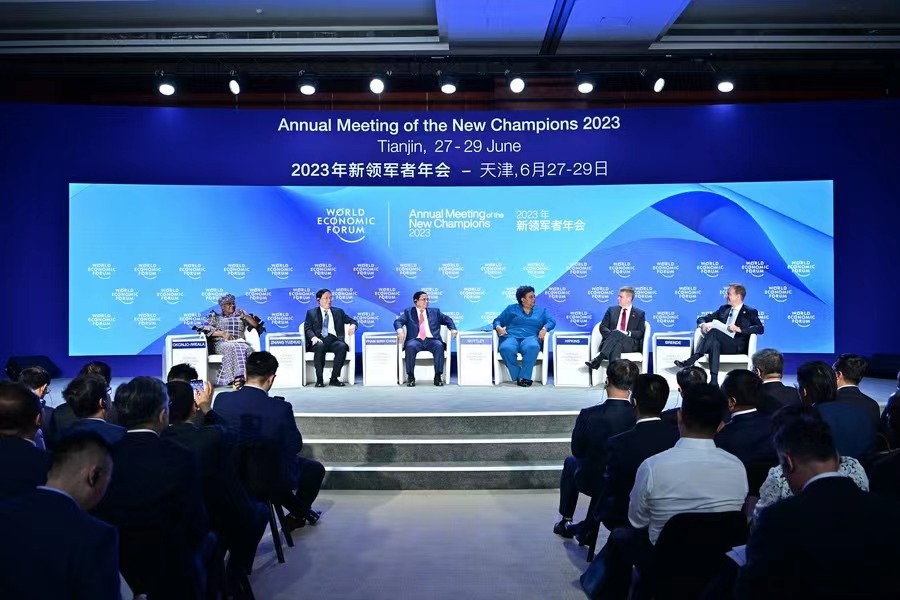 (photo: from Xinhua)
The World Economic Forum Annual Meeting on New Champions (AMNC 23), held in Tianjin from June 26 to 29, had more than 1,500 participants from 90 countries and regions. It sent out strong signals for a global growth revival, providing reassurance that the world is not moving into a lost decade.
The world economy is currently experiencing a "rocky recovery," as the IMF's latest World Economic Outlook put it, with world output expected to grow 2.8 percent this year and only accelerate slightly to 3.0 percent in 2024. The growth rates are apparently lower than the pre-pandemic period. Global inflation remains at a high level, with 7.0 percent expected for 2023 and 4.9 percent for 2024.
Pham Minh Chinh, the prime minister of Vietnam, summarized the world economy as moving forward against six headwinds:
• Recession and high inflation
• Pandemic-caused adversity
• Geopolitical competition
• The war in Ukraine which affects global food and energy security
• External payment crises in developing countries
• Climate change.
The fundamental path to a revival of global growth, as AMNC 23 found, includes revitalizing the private sector, fostering trade and creating new capital flows. However, all those depend on new growth engine: new and emerging technologies that pull ahead and reshape the world.
The World Economic Forum released a report — 10 Emerging Technologies of the World 2023 — at AMNC 23. These include flexible batteries, artificial intelligence, sustainable aviation fuel, designer phages, a metaverse for mental health, wearable plant sensors, spatial omics, flexible neural electronics, sustainable computing and AI-facilitated healthcare.
Of the 10 emerging technologies, two are related to frontier AI and digital technology, which will greatly advance productivity and reshape the global supply chain. Five are related to drastic advancement in healthcare; two are related to green development and fighting climate change; and one relates to the digital technology in agricultural production to enhance food output significantly.
The first technology is the flexible battery. It will lead to smart electronics, advances in nanotechnology, energy storage and smart textiles. It is estimated that the world flexible battery market will have a composite annual growth rate of 22.79 percent during the 2022-2027 period, or a net market size increase of $240 billion.
The second technology is generative AI, which expands the boundaries of human behavior, thus increasing productivity significantly.
Third is sustainable aviation fuel, which transforms aviation fuel from fossil sources to biomass. Since aviation fuel consumption accounts for 2 to 3 percent of world CO2 emissions, the transformation will contribute markedly to fighting climate change.
Fourth and fifth are designer phages and a metaverse for mental health. The former engineers viruses to augment human, animal and plant health, and has the potential to treat microbiome-associated diseases. The latter shares virtual spaces to improve mental health.
Sixth is wearable plant sensors. This technology will revolutionize agriculture data collection to enhance farm yields considerably. It thus responds to the acute needs of the world food supply. UNFAO has estimated that the world food output has to increase by 70 percent to meet the need of growing world population.
Seventh is spatial omics, which offers molecular-level mapping of biological processes to unlock life's mysteries. The world market size will increase from $232.6 billion in 2021 to $587.2 billion by 2030.
Eighth is flexible neural electronics. It offers better engineered circuits to interface with the human nervous system.
Ninth is sustainable computing, which involves net-zero-energy data centers, including Google searches, metaverse, AI and numerous other aspects. The data centers power AI society worldwide, but at the same time consume only 1 percent of world power supply. It is both a leading big data powerhouse and a carbon-neutral success.
Tenth, and last, is AI-facilitated healthcare. It is especially significant for developing countries with inadequate healthcare infrastructure.
The fascinating 10 new technologies are not all the landmark new technologies in the contemporary world. They were carefully selected from a list of 95 new technologies and will serve as strong engines driving the world economy forward, avoiding "a lost decade." Naturally, there was a mood of world collaboration in those technologies among participants at AMNC 23.
In this context, Washington's current policy of resilient supply chains based on value — excluding China — and the sweeping bans and restrictions of high-end chips and other technologies, as well as the upcoming tightening of high-tech investment in China, work against the world technology trend and are less effective.
First, the emerging technologies can prevail over the current U.S. advantages in those areas. Compared with flexible batteries and generative AI, for example, ChatGPT is just beginning. The new technologies will reshape global supply chains, covering vast numbers of countries and regions and exceeding the narrow definition of "value-based" ones.
Second, China is also a part in the sweeping growth of these technologies. Large numbers of world technology companies and institutional investors came to Tianjin and had discussions with representatives of the Chinese government and businesses at AMNC 23. According to a recent report by Boston Consultants, of the world's top 50 innovative companies, American tech giants took the top five spots (Apple, Tesla, Amazon, Alphabet and Microsoft). But Chinese companies took eight seats, with Huawei and BYD at eighth and ninth respectively. And all the top five U.S. companies cooperate with China. The U.S. tech giants need China if they want to be successful in the world arena.
Third, the 10 new technologies address common challenges facing the world and promise solutions. They include climate change, the world food supply, healthcare for all, energy transition and advances in the digital economy and artificial intelligence. China and America share global responsibility in all these areas and thus should — and can — collaborate, instead of decoupling.
Janet Yellen, the U.S. Treasury secretary, will visit China from July 6 to 9. She has excluded decoupling from China. The latest World Economic Forum AMNC 23 in Tianjin revealed that China and the U.S. should re-examine their technology and business relations and, rather than decoupling, should enhance collaboration in the 10 new technologies and more.
China and the U.S. should restart institutional dialogues and consultations in various areas, in specific technologies and services and possibly in the national security realm. Bilateral cooperation in these areas will undoubtedly support the growth of both countries and help the world avoid a lost decade.