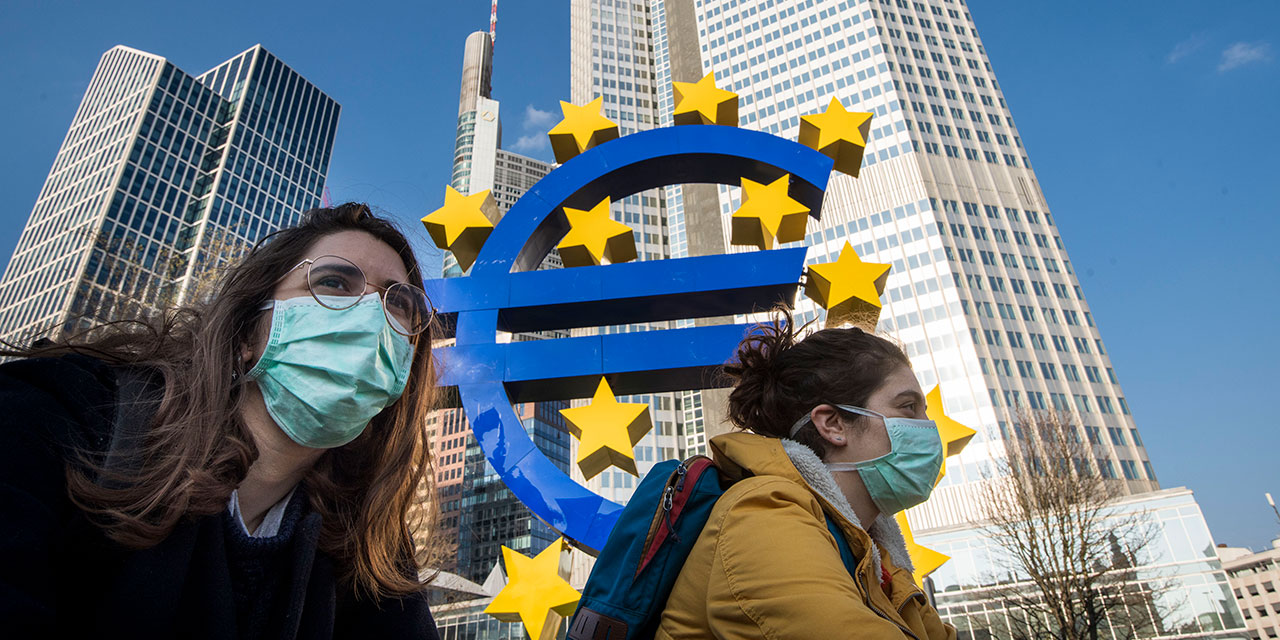 Aside from the horrific death rates in France, Italy, and Spain, as well as a general lack of solidarity in Brussels, COVID-19 exposes the need for national governance when bureaucratic institutions fail to produce results. The hardest-hit countries have struggling health systems due to austerity and little fiscal space, high levels of debt, and fragile banking systems. The Mediterranean economies of the Eurozone need immediate relief as businesses and workers continue through the COVID-19 crisis without work and benefits. The European Central Bank (ECB) must act soon to prevent another 'Greek scenario' in Italy, which would fracture the EU and further strengthen nationalists.
Although the Eurozone is increasingly at risk due to internal divisions over reform and stimulus, China benefits most from a unified Europe that wants a dynamic economic and financial relationship with Beijing. Certain European Union countries question Beijing's long-term motives in Europe, and the impacts of China's aid and subsequent diplomacy campaigns. China must be careful not to fuel negative narratives about its presence in Europe by focusing on reciprocity and mutual respect while assisting Europe during the COVID-19 crisis, especially as the EU debates mutualized debt and bailouts.
Europe's future depends on a compromise between the frugal four (Germany, the Netherlands, Austria, and Finland) and the Euro-Mediterranean states. Both of these groups aim to preserve national interests and fiscal sovereignty in some fashion. The second rivalry is between France's ideas for further EU integration and Germany's urge to continue to monopolize the Union's economic and political policies. Disagreements between France and Germany, and their respective blocs, further undermine European solidarity.
While northern European countries maintain lower debt levels, economies in the European Mediterranean cannot rely on remittances since many workers have returned to their home countries. High debt levels in the Euro-Med, constrained growth, and a lack of coherent and collective policy plans for the future leave the EU in a heated debate over two potential options for widespread economic and financial support.
Euro(Corona)bond versus European Stability Mechanism (ESM) Bailouts
The creation of Eurobonds, also known as coronabonds, would officially mutualize European debt, forcing Germany, the Netherlands, Austria, and Finland to co-guarantee for public debt in other countries, most notably in Italy. This mutualized debt would create a catastrophe insurance fund available for all member states.
The ECB would issue Eurobonds as IOUs on financial markets to raise money for fiscal stimulus and create a collective debt obligation where all member states would contribute to the interest. This idea of joint liability is opposed by northern export-led economies of the eurozone, where debt is relatively lower, and there is more fiscal room. Germans feel that Eurobonds would undermine German sovereignty. The frugal four, along with Slovakia, oppose any steps toward mutualized debt.
The Eurozone economies currently have low borrowing rates for additional debt, and the European Central Bank could intervene with its new Pandemic Emergency Purchase Program should yield spreads between German and Italian bonds widen. However, the most significant concern is how increased debt will affect future growth. Additional rounds of bailouts for highly indebted Eurozone economies would lend money through the ESM with more conditions or austerity measures determined by Brussels and Frankfurt. This is unpopular among the periphery countries and would stunt domestic consumption in those countries.
The EU's Response so Far
The European Commission already apologized to Italy for its lack of support that forced Rome to turn to China, Cuba, and Russia for medical supplies and expertise. After aid arrived from non-EU states, the Commission pledged €100 billion to help Italy, although this will depend on the outcome of coronabond proposals. The Italian League Party, headed by the controversial Former Deputy Prime Minister Matteo Salvini, called for individuals to question Italy's continued membership of the European Union as a result of Brussels' lack of solidarity.
To counter economic challenges, the ECB also launched an emergency €750bn ($820bn; £700bn) package of additional rounds of quantitative easing by buying government and corporate debt across the Eurozone. Italy, Spain, and France have the least amount of fiscal breathing space, irrespective of the European Commission's relaxation of budgetary and state aid rules. European banks hold far too much bad debt, and there is no proper bank resolution regime or eurozone deposit insurance.
Additionally, European Commission President Ursula von der Leyen announced the SURE program. If approved, SURE would subsidize salaries at struggling companies to prevent layoffs that would worsen Europe's already-concerning unemployment numbers. However, the figure is only €100 billion, which is not enough. Still, the EU would need a €25 billion guarantee from all the members of the scheme.
China's Response
While Europe develops a comprehensive stimulus plan, China's material support has thus far been helpful. Washington did not have the resources to assist Europe as death rates skyrocketed in France, Italy, and Spain. Brussels, seemingly paralyzed, enraged rightwing political parties in the hardest-hit states. If the Troika (the European Commission (EC), the ECB, and the International Monetary Fund (IMF)) pressure Italy or Spain into another ESM scenario, future 'EU exits' could follow. However, a unified but more China-oriented European Union would most benefit both parties, and Beijing can ensure productive dialogue by prioritizing reciprocity and transparency.
Beijing must be careful not to fuel negative narratives regarding China's presence in Europe. For example, accusations arose among diplomats about Chinese suppliers of medical supplies price gouging during the crisis. The claim was published in Bloomberg, and Reinhard Buetikofer, a German Green party lawmaker, also criticized Beijing of "extremely aggressive" propaganda that he says diminishes western democracy.
The EU's foreign and diplomatic officials claimed that Chinese officials developed a 'coordinated push' to deflect blame for the pandemic, while promoting its aid response to Europe. The European External Action Service also issued a report claiming that China focused heavily on "publicizing announcement and deliveries of bilateral assistance." The most criticism came from politicians in Berlin, Paris, London, and Brussels. The report concluded that "official and state-backed sources from various governments, including Russia and — to a lesser extent — China, have continued to widely target conspiracy narratives and disinformation."
Certain European leaders are ready to side with Washington against China during the coronavirus pandemic, and for that reason, Beijing should avoid diplomatic missteps that could further isolate Europe. In December 2019, Beijing threatened regulatory pressure on German auto production should Berlin oppose Huawei's construction of 5G infrastructure in Europe. Such threats are counterproductive to a mutually beneficial diplomatic relationship.
In short, Europe finds itself in a precarious economic situation related to its debt burdens and related structural limitations. Certain European politicians, most notably in Berlin, Paris, London, and Brussels may cautiously accept aid from Beijing, especially since a lack of solidarity toward Italy and Spain provoked outrage by nationalist politicians. Therefore, China's assistance is perceived by some as opportunistic and intended to deflect blame from Beijing's original coronavirus response. However, although Chinese suppliers or public relations professionals may misstep in how they do business or present narratives during the pandemic, Beijing should strive to maintain a relationship with Europe that visibly promotes win-win outcomes and reciprocity.