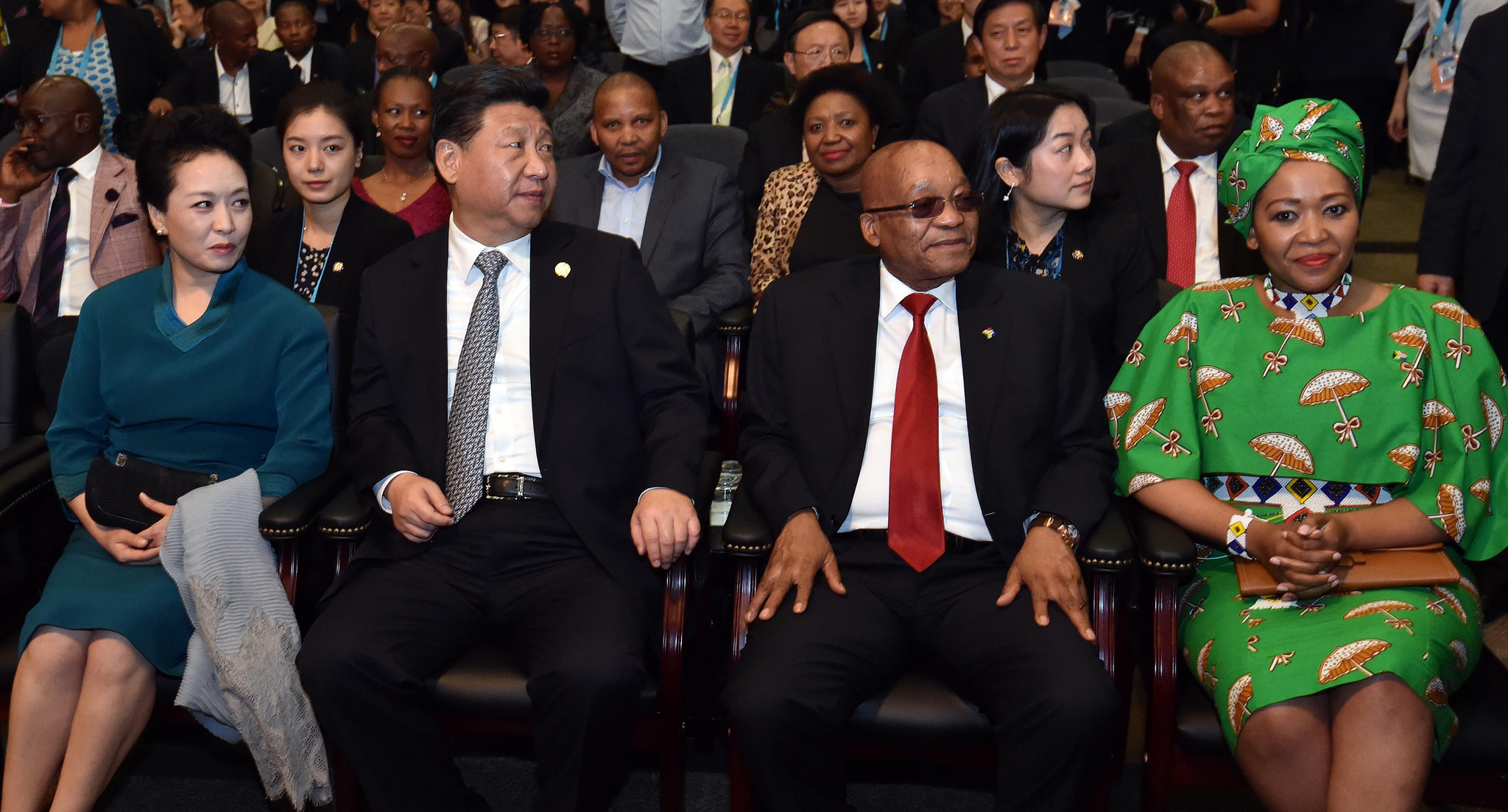 Chinese President Xi Jinping and his wife Peng Liyuan, President Jacob Zuma and his wife Tobeka Madiba Zuma are joined by several Heads of States and Government at the closing ceremony of the 2015 Year of China in South Africa cultural evening in Sandton, Johannesburg. (Picture Credit: GovernmentZA)
US President Donald Trump has finally set his eyes on the long-overlooked Africa. National Security Advisor John Bolton announced the long overdue new African strategy. Yet the new 'Prosper Africa' initiative takes as its guide the 'old principle' of 'American interests first'. Cooperation with Africa has been arranged completely on the basis of American interests instead of those of Africa. The administration also declared in no uncertain terms that the new strategy is aimed at balancing Chinese and Russian influence in Africa, raising the spectre of an economic Cold War.
Embedding 'American interests first' in the new African strategy
Trump's knowledge of and statements about Africa before and since his inauguration on 20 January 2017 have long been criticized by African countries and the world community at large. As a presidential candidate, Trump never concealed his negative views of Africa and Africans, describing Africans as 'lazy fools only good at lovemaking and stealing' and claiming that Africans should 'go back to Africa' if they don't like America. In the past two years in the White House, the President has never visited Africa and has received only one African leader, Nigerian President Muhammadu Buhari. His tweets have been consistently contemptuous of Africa, calling African countries 'shithole countries' and even ranting about the 'large scale killing of white farmers' in South Africa's land reform.
Besides being a big mouth on African countries and affairs, Trump has appointed neither an assistant secretary of state for African affairs nor ambassadors to several African countries for a long time. Nonetheless, in the past half year, as the midterm elections came to an end, and in the face of continued growth of China-Africa relations, President Trump could no longer sit still. Not long ago First Lady Melania Trump was sent to Africa for a visit and now the new African strategy has been released.
According to Bolton, the new strategy will be guided by the principle of 'American interests first' and focus on three areas. Economic cooperation will be strengthened with the 'Prosper Africa' plan by signing more extensive bilateral economic agreements and supporting American investments in Africa. In terms of anti-terror and military cooperation, the US will continue striking ISIS and other extremist organizations in Africa while gradually reducing American military presence there by about 10% in the coming three years. In terms of assistance, the US will target its funding selectively toward key countries and particular strategic objectives instead of indiscriminate assistance across the entire continent so as to achieve higher efficiency for American assistance.
In other words, there will be no equal treatment without discrimination in the future. Instead, while providing assistance to Africa, the US will select the recipients and determine the amounts completely on the basis of their closeness to the US. Bolton announced that the US is making a global assistance strategy to make sure any sum of aid money is being used to advance American interests. He was also explicit that those countries voting against the US on international forums or taking actions counter to US interests 'should not receive generous American aid.'
The new African strategy is aimed at balancing Chinese and Russian influence in Africa
In his statement on the new African strategy, Bolton identified China and Russia as America's competitors in Africa, accusing them of 'rapidly expanding economic and political influence in Africa' through 'predatory practices'. The new strategy beautifies the American vision for Africa as 'independence, self-reliance and growth' while labelling Chinese and Russia cooperation there as creating 'dependence, subordination and debt'.

Keeping a close watch on China and being jealous of the rapid growth of China-Africa relations seems to have motivated Trump's new African strategy. As early as last March, then Secretary of State Rex Tillerson selected Ethiopia, Djibouti, and Kenya as the destinations for his first African visit, apparently having China in mind. The first Chinese overseas logistics base is in Djibouti and China has helped construct a port, a free trade zone, and a railway linking Djibouti to Addis Ababa. Kenya and Ethiopia are both strategic fulcrums of the Belt and Road Initiative and examples of capacity cooperation. Ethiopia is even described by some Western media as 'China in Africa'. In a speech at the Detroit Economic Club on 18 June, Secretary of State Mike Pompeo also made it clear that the US will take action in Africa to drive Chinese influence out of the continent and let Africa follow American economic and political models. With the Beijing Summit of the Forum on China-Africa Cooperation (FOCAC) identifying eight action areas with a total worth of $60 billion, the American government has also created the US International Development Finance Corporation and given it the power to decide on the investments of $60 billion dollars, primarily in Africa.
As a matter of fact, China has always welcomed, encouraged, and even led international cooperation in Africa. President Xi Jinping has visited Africa four times in the past five years and presided over the FOCAC summits twice, in Johannesburg (2015) and Beijing (2018). Our cooperation with African countries has developed on the basis of African needs and interests. And China has never pointed fingers at or made carping comments on other countries' cooperation with Africa. It is a good thing that the Trump administration now gives attention to African development and introduce a new African strategy. But if it holds on to the old principle of putting American interests first and the old Cold War mentality of a zero-sum game, the 'Prosper Africa' statement will remain beautiful rhetoric instead of being turned into reality.