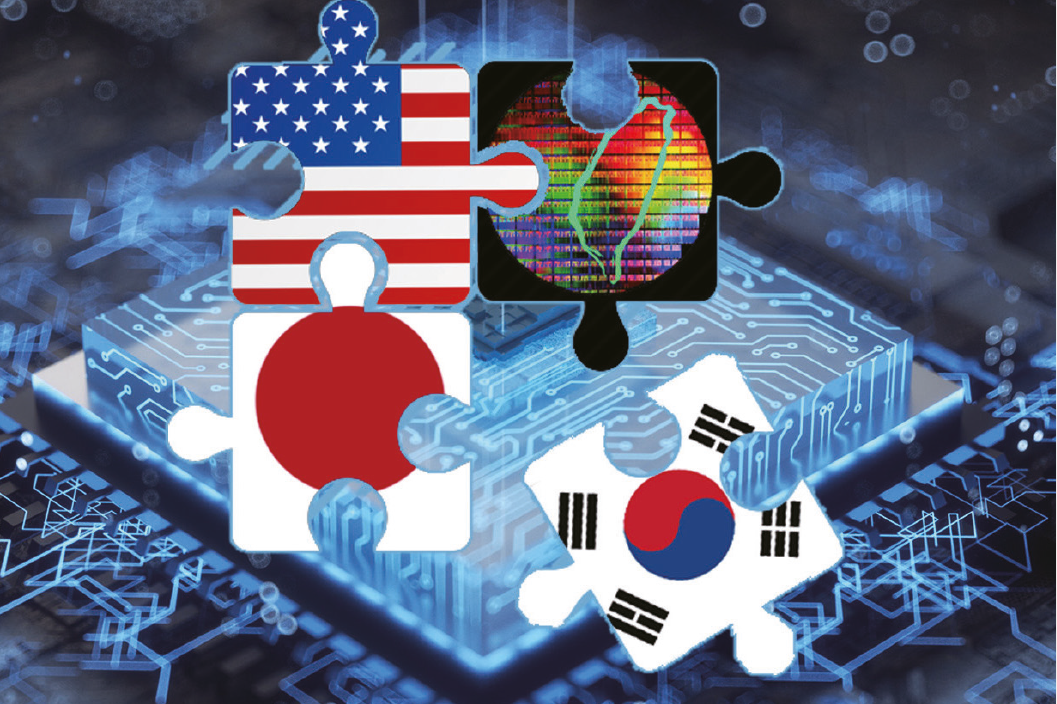 America's CHIPS and Science Act, which has been described as the largest industrial initiative in the country's history, was introduced to boost U.S. competitiveness in the semiconductor industry and enhance industrial, technological and military strength by providing huge federal subsidies to counteract competition from China. The so-called China guardrail provision poses a serious danger to the semiconductor industrial chain in China and is bound to spark new competition that will result in global fragmentation.
In recent years, the United States has increasingly characterized China as a competitor and has come up with tools for containing it through industrial and supply chains. The goal is to ensure U.S. leadership in emerging technologies in the long run through means such as controlling, relocating, blocking and strengthening these chains. Since President Joe Biden took office, the U.S. has introduced a series of acts to curb and contain China, including the United States Innovation and Competition Act of 2021, the CHIPS Act, and the Inflation Reduction Act. All are designed to adjust from a China-centered to a U.S.-centered global industrial supply chain system, and to replace "Made in China" with "Made in America."
To maintain its technological hegemony, the U.S. has been increasing its containment of China in the semiconductor field in recent years. The CHIPS Act is one of the tools. The U.S. has adopted industrial subsidies, export control lists, physical sanctions, foreign investment security reviews and the China guardrail provision to restrict not only key semiconductor technologies and resources but also key investments.
The CHIPS Act involves not only the massive investment of $280 billion and huge subsidies of $52 billion, but also prohibits companies receiving federal funds from significantly increasing the production of advanced processors in China for 10 years. Companies that violate the ban or fail to correct violations may be required to refund the subsidies in full.
In addition, the U.S. has leveraged the strength of certain allies. From the Pacific to the Atlantic, the U.S. has sought to build a global semiconductor club that excludes the Chinese mainland — including the Chip 4 alignment comprising the United States, Japan, the Republic of Korea and Taiwan, and the Indo-Pacific Economic Framework. At present, the China-excluding alignment includes chipmakers TSMC, Samsung, SK Hynix and Infineon; equipment manufacturers Nikon, Asmac, Tokyo Electron Ltd.; and the chip IP giant ARM. These companies cover virtually the entire semiconductor industrial chain.
In addition, the United States wants to persuade more countries and territories to impose strict export controls on the sale of semiconductor-related items to China, as well as to induce supply chain shifts and impose chip cutoffs and other restrictions.
The semiconductor industry encompasses many areas of expertise, including chip-making equipment, electronic design automation software, wafer manufacturing and semiconductor packaging and testing. The development of the semiconductor industry, a technology- and capital-intensive industry, is closely related to R&D investment and capital investment. The U.S. is ahead of China in both of these areas.
According to a report jointly released by the Boston Consulting Group and the Semiconductor Industry Association on chip design in 2020, China's share of global electronic design automation (EDA/IP) was only 3 percent, logic chips and memory chips amounted to less than 1 percent and wafer manufacturing accounted for 16 percent. Chinese products were basically mid- and low-end products, falling two or three generations behind the international advanced level in the same period. At present, while China is able to mass produce 14nm and 28nm wafers, the country mainly produces chips in and above the 28nm process and cannot produce enough of them.
To fully block China's leap into high-end chip production, the CHIPS Act introduced the China guardrail provision, which will keep semiconductor companies, including TSMC, Samsung, Intel and GlobalWafers, from investing in Chinese semiconductors for the next 10 years. This will delay the technological progress and development of China's semiconductor industry and will inevitably deprive those enterprises that enjoy U.S. industrial subsidies of the opportunity to participate in the growth of the semiconductor market. This is undoubtedly a heavy blow to global chip companies.
In the final analysis, semiconductor competition is systemic competition. Because of the requirements for technical precision, depth and complexity, the development of semiconductors depends on global industrial chains. This also means that semiconductor competition is carried out around the globe at a higher level in the industrial chain, and more important, requires that industrial chains remain intact.
China's advantage in the semiconductor industry is that it has a huge demand for semiconductor production. Once technology becomes mature, it can be translated into large-scale applications. China has been the world's largest semiconductor market for several years in a row. In 2021 it became the world's largest regional market with $192.5 billion in semiconductor sales, or 34.6 percent.
It is of particular note that in recent years, the U.S. has seen semiconductors as a key area of its strategy to contain China; but against all expectations, the Chinese chip industry is growing faster than any other region in the world after suffering from the U.S. siege and suppression. Over the past decade or so, China's semiconductor industry has gradually developed, and the country has built up a relatively complete chip industry. China has plans to promote chip R&D, design, manufacturing, terminals and wafers. All these sectors have maintained a high growth rate, with total sales of Chinese chip-related companies increasing by 18 percent in 2021 to a record 1 trillion RMB.
In addition, China has blazed a different path of chip development from other countries. Currently, it has strong demand for semiconductor materials for new energy vehicles, photovoltaic power generation and industry. The third-generation semiconductor applications such as SiC and GaN are now in use, with related technology gradually maturing, production capacity expanding and costs rapidly declining. They are growing in volume in markets for cellphone fast charging, new energy vehicles, communications and industrial applications and are expected to blaze a development path of innovation.
The U.S. semiconductor strategy and the CHIPS Act, which involves the investment of hundreds of billions of dollars, may not be able to block the future of China's core manufacturing. But it is foreseeable that, driven by American state interventionism and the strategy of suppressing China in core fields, the future global semiconductor industry will inevitably divide into two parallel, competing systems.