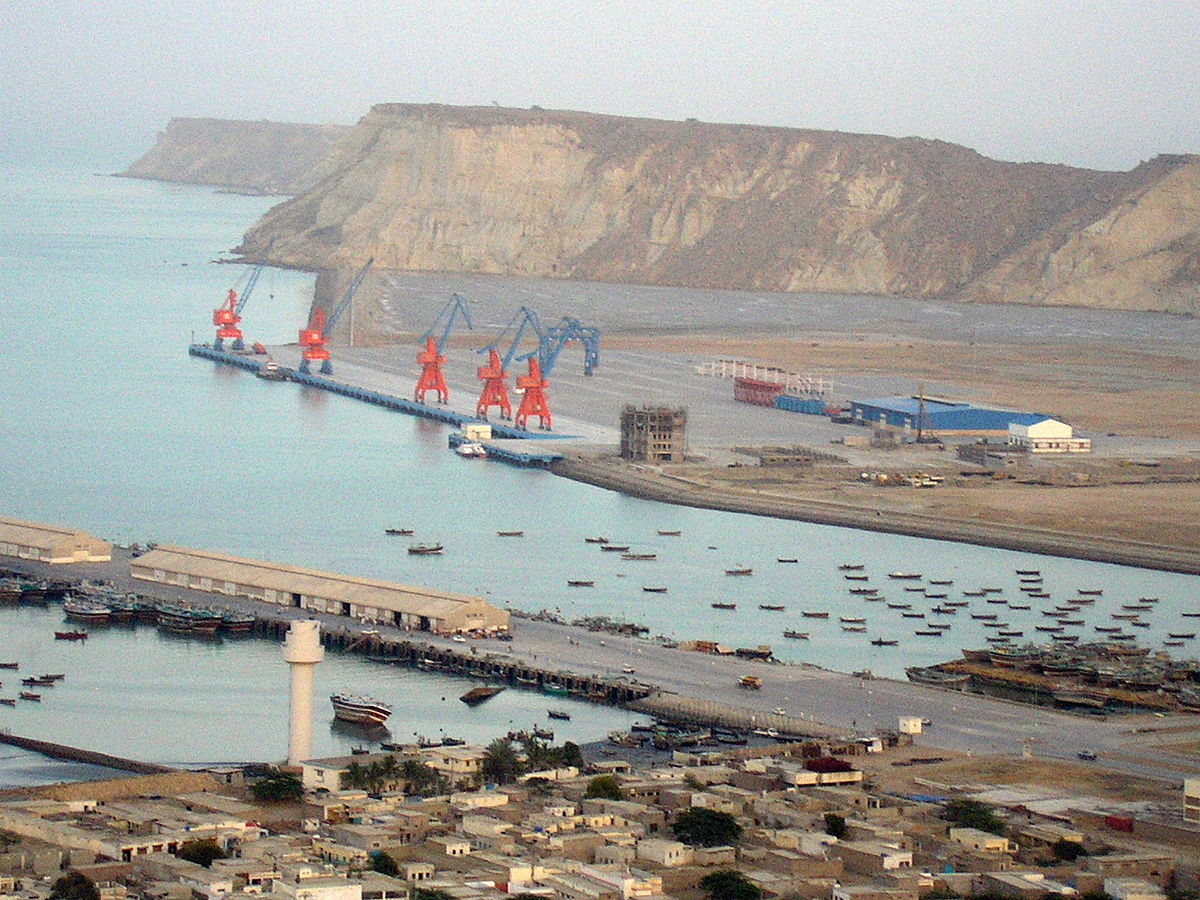 Gwadar Port, Pakistan
The last year has been a turbulent one for Pakistan. The South Asian nation's economy has been struggling to avert a severe foreign currency crisis, and its fledgling new government has been faced with its biggest challenge right off the bat: where to turn for much-needed financial assistance. Infrastructure projects such as port and rail improvements have led to significant increases in the import of Chinese equipment and materials, adding to Pakistan's current account deficit. Newly-appointed Prime Minister Imran Khan has two realistic options: to further inflate the country's Chinese debt, or to look to the International Monetary Fund (IMF) for a bailout for the 15th time since the 1980s. Concerns from Washington, however, may cause the fund to impose tough conditions, such as requiring Pakistan to make full disclosure of the terms of CPEC projects – a condition that Beijing is likely to oppose. According to The Diplomat, "both options are likely to represent serious drawbacks for the Khan premiership."
As part of the China Pakistan Economic Corridor (CPEC), the flagship of China's Belt and Road Initiative (BRI), Beijing has promised Islamabad $57 billion in loans. These promised loans have raised tensions in Washington. After The Financial Times reported on July 29 that plans were being made by senior officials in Pakistan to seek a $12 billion bailout from the IMF, U.S. Secretary of State Mike Pompeo warned that the U.S. was opposed to any IMF bailout helping Pakistan pay off the Chinese loans in an interview with CNBC. "There's no rationale for IMF tax dollars, and associated with that, American dollars, that are part of the IMF funding, for those to go to bail out Chinese bondholders or China itself," he stated. As of yet, however, Pakistan has not requested aid from the IMF.
Pakistan's finance ministry responded to Pompeo's comments by making it clear that the Chinese loans, which are focused on energy and transport infrastructure, were not in any way linked to a potential IMF bailout, arguing in a statement that "it is totally wrong to link the IMF package with CPEC." Pakistan's Ministry of Finance also said, "It is affirmed that Pakistan Government is fully committed to undertake and complete CPEC projects in their totality. Third parties cannot weaken our collective resolve to make CPEC a success story."
The U.S. concern that China is burdening Pakistan with debt may stem from the larger suspicion that China is seeking to establish influence across several regions. U.S. Treasury Secretary Steven Mnuchin has argued that China is saddling developing countries like Pakistan with "unsustainable debt" to create political and economic footholds in these countries. Earlier this year, U.S. President Donald Trump repeatedly expressed a mistrust and wariness towards China's extensive infrastructure investments across the globe, calling China an "economic enemy" according to the New York Times. Echoing this sentiment, Secretary of State Pompeo said in a speech on July 30, "We will help them keep their people free from coercion or great power domination."
There is concern, even in Pakistan, that China has been given too much of a free rein. According to The Diplomat, local opposition to the CPEC is growing due to concerns "over the lack of consultation and concerns regarding the inequitable distribution of the prospective benefits." For example, Federal Minister for Ports and Shipping Mir Hasil Bizenjo disclosed to Pakistan's Senate that 91% of the revenues generated from the Gwadar Port development as part of CPEC would go to China, while the Gwadar Port Authority would receive only 9% of the income over the course of the 40-year operational agreement. In other places, locals face displacement as a result of a state-led land grab to allow for construction and development. In Gwadar, local fishermen who rely on their daily catch to feed their families have been denied access to the ocean and local unskilled workers have been excluded from construction efforts as skilled labor is imported. One official in Gwadar said that "the plan seems to be to make life so miserable for the residents that they leave on their own."
In the next few weeks, Khan's government will have to decide where new funds for Pakistan will be obtained, bearing in mind that both options threaten the stability of his premiership. Khan is a political outsider, having never before held a national position. He will have to balance the relationship with Beijing, which remains sensitive about transparency around CPEC projects (and is still smarting from Pakistan's refusal to include the Diamer Bhasha dam project in the CPEC), as well as the relationship of his government with the Pakistani military, the increasingly strained relationship with the United States, and catering to his voter base.
Asad Umar, one of Khan's party members who is tipped to become finance minister, responded to questions about Pompeo's remarks by saying, "We will be evaluating all our options. At this stage we have not even decided to go to the IMF." Whatever decision is made, it will have to be made quickly. According to Samaa, Chinese Foreign Ministry spokesman Geng Shuang said that the Chinese government trusted in the IMF's processes and operating rules. "I believe they will handle it appropriately," he told reporters without further comment.
CPEC is billed as Pakistan's most important national project, and Beijing has called it the flagship project in the BRI. Both countries, therefore, are very sensitive to any criticism of CPEC. Previous Pakistani finance minister Miftah Ismail said that Western nations were over-estimating the Chinese debt repayments, arguing that the country's total annual debt repayments and profit expatriation would all be below $1 billion. "These are not loans that will break our back," he said. Over the next few weeks, the leadership in Islamabad, Washington, and Beijing will all be holding their breath to find out.