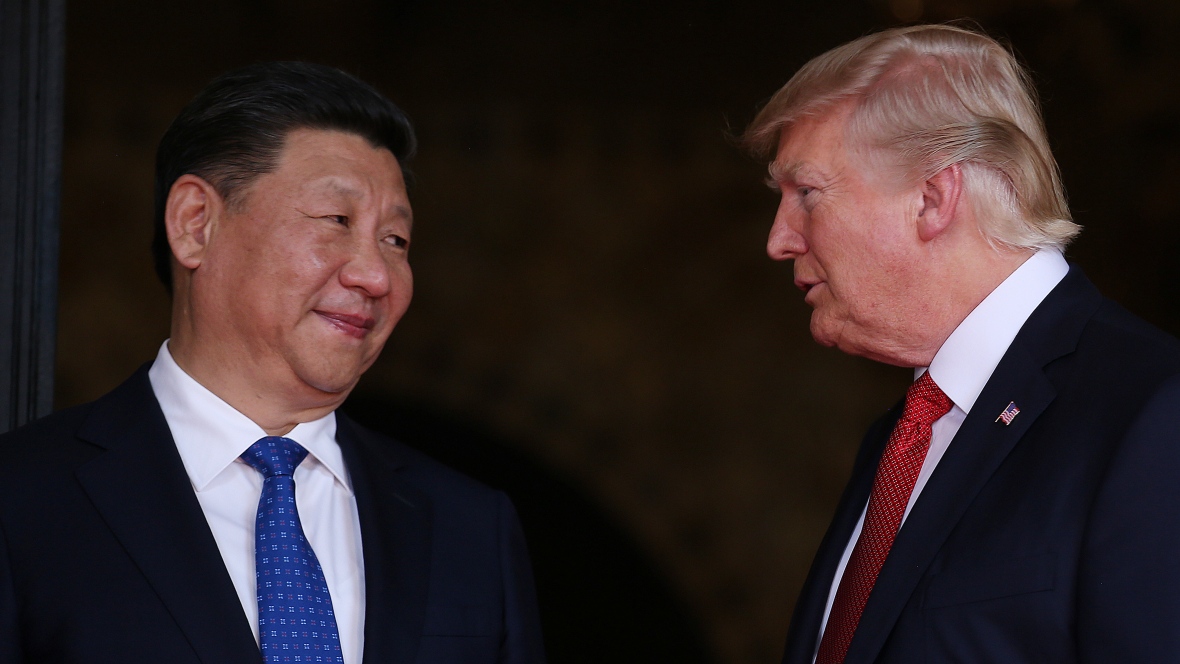 President Donald Trump welcomes Chinese President Xi Jinping at Mar-a-Lago estate in Palm Beach, Florida, U.S., April 6, 2017 (Reuters)
World order is changing fast. Turbulence and rising tides of anti-globalization confounds governments, corporations, and individuals alike.
China and the US need to forge a closer relationship that will serve as a solid anchor for a world buffeted by strong winds and hail.
The Crisis of World Order
The crisis of world order has manifested in four challenges.
The most acute and pressing challenge is the glaring gap between problems and the capability to address them, involving issues like climate change, proliferation of weapons of mass destruction, food and energy security, and cyber security.
There are numerous armed clashes resulting in high numbers of refugees and internally displaced persons as a result of geo-political tensions and willful interventions from big powers, especially in the Middle East.
Another problem is the rise of populism and anti-globalization across the world. This impedes global economic growth with protectionism. The key issue at hand is the widening gap between the rich and the poor both between and within countries. More broadly speaking, it refers to an imbalance between market efficiency and social justice, which provides fertile ground for populism and anti-globalization sentiments to grow.
Last but not least, major power relationships are becoming more tense and fraught with competition and friction. This could lead to conflict if it is not handled with strategic wisdom. For instance, the US-Russian relationship is heading towards further alienation and confrontation. China and the US are trying their best to avoid the "Thucydides Trap" between rising and established powers.
From Unipolarity to Multipolarity
The current world order was set up right at the end of WWII. There are two important aspects to this system: the US-centered economic institutions on the one hand and the "one country one vote" democratic ideals of the UN on the other. These two things may not be compatible.
The system was bipolar for several decades during the Cold War, then briefly became unipolar, with the US as the sole superpower after the demise of the former USSR. However, the fast pace of globalization brought multipolarity, creating a more complicated global landscape.
World order is now more balanced and cooperative. The end of Pax Americana or the American Century is in sight and we are looking into an uncertain future that calls for careful management of global affairs, especially of relationships among major powers.
The Sino-American Relationship
A changing world needs a rock-solid anchor.
China and the US have a special responsibility to provide this anchor because they are permanent members of the UN Security and the two biggest economies. Their bilateral relationship has global implications. Both countries should put aside their bilateral differences and look at things from a global perspective. A closer China-US relationship and a new major power relationship as proposed by President Xi and accepted in principle by the US is essential.
How to Build a Stronger Relationship
1) It is necessary to have a better understanding of each other's strategic orientations in the context of geopolitical cooperation in a mutually beneficial fashion. The consensus reached at Mar-a-Lago Summit should be reinforced at the upcoming state visit to China by President Donald Trump in November for two countries to work hand in hand for a new major power relationship wherein cooperation will be the only option and confrontation is ruled out. With parameters set as above, such difficult regional hot spot issues as Korean Peninsula Nuclear problem will get closer cooperation and consultation between the two countries as well as with other countries involved.
2) Closer economic relations should be the foundation for the relationship to move into amity, promoting prosperity for both nations. Any economic issues should be resolved through patient negotiation and dialogue to avoid conflict.
3) They should cooperate closely to promote globalization as it benefits both their peoples, and people around the world. They should show the world that the two largest economies are determined to overcome rising populism and anti-globalization sentiment and to increase world economic growth through better policy coordination and technological innovation. There should be more discussions about China's Belt and Road Initiative to remove any US suspicions so that the two powers can best decide what to do next together.
4) There should be more close people-to-people exchanges between the two nations. This will form the basis for civilization dialogue and progress in other fields. Such bilateral dialogues should be expanded in breadth and depth. As the two world powers of the 21st century, they should be conscious of their responsibility to promote lasting peace and prosperity.