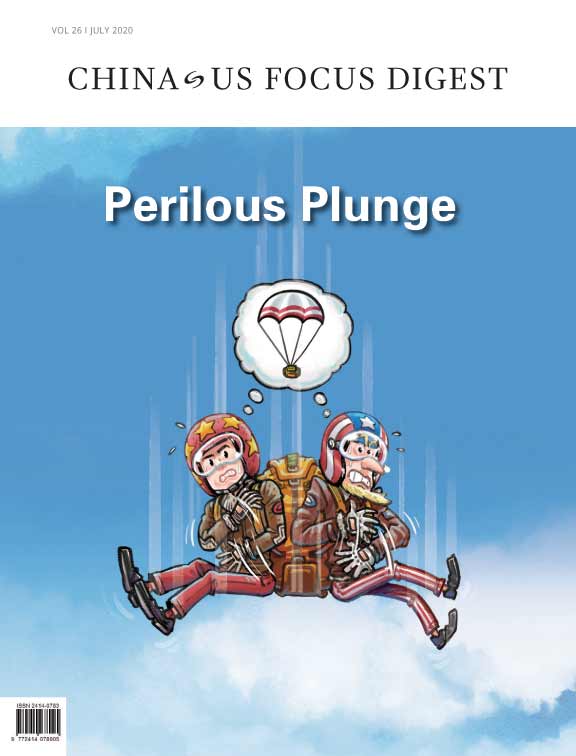 Click to read the China-US Focus Digest, July 2020
In a dramatic turn of events, U.S. authorities ordered China to close its Houston consulate within 72 hours "to protect American intellectual property and Americans' private information." Details are scant, but the move evokes movie scenes from Cold War espionage and tit-for-tat sniping between the United States and the Soviet Union.
News had come out that the FBI had accused the consulate of harboring a fugitive scientist who is sought by U.S. prosecutors for allegedly lying about connections with the Chinese military to obtain a U.S. visa.
In a news briefing, U.S. President Donald Trump said it was "always possible" that more Chinese missions in the U.S. could be closed. For example, a former intelligence official told Reuters that the U.S. could shut down a Chinese consulate in tech-heavy San Francisco.
Jonathan Pollack of the Brookings Institution said he couldn't think of anything "remotely equivalent" to the move against the Houston consulate since diplomatic relations were established in 1979.
Dangerous game
With China bashing at home proceeding unabated, Trump and his senior officials are reaching out overseas to peddle their dubious anti-China theories and mount pressure on foreign governments to act. Secretary of State Michael Pompeo is on the attack, with a sustained rhetorical barrage against China, making every public speech and overseas tour a launching pad.
On July 22, during his visit to London, Pompeo urged UK Prime Minister Boris Johnson to join a "broad alliance" against China and explore the possibility of a British version of the "Magnitsky Act" to impose sanctions on Chinese officials.
In an apparent attempt to reinforce the message, in an online speech at a UK based International Institute of Strategic Studies U.S. Defense Secretary Mark Esper said the U.S. was counting on Asian partners to help rein in an increasingly aggressive China, citing China's "brazen disregard of international commitments." He said the U.S. aims for a three-pillar strategy of "preparedness, strengthening partnerships and promoting a more networked region" to maintain a "free and open Indo-Pacific."
Overseas, President Trump took credit for the UK's decision to remove Huawei technology from its networks by 2027. This was a reversal of its initial position in January when the UK gave the green light for Huawei to play a limited role in its 5G network. U.S. Senator Marco Rubio, the face of the China hawks, said he was glad to see the UK move to ban Huawei, and urged action "without delay."
Hostility against China at the White House emboldens hawks in both chambers. Rubio, with Democratic Senator Bob Mendendez, championed the establishment of the Inter-Parliamentary Alliance on China, which would include representatives of Australia, Japan and Canada.
Red herring strategy
China bashing is a recurring theme in every U.S. presidential election. But the dire situation of the U.S. economy and job market amid the COVID-19 pandemic may prompt more audacious and unscrupulous acts from the Trump administration. There may be several explanations for the U.S. escalation.
First, look at the tension and outpouring of discontent over the spread of the coronavirus and the associated economic woes. The U.S. averaged more than 1,000 deaths in each of the past few days before this writing. Total infections amount to 3.9 million, with fatalities reaching over 142,700.
In a rare departure from his inclination to write off the severity of the pandemic in the U.S., Trump touted wearing masks as "patriotic." The newfound concern over mask-wearing was caused by a rollback of reopenings because of recent flare-ups. According to figures updated in July by the Federal Reserve Bank of Atlanta, U.S. GDP declined by 10.3 percent on a quarterly basis. The unemployment rate, standing at 11 percent by last count, is expected to hover around 10 percent in November. Figures released on July 23 said unemployment filings increased to 1.4 million, as some states rolled back their reopenings amid the resurgence.
The unemployment rate remains persistently high in states such as North Carolina, Arizona, Florida, Pennsylvania and Michigan — all swing states in the 2016 election. As things stand now, Biden leads Trump by more than 8 points in national polls, and the overall economic picture is unflattering for any presidential aspirant. History suggests that job numbers make or break the incumbent seeking reelection. Researchers note a pattern in which the incumbent was voted out amid surging unemployment rates in the presidential elections of 1932, 1980 and 1992. To galvanize voters, Trump needs not only to flatten the curve of infections but also improve the economic and employment curves.
Second, China hawks pursuing a new cold war are eager to burnish their credentials and bolster their cause. It has been suggested in media reports that Pompeo has his eye on the presidency in 2024. He admitted in a 2019 interview that he had considered running for president, and there was a report that he attended political events traditionally associated with Republican presidential wannabes, indicating his intention to guide expectations.
But with the political atmosphere verging on McCarthyism, the next crop of presidential candidates may feel obliged to cast China as a rival or even an enemy, either out of conviction or expediency.
Third, in their disillusionment and discontent over racism, people are letting off steam in mass protests. National sentiment is fluid these days. From the Me Too movement to the overdue reckoning with racism, the U.S. public is frustrated and polarized. These social trends mingle with political dynamics of conflicting interests within the country and give new life to moribund mainstream interest groups in the political fray. These groups are making their voices heard and are reshaping the political agenda leading up to the election in November.
A divided house may not stand. But a common enemy unites people like magic. Voila! China it is.
China -U.S. relations are the most consequential in the world. This should provide an exemplary textbook case on how two countries with different political systems, cultural heritage and development models can foster synergy and enrich themselves and the world through cooperation based on mutual benefit, respect, cooperation and stability.
No bilateral relationship should be trifled with, least of all this one. Personal bias and anachronistic political mindsets must not prevail over levelheaded thinking. U.S. politicians should not stake the shared future of the two peoples on a race to the bottom. Sensible voices must be heeded to bend the curve before it is too late.