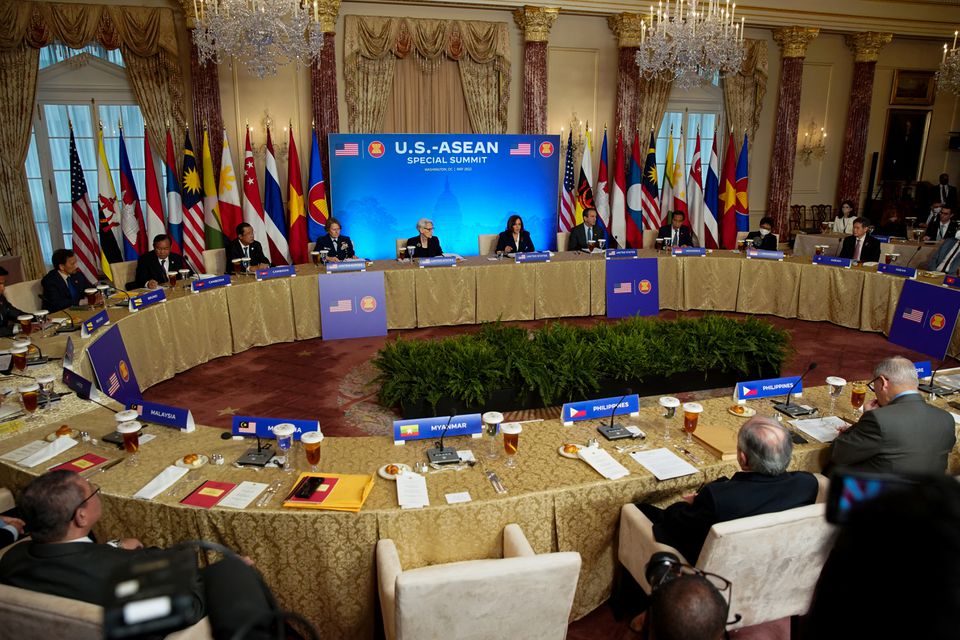 U.S. Vice President Kamala Harris speaks during an event with leaders of the Association of Southeast Asian Nations (ASEAN) as part of the U.S.-ASEAN Special Summit, in Washington, U.S., May 13, 2022. REUTERS/Elizabeth Frantz
After a six-year hiatus, the U.S.-ASEAN Summit was held in Washington, D.C., on May 12 and 13. Characterized as a landmark heralding a new era in bilateral relations, the meeting carried great significance. Unmistakably, the summit was associated with power competition in more ways than one. Its timing shows that the United States still harbors a high level of strategic concern for the Indo-Pacific region, given the ongoing Russia-Ukraine conflict and the U.S. is preoccupied with it.
China and the U.S. are also at odds, with existing tensions simmering and the Russia-Ukraine conflict complicating matters. China was the elephant in the room at the summit, with U.S.-China competition a self-evident factor. It is too early to tell which side has gained the upper hand in the competition in Southeast Asia, but the summit offered a window to understand how that competition will unfold.
The economic sector will be a key area of competition for China and the United States in Southeast Asia. The Joint Vision Statement issued at the summit covered eight areas and 28 policy recommendations, with epidemic cooperation ranking first, followed by economic ties and six related policy recommendations. The announcement that U.S. President Joe Biden would provide an array of assistance to Southeast Asia totaling more than $150 million attracted much discussion.
President Xi Jinping also placed special emphasis on China-ASEAN economic cooperation at the summit last year marking the 30th anniversary of China-ASEAN dialogue. China proposed to provide $1.5 billion in development assistance to ASEAN over the next three years.
In addition, as previously reported, President Biden proposed the Indo-Pacific Economic Framework during his visit to South Korea and Japan last week. It is deemed an alternative approach to offset the U.S. absence from the CPTPP, and thus a counterweight to, or competition against, China's growing economic influence in the region. Of course, in the economic sphere, there are many potential differences between the two sides, and competition can be intense. But compared with other regions, the two sides economic competition largely takes place in a relatively mild political sphere — with a relatively benign competitive overtone — rather than in the highly charged military security sphere. There is a chance that the competitive interaction could serve to promote the further opening of the region's economy, trade and investment, as well as continuous refinement of rules and regulations.
Ideological competition has not dominated the narrative of China-U.S. political competition in Southeast Asia. In U.S. diplomatic strategy, democracy is a key principle and tool. In Europe, the U.S. has leveraged democracy and shared values to galvanize a solid strategic alliance system with European countries. But in Southeast Asia, democracy is not a key benchmark to distinguish friends from foes on the part of the U.S.
At the U.S.-ASEAN Summit the issue of Burma was referred to, but in a relatively conservative manner. And the U.S. did not amplify human rights issues with ASEAN countries, which would impede bilateral ties. In Southeast Asia, a simplistic rendition of democratic criteria does not apply in labeling adversaries or enemies. The statement contains no direct reference to China nor any wording in ideologically charged terms, which shows the limited appeal, if not counterproductive effect, of the word "democracy" in the geopolitical context of Southeast Asia. So China's reaction to the summit has been moderate.
In Southeast Asia, the limited nature of competition for military security is setting the tone of engagement for relevant parties. Military security competition between the U.S. and China in Southeast Asia is not a zero-sum competition for strategic space, in contrast to the Russia-Ukraine conflict, which is a strategic space dilemma. Rather, it is a form of competitive coexistence in a given space, as manifested in how the Joint Vision Statement frames the South China Sea issue — where the U.S. and ASEAN countries express their willingness to engage in regional maritime cooperation, but the goal is clearly not to resolve territorial disputes in a zero sum scenario, but more of an effort to draw boundaries and set out rules for great power competition to live and let live.
At the same time, China's attitude is to welcome the summit but not without principles. Chinese Foreign Ministry spokesman Zhao Lijian made it clear that China and the United States are both Asia-Pacific countries that may very well share a common circle of friends. China welcomes all cooperation initiatives that promote long-term sustainable development and common prosperity in the region. In other words, China does not oppose — and even welcomes — an active U.S. presence in the region, but it opposes actions that exacerbate tensions, such as zero-sum games, bloc confrontations or forcing countries to take sides.
In summary, as the competition between the two powers becomes a major feature of today's international system, how to manage that competition for peaceful coexistence is a challenge confronting both countries. In this sense, Southeast Asia has become an important testing ground for geopolitical competition between the two powers. If the recent summit offers any guide, we can expect a paradigm for Sino-U.S. coexistence \ featuring economic competition, lightly touched ideological competition and limited military security competition.