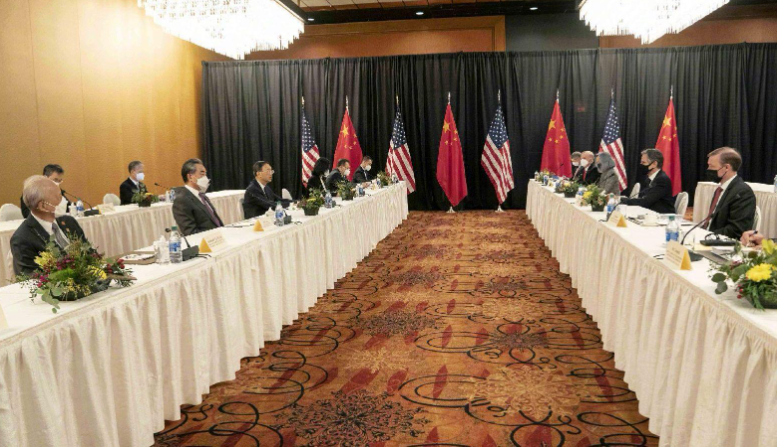 Senior diplomats of China and the United States have concluded their first dialogue since the U.S. election in Anchorage, Alaska. In contrast with the U.S.-Japan, and U.S.-ROK 2+2 talks, China and the U.S. have each dispatched their two top officials in charge of security and foreign affairs, headed by Yang Jiechi and Wang Yi on the Chinese side and Antony Blinken and Jake Sullivan on the U.S. side.
The talks followed the desire of both Beijing and Washington to differentiate their relationship in the three Cs — cooperation, competition and confrontation. From late last year, Chinese State Councilor and Foreign Minister Wang Yi has repeatedly proposed such a differentiated approach to his U.S. counterpart, suggesting that China and the U.S. each make an initial list of issues where they see easy cooperation, a second list with issues of difference and a final list of issues dividing them that require management and control.
In a similar vein, U.S. Secretary of State Blinken indicated before the Alaska dialogue that the U.S. will work with China whenever possible, compete with it when necessary and fight when it must. Although he was fairly blunt in talking about a fight between rivals, he did not officially single out China. Instead, he followed U.S. President Joe Biden's line, with the entire national security team defining China as a "very serious challenge." Russia remained listed as America's arch enemy.
The two-day, three-session talks did yield more than symbolic deliverables. According to the post-dialogue statements of both sides, Beijing and Washington have agreed to set up a joint working group on climate. It is likely that Biden's special envoy on climate change, former secretary of state John Kerry, has already approached his Chinese interlocutor to get the ball rolling.
China and the U.S. concurred more in Alaska. In addition to cooperation on climate change, Beijing and Washington agreed to facilitate their diplomats' return to their posts after reciprocal coronavirus immunizations. They also agreed that with progress in countering the pandemic, visa issuance will gradually return normal. It was understood that both countries also touched on the Korean and Iranian nuclear issues for possible collaboration.
There is no doubt that Beijing and Washington are competing on many bilateral and global issues, with trade as a central theme. The Biden administration has made no change in the Trump position with regard to levying more tariffs on goods from China. Recently, the Biden team urged China to reduce its State role in the Chinese economy. Therefore, the balancing of Sino-U.S. trade, the key issue in bilateral competition — one that spills out on regional and global levels — will not go away anytime soon, despite the change of U.S. administration.
The areas of China-U.S. confrontation, as seen in the mutual charges and rejoinders at the opening session of the dialogue, might be long remembered. Secretary Blinken's opening remarks could well be interpreted as unwarranted arrogance, inviting a spicy response from the Chinese side. Luckily, the Chinese continued to view the overall conversation over the two days as constructive, indicating that their talk on substance might be less confrontational.
According to prior arrangement, both sides were allowed two minutes for opening remarks to launch the dialogue. Instead, they spent nearly an hour exchanging sharp criticisms. This projected a shadow not only on this conversation but for those ahead.
Such frank exchanges of dissatisfaction could well become the new normal between China and the U.S. The good side of this phenomenon is that any unrealistic wishes of the two great powers can be given up at the outset. They will be pleased if they can attain any headway, even at a rather low level of mutual trust. The negative potential of this scenario is that it risks spiraling downward in the future, with more heat generated and little light shed.
Overall, China and the U.S. will proceed for a couple of engagements on bilateral ties, regional security and global public health. This is far better than the relationship up until two months ago, when the Trump administration ended its efforts. As long as both China and the U.S. maintain low expectations while dealing with each other with respect, and truly figure out their areas of cooperation, they should be able to replace their free-falling relationship with a more stable one.