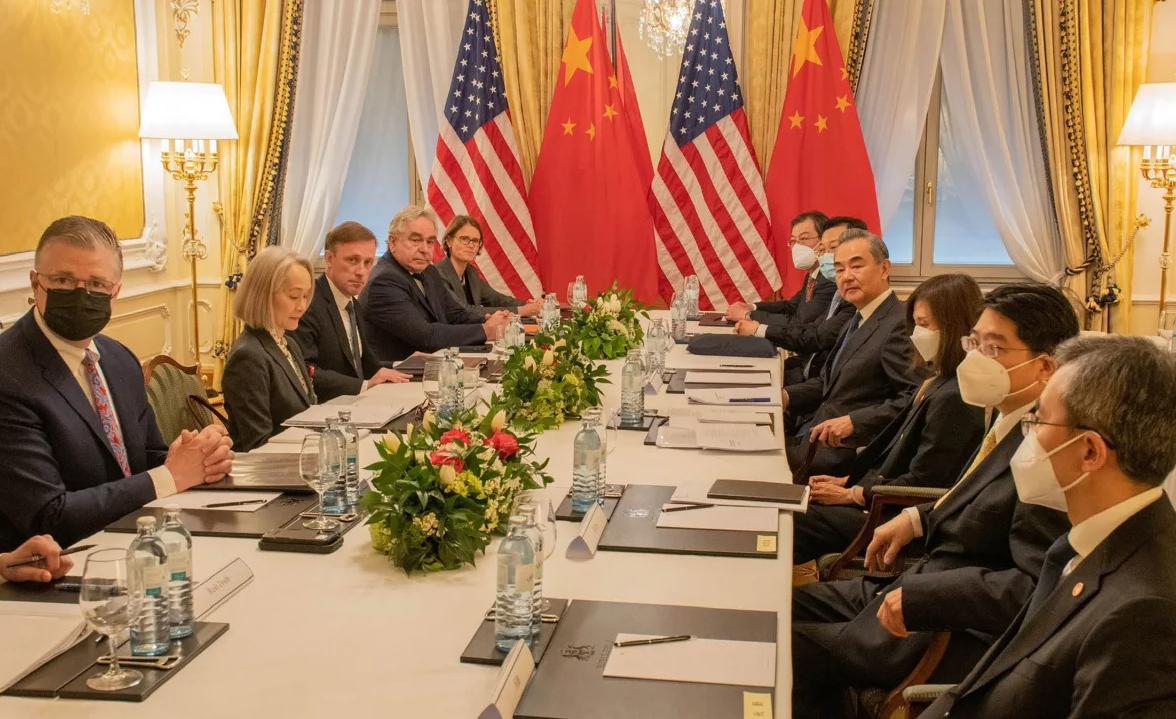 China's top diplomat Wang Yi met with Jake Sullivan, the national security adviser to the U.S. president, for 10 hours on May 10 and 11 in Vienna, Austria. Pretty much simultaneously, U.S. Ambassador Nicholas Burns met in Beijing on May 8 with China's Gin Gang, State Councilor and foreign minister, and on May 11 with Wang Wentao, the country's commerce minister.
Also in the making were a possible a telephone conversation between the two presidents, possible trips to Beijing by the U.S. secretaries of state, commerce and finance. Also possible is a meeting between the Chinese minister of commerce and the U.S. trade representative at the trade ministers' meeting of the Asia-Pacific Economic Cooperation (APEC) in Detroit, Michigan, at the end of the month.
Such intense, high-level communication between the two countries is rare and precious. It is helpful in increasing mutual understanding and avoiding strategic misjudgments. However, as actions speak louder than words, both sides have to do concrete things to initiate exchanges and cooperation — to resolutely put an end to actions that damage the bilateral relationship.
First, the intense talks demonstrate that both sides agree that bilateral relations should not be allowed to deteriorate further. This consensus is in the common interests of the two countries. The United States needs China for its internal economic development and for dealing with a series of global challenges — and vice versa. Under the current security and economic difficulties, both countries feel more keenly the need for healthy and normal development in relations.
Second, recent events have clearly shown that the right way for the two countries to get along is for both to respect each other, to always keep their word and to see their actions through to the end. It doesn't work for the U.S. to say fine things or make rigid assurances while continuing to take actions that harm China's national security and development interests.
In recent developments, among a lengthy series of complex issues, three things are especially significant and must be handled with great care. A major concern is that the U.S. has fundamentally shaken the political basis of bilateral relations by taking advantage of differences on the Taiwan issue.
It is true that there are differences between the two countries on Taiwan. For China, the "one China" principle rests on three joint communiques and insists that both countries should observe them unequivocally. But the U.S. has claimed that its one-China policy interpretation is shaped by the Taiwan Relations Act, which adds nuance to the joint communiques and other points known as the "six assurances."
The act is a U.S. domestic law, while the six assurances are something the U.S. crafted with regard to Taiwan without two-way agreement. Both fundamentally violate the one-China principle embodied in the three China-U.S. joint communiques, and have been firmly opposed by China from the beginning.
The situation has now become extremely dangerous. Instead of seriously managing and controlling differences, the U.S. has been going down an erroneous road by exploiting differences over Taiwan for selfish reasons. The latest U.S. actions have alarmed people in both countries, and in the whole Asia-Pacific region. According to news reports, for example, Taipei is in discussions with the United States over a plan to stockpile war materiel on the island — a measure made possible by a provision in the 2023 National Defense Authorization Act to establish a store of "contingency" munitions on Taiwan's soil.
The U.S. has been fomenting rumors that China is planning to attack Taiwan by force in 2025 or 2032 through academic research papers and assessments, and by encouraging public remarks by some military officers to create tension in the Taiwan Strait. The idea is to scare Taipei and encourage it to buy more American arms. Such actions have paved the way for the establishment of a stockpile in Taiwan with maximum quantities of U.S.-supplied weapons.
Second, the U.S. has said it is making efforts to maintain open lines of communication and responsibly manage competition. At the same time, however, it has been vigorously acting to contain China. Such measures have expanded from trade restrictions to restrictions on two-way investment and unilateral sanctions on Chinese businesses and individuals. The goal is to coerce other countries to follow America's lead.
In the meantime, the U.S. has been trying hard to add to the number of anti-China voices around the globe by cajoling, pressuring and spinning. Regarding the Chinese balloon incident, the United States has not mentioned that the entry of the unmanned civilian balloon into U.S. airspace was a purely unintended, unexpected and isolated event — the result of force majeure. But the U.S. rhetoric has emphasized a breach of sovereignty. More important, the U.S. has never explained what it means to use military force to attack Chinese civilian property and seize it. Military jets firing missiles at objects is usually an action reserved for war.
Third, it is wrong for the U.S. to regard China's rise as "the biggest geopolitical test of the 21st century" and unwise to attempt to contain China at all costs. It goes without saying that the U.S. has suffered a lot for the sake of containing China. Coolheaded Americans have openly advised the White House and Congress that China is not an enemy.
Of the current White House cabinet members, some fair-minded secretaries have recognized that the U.S. has paid a high economic price to beat China — but pointlessly. China has never intended to replace the U.S. as the No. 1 superpower and is, in fact, working hard to achieve its own national rejuvenation and build a world with a common destiny shared by the whole world. In this sense, the U.S. has a lot homework to do to truly understand China — in particular China's strategic intentions.
Dialogue is better than confrontation. One should hope that a new start to talks between the two countries will produce concrete programs of exchanges and cooperation, no matter how limited they might be. They could play an important role in reducing misunderstandings and hostile sentiments.