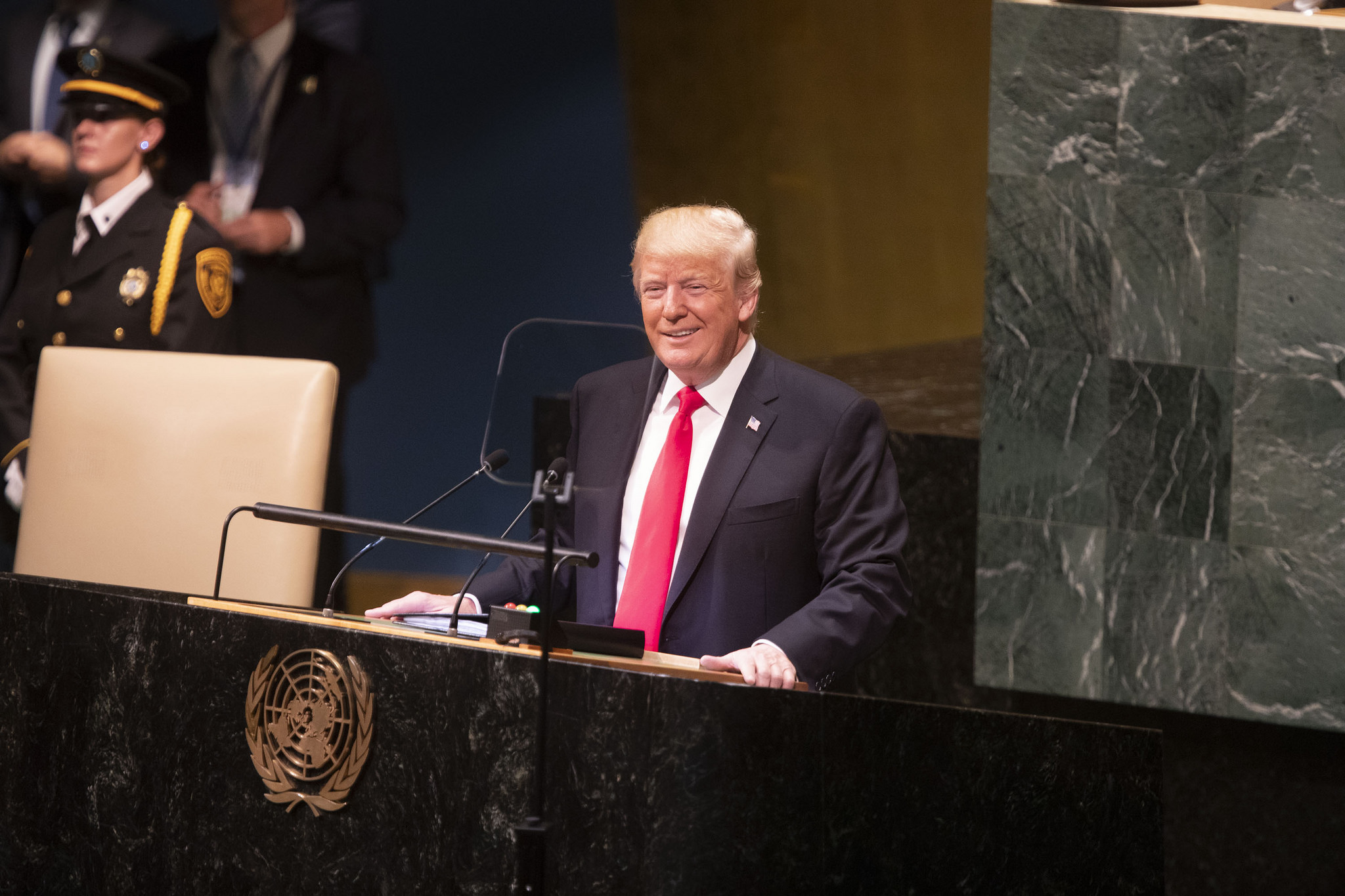 Departures and long-standing vacancies within the Trump administration have come to be common place, but the resignation of U.S. Ambassador to the United Nations Nikki Haley caught even the most senior level officials off guard. Haley is one of a few officials who achieved a sort holy-trinity within the administration: she managed to avoid major scandals during her tenure, received support from both Republicans and Democrats, and got praise from Trump himself for her efforts and service at the United Nations.
However, Haley's surprise departure from her role at the UN only reflects an emerging pattern in U.S. policy: the continued retreat of the United States from multilateralism and globalization. During his recent address at the United Nation General Assembly, President Trump emphasized his disdain for global multilateral institutions, saying, "America will always choose independence and cooperation over global governance, control, and domination". But as the U.S. continues to renounce the responsibilities that accompany its historic status as a global leader, China has been working to fill the vacuum, slowly but surely advancing an agenda that seeks to craft a global system reflective of its own values and interests.
Not long after the U.S. withdrawal from the Paris Climate Accords, China stepped up its commitment in partnership with the European Union. The move underscored earlier agreements between China and the EU to pursue political, technical, economic and scientific cooperation in pursing clean energy and combating climate change. Furthermore, this served as an important moment for China to spotlight its pivot to the global community as it seeks to increase its presence outside the Asia Pacific and reaffirm its commitment to global stability and cooperation.
Furthermore, Trump's recent walk-back on the Iranian Nuclear Deal, followed by the reinstatement of sanctions on the regime has only made China, as one of Iran's largest trading partners, the biggest beneficiary as European and Japanese companies become hesitant to establish economic footing in Iran. With these foreign businesses skittish, China faces markedly decreasing competition for Iranian oil to fuel its continuing economic development. These moves, coupled with funding cuts to the UN and withdrawal from the body's Human Rights Council, have been the opportunities China capitalizes on to assert its vision of how the global system should be managed.
While China begins to exert its influence on the international system, financial support remains one of the country's key tools of leverage, as it is currently the second largest contributor to the UN's core budget. China's lukewarm approach to the Western-led global order was evident through its level of financial support for international institutions; for example, contributing only roughly 3% of the UN's Peacekeeping budget in 2013. Compare this to today as China accounts for over 10%, utilizing its growing global influence especially as the U.S. begins to distance itself financially from such causes. China has since pledged to contribute $1 billion to the budget over the next five years, a demonstration of its plan to continue high-level commitment to UN missions.
This is significant considering interventionist positions such as the 'Responsibility to Protect (R2P)' often clash with China's own non-interference policy. Though still subject to much debate, R2P stipulates that the international community has a commitment to intervene in situations of genocide, war crimes, crimes against humanity, and ethnic cleansing; essentially, a global responsibility to protect those that are harmed by their own governments. This strategic theory is a common justification for peacekeeping missions, a reality that would logically disincentive China from contributing to peacekeeping efforts. However, Beijing appears to be playing a long-game, investing in the organization in the hopes of directing its future. Chinese financial strategy is also paired with the 2,500 personnel China contributes to UN missions as well as some 8,000 People's Liberation Army troops as standby reserves for UN peacekeeping operations.

Additionally, China has begun to position itself as a champion of globalization, with President Xi Jinping offering up a surprising defense of free trade at the World Economic Forum's recent meeting in Davos, something President Trump has loudly railed against. While Trump has rejected major economic deals such as the Trans-Pacific Partnership, Xi continues to expand and develop the ambitious "One Belt, One Road" initiative to connect markets in Asia, Africa, and Europe by land and sea. China intends to use this initiative to become a leading global power by 2050, as announced at the most recent National Party Congress. This potent one-two punch of unilateral development initiatives and multilateral engagement on the world's largest issues places China within reach of the global hegemonic crown.

However, even with China's moves to assure the international community that it is engaging in a "peaceful rise", it is not guaranteed that it will attain stewardship of the current global order, which is still led by the United States, despite Ambassador Haley's departure. Though China's influence is growing, it still must find ways to appease many, especially Western members states who remain cautious of its ambitions and polices, both foreign and domestic.

Despite the obstacles, China views this as a long game, and will continue to fill any vacuums Donald Trump creates to suit its interests; especially ones at the United Nations, where it has the ears of the governments of the world. To convert these opportunities into gains, China will need to approach these circumstances with a delicate touch if it is to win the understanding of skeptical Western countries. Considering the Chinese advance, the Trump administration should remain wary of bombastic rhetoric towards multilateralism and the distance it puts between itself and the United Nations. If it is not careful, it does risk ceding powerful spaces of influence to China for good.