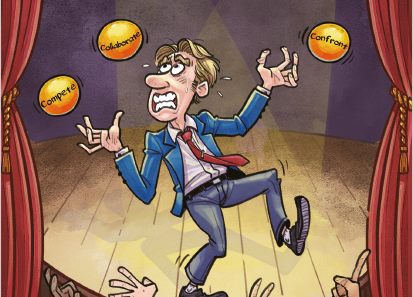 Click to read the latest China-US Focus Digest
In his first foreign policy speech after taking office, U.S. Secretary of State Antony Blinken said America's approach to China will be "competitive when it should be, collaborative when it can be and adversarial when it must be," all of which seems to offer a basic China policy framework. Since then, senior administration officials under President Joe Biden have repeated the phrase. While the new administration says it is conducting a strategic review of U.S. China policy, the "compete, collaborate, confront" catchphrase — dubbed the "3C framework" — has clearly become central in Biden's early going.
The framework reflects the administration's perception of the complexity of China-U.S. relations. Unlike the Donald Trump administration's China policy, it embodies the Democratic Party's perception of the current state of relations with China and how to deal with it. Trump flagged "strategic rivalry" with China and was confrontational in policy implementation. Since the outbreak of the COVID-19 pandemic in particular, America's China policy had been dominated almost entirely by confrontation. The word "cooperation" has rarely appeared in the diplomatic communications of senior government officials.
The Biden administration has also put more emphasis on competition with China and adopted a number of confrontational measures. But it has also shown a certain cooperative attitude in conducting high-level dialogues and has cooperated with China on global issues such as climate change.
The changes showcase the sleekly balanced traditional foreign policy of the Democratic Party in the U.S. As China grows stronger — and with Trump having failed to crush China with his whole-of-government approach — the new administration tilts towards a relative middle ground in policy statements and seems more willing to cooperate with China in specific areas if those are in the interest of the U.S. Admittedly, competition and confrontation remain central to its China policy, and cooperation in individual areas will not be sufficient to hedge the existing negative factors in bilateral relations.
It should be noted that the 3C construct is logically flawed, or at the least perplexing. First, the three words — competition, collaboration and confrontation — are semantically and logically in conflict. From the Chinese perspective, if two major countries are in fierce competition or even confrontation, how can they carry out genuine cooperation at the same time? In a competitive or confrontational model of major-power relations, is there an adequate sustainable political basis, backed by public opinion, for collaboration? It is quite difficult to comprehend also for third countries.
Second, the distinction between competition and confrontation is vague, and how to distinguish them in actual policy operations is even more confusing. American officials and scholars often emphasize the neutral nature of competition, describing it as a normal state in interpersonal and country-to-country relationships. However, different historical and cultural backgrounds may well lead to naturally different perceptions of competition.
In the reality of international politics, positioning the relationship as such between two major powers fuels a tendency to equate competition with confrontation or even vicious competition. As a matter of fact, the 3C framework has indeed led to the Chinese view that Biden's China policy is too negative and has aggravated the complexity of relations.
There have been quite a few discussions in academic and strategic circles about China and the U.S. regarding the 3Cs. In addition to the above confusion, much attention has been given to how to control competition and confrontation and how to enhance meaningful cooperation. Obviously, the "how to" questions are more practical.
From the perspective of their respective interests and concerns, there are many areas of competition, especially in science and technology and international leadership, which the Biden administration has increasingly emphasized. Potential frictions over Taiwan and the South China Sea could lead to dangerous confrontations. In view of these issues, the two countries should pursue unblocked communication mechanisms and effective crisis management channels to control competition and avoid confrontation.
Although it may be difficult for them to resume more than a hundred dialogue mechanisms in the foreseeable future, it will be urgent to establish strategic dialogue and tactical communication mechanisms around major sensitive issues. That the two countries recognize the importance of managing competition and confrontation — and take concrete steps toward each other — is itself a sign of cooperation. Moreover, China and the U.S. already have a high level of common understanding in areas where cooperation can be carried out. As their common interests in pandemic response and climate change are quite obvious, the key is to act quickly and not let cooperation be a mere rhetorical exercise.
Given the high level of expertise required in these areas, once there is political will and agreement to cooperate, the proper departments should immediately engage each other and start practical cooperation as soon as possible.