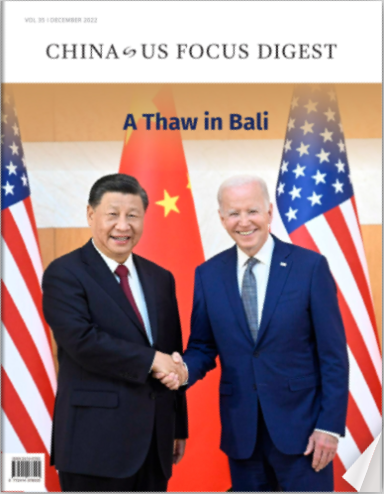 Click to read the latest China-US Focus Digest issue
Against the backdrop of major global changes, China-U.S. relations in 2022 were stuck at the bottom and in need of rebalancing for a new relationship. Looking back on the year, the Biden administration's China policy has become clear: It is a policy of consolidating containment while improving crisis management. The multiple layers of wrangling around the Ukraine conflict and cross-strait crisis have also gradually defined the boundaries of China-U.S. "coopetition" for a new era. In the process, China has resolutely strived to maintain a proper direction.
A "new duality" has become the essential feature of America's China strategy this year. After dramatic readjustments under Donald Trump, the administration under Joe Biden has also further clarified where it stands on China, along with corresponding guiding principles and measures. With its first National Security Strategy as a hallmark, the Biden administration has basically continued with the preceding administration's general notion of China as a primary rival. At the same time, attempts to formulate a strategic environment for China's rise — that is, "investment, alliance, competition" — aim at preventing a total breakdown of China-U.S. relations, which would damage the U.S.-led international system.
On one hand the U.S., through major legislation, is laying the groundwork for long-term U.S. strength in competition with China and creating a system of tools with which to pressure China through closer coordination and cooperation between its Asia-Pacific and European allies. Over the past year, the U.S. has come up with multiple repressive moves in such critical fields as microchips, energy and resources, trying constantly to form ideologically driven small cliques to be employed in a siege of China. It is also plotting a new international rhetorical regime — "democracy vs. autocracy."
On the other hand, while constantly consolidating its means to pressure China, the U.S. has repeatedly stressed crisis management, attempting to install "guardrails" for an essentially limitless suppression of China. This practice marks an important distinction between Democratic and Republican administrations, but it also shows that the U.S. truly cannot afford to sink into a state of significant conflict with China — reflecting America's internal psychological weakness.
After forsaking the longstanding China policy of engagement and containment, the current approach of all-around suppression while managing crises constitutes a new duality in America's China policy. Considering the overall characteristics of the international order and the evolution of comparative Chinese and U.S. national strengths, this new duality may dominate U.S. strategic thinking about China for a fairly long time.
Crisis gaming has been another important part of the China-U.S. relationship in 2022. It has also has been an outstanding embodiment of the new duality of America's China strategy. Over the past few years, crises were not rare as bilateral ties worsened, but the Ukraine and cross-strait crises that emerged this year have no doubt had more complex and significant impacts on relations.
After the Ukraine conflict broke out in February, the U.S., on one hand, slandered China, claiming it should assume its "international responsibility" to help broker a resolution. On the other hand, integrated Western alliances were plotting to deter China with secondary sanctions in an attempt to build the momentum necessary to bind China and Russia together and then suppress them both. The competition over international public opinion and the diplomatic games on multiple fronts surrounding the Ukraine crisis formed the main thread of China-U.S. relations in the first half of 2022.
The cross-strait crisis in August then tested the boundaries of the China-U.S. game. The U.S. government's connivance of Nancy Pelosi's Taiwan visit in disregard of the extreme sensitivity of the Taiwan issue resulted in a significant crisis between China and the U.S. As a conspicuous footnote to the U.S. sashimi tactic in hollowing out its "one China" policy over the past few years, Pelosi's visit seriously damaged the political foundation of bilateral ties. Following forceful pushbacks from China, the U.S. has had to repeatedly state it has no intention to seek conflict with China. It also has had to re-evaluate the danger of playing the Taiwan card from the strategic level and the perspective of crisis control. New boundaries in the China-U.S. game over Taiwan may gradually emerge as a result of this crisis.
Facing the new dynamism in China-U.S. relations, high-level strategic leadership became critical for bilateral ties to stay on the correct track. Throughout 2022, Chinese and U.S. leaders have had important meetings by telephone, video link and face to face. These have provided essential guidance for bilateral relations and have played an irreplaceable role in strategic leadership.
In the process, proceeding from a strong sense of responsibility for the two peoples, as well as for the world at large, the Chinese side has repeatedly emphasized the significance of preventing China-U.S. relations from getting derailed and out of control, as well as finding a way to coexist. The Chinese side proposed in clear terms that the two countries should stick to mutual respect, peaceful co-existence and win-win cooperation, and to work together to explore establishing guiding principles and a strategic framework for China-U.S. relations. It also expounded in explicit terms the significance of such sensitive matters as Taiwan, and expressed wishes for pragmatic China-U.S. cooperation on global concerns.
Whether or not the two sides can now implement the points of agreement reached at the leaders' meetings — gradually restoring multilevel China-U.S. contacts and meticulously pushing forward a cooperative agenda — will have a decisive impact on ensuring a healthy course for the relationship.