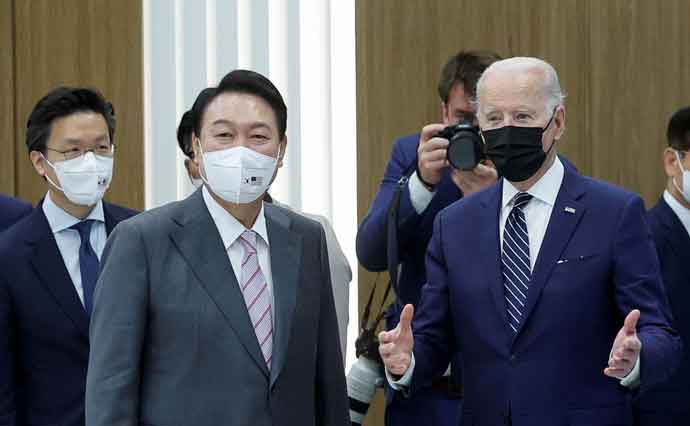 U.S. President Joe Biden embarked on a trip to South Korea and Japan on Thursday, his first trip to Asia since he took office. While in Tokyo, he will attend his second in-person summit with other leaders of the Quadrilateral Security Dialogue, or Quad, a group consisting of the U.S., Japan, Australia and India.
The trip comes at a crucial time as the Russia-Ukraine conflict intensifies. U.S. relations with Japan and South Korea are undergoing profound changes that will have a negative impact on China, from the offensive goals of the U.S.-Japan alliance to the new South Korean government's policy of "leaning on Washington while keeping Beijing at arm's length."
Washington's Indo-Pacific policy — which means reinforcing security, economic and diplomatic engagement from India's western coast to the western shores of the United States — is a critical piece of its China policy. The White House published its Indo-Pacific Strategy in February, It says not only that China's "coercion and aggression spans the globe, but it is most acute in the Indo-Pacific" but also that China "is combining its economic, diplomatic, military and technological might as it pursues a sphere of influence in the Indo-Pacific." The strategy also lists 10 core lines that Washington will pursue in the next one to two years, including expanding U.S.-Japan-ROK cooperation. "We will seek to coordinate our regional strategies in a trilateral context," it says.
It should be noted that while the Russia-Ukraine conflict has some impact on America's implementation of its Indo-Pacific Strategy, it's hard to change its underlying intention to focus on containing China. According to Richard Fontaine, chief executive officer of the Center for a New American Security, the Russia-Ukraine conflict is not conducive to the U.S. pivot to the Indo-Pacific in the short term, but it helps in the long run by drawing the U.S. closer to its regional allies and partners. Both Tokyo and Seoul have adjusted their diplomatic and security policies against the backdrop of the Russia-Ukraine conflict, providing a chance for Washington to rope them in to engage in the Indo-Pacific region and increase pressure on China.
In recent years, Washington and Tokyo have ratcheted up their alliance. They've been playing the Taiwan card, which includes making joint combat plans. Since the war broke out in Ukraine, the Japanese government has followed the U.S. in implementing multiple rounds of sanctions on Russia. Japanese Prime Minister Fumio Kishida said Russia committed "war crimes" and even said during his trip to the United Kingdom that "Ukraine might be tomorrow's East Asia" — thereby hyping up tensions in the Asia-Pacific region.
Kishida hopes to consolidate his power and develop Japan's offensive military capacity. Japan's Liberal Democratic Party asked Kishida to consider raising the country's defense budget to 2 percent or more of GDP, and the former prime minister, Shinzo Abe, has been open to the "nuclear sharing" option with the U.S.
In addition, Japan has been ramping up military forces on its southwestern islands to deal with a potential conflict in the Taiwan Strait by trying to acquire "enemy base attack capability." The country is also mulling the introduction of a long-range cruise missile to its submarine fleet, in addition to developing an electric railgun to defend against hypersonic missiles.
On the other side, the U.S. is seeking to field ground-launched short- and medium-range ballistic missiles in Japan, as well as founding a unified combatant command with the country, as it did with South Korea.
Moreover, the two allies are launching more expeditionary advanced base operations. In March, U.S. and Japanese marines carried out their first airborne landing and combat training.
Japan plays a pivotal role in the Indo-Pacific strategy of the U.S. As a crucial member of the Quad, the U.S.-Japan-Australia Trilateral Strategic Dialogue — or TSD — and the U.S.-Japan-India TSD, Tokyo has undoubtedly become Washington's deputy in the Indo-Pacific.
In recent years, Japan has also expanded military relations with Australia, India and the Philippines. It signed a reciprocal access agreement, or RRA, with Australia in January, which provides for shared military training and defense equipment. With India, Japan formed the Special Strategic and Global Partnership and inked the Reciprocal Provision of Supplies and Services. The country talked about signing an RRA with the Philippines during their first 2+2 security meeting early last month.
Regarding South Korea, the Biden administration views Yoon Suk-yeol's Blue House victory as a chance to rope the country. With a tough China policy in place, Yoon vowed to deploy more THAAD defense systems, extend nuclear deterrence and strengthen ties with Washington and Tokyo. He has also said he will "positively review" South Korea's joining of the Quad.
In May last year, leaders in the U.S. and South Korea announced the termination of missile guidelines, ending limits on ranges and warheads and allowing Seoul to develop medium- and long-range missiles. It was believed to be part of the alliance's anti-China strategy.
In addition, Robert Abrams, former commander of U.S. Forces Korea (USFK), put forward in public a U.S.-South Korea joint war plan on China. The U.S. also expects South Korea to render military support in case of any contingency over the Taiwan Strait. As stated in the U.S.-ROK Leaders' joint statement released in May last year, the Washington-Seoul alliance should become a "linchpin for the regional and global order." The statement also emphasizes the "importance of preserving peace and stability in the Taiwan Strait."
Abrams' successor, Paul LaCamera ,said the USFK should move beyond its traditional role of only defending South Korea and should have strategic flexibility when a crisis happens in another country or region. Such rhetoric was taken as highly relevant to the Taiwan question.
It is noted that there's a clamor for embracing nuclear weapons within South Korea. Yoon talked about reactivating the Extended Deterrence Strategy and Consultation Group in order to put South Korea under the U.S. nuclear umbrella.
When AUKUS — a trilateral security partnership between Australia, the UK and the U.S. — was created in September, the U.S. promised to assist Australia in building nuclear submarines — and South Korea was quite envious. It hopes that the U.S. will provide it with similar support.
Apparently, the military policy adjustments Japan and South Korea have made will further add complicated variables to the security architecture of northeastern Asia and the Asia-Pacific region at large. When those countries attend the NATO summit in Madrid next month, the U.S. will try make them a driving force in an Asia-Pacific version of NATO.
Washington's Indo-Pacific strategy has not stagnated because of the Russia-Ukraine conflict, and China will continue to face severe challenges in its peripheral diplomacy.