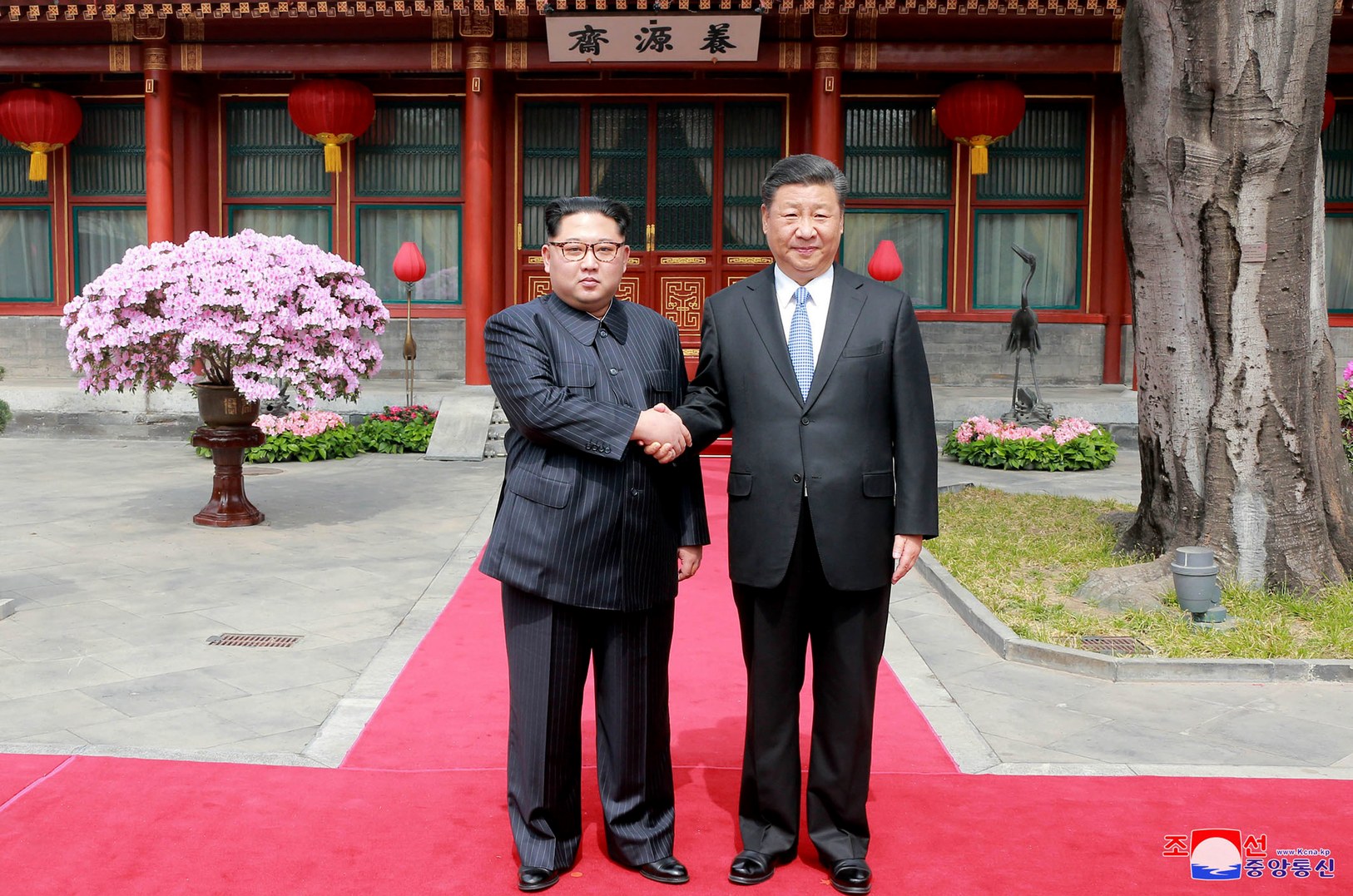 The official report by Xinhua News on talks between North Korean leader Kim Jong Un and President Xi Jinping this week said that the surprise visit came at the invitation of the Chinese president, but the jury is still out on which country had more at stake when the two met in Beijing. China appeared increasingly uncomfortable with the idea of South Korea and the United States in the lead and in control of the direction of diplomacy with North Korea. For Xi, there were obvious benefits in becoming the first foreign leader to meet with Kim and in repairing strained relations ahead of the ROK and U.S. summits. China made clear through Kim's visit that it will not be sidelined in important conversations and developments on the future of the Korean Peninsula. Now, Xi has had the opportunity to influence the terms of any future agreement.
The Chinese official narrative on Kim's visit has emphasized the "friendly cooperative ties" between the two countries. This is striking given the very strained state of relations between China and North Korea over the past six years. Some Chinese analysts are saying that Kim's amicable visit demonstrated Beijing's ability to reverse the previously tense situation, which would seem to undercut official claims of China's waning influence over Pyongyang. It is also notable that Kim Jong Un announced his formal acceptance of President Trump's invitation for dialogue only after his meeting with Xi. Finally, reported comments by Xi that, "the development of the China-DPRK relationship...should be passed on continuously and developed better. This is a strategic choice," also seem to discredit any prior predictions that Xi would be the Chinese leader to fundamentally reorient China policy on North Korea.
For North Korea, Kim is better positioned in negotiations with ROK President Moon and U.S. President Trump having repaired relations with Beijing. Past visits by North Korean leaders to Beijing have often been followed by economic aid. Visiting Beijing first also makes the United States the third country (following China and South Korea) to meet with Kim. A failure during the Trump meeting, assuming the Moon summit is successful, could result in the United States being blamed.
Kim has shown his ability to play a weak hand effectively, preventing a united front among the other negotiating parties ahead of his diplomatic engagements. He has undercut the perception of a united U.S.-China approach on North Korea by repairing ties with Beijing and eliminating what was once America's greatest strategic asset in its negotiations – divisions between Pyongyang and Beijing. Kim has also sought to exploit concerns among America's traditional allies South Korea and Japan about the commitment of the Trump administration to their long-term security and economic interests. Reports have emerged indicating that a bilateral meeting between Prime Minister Abe and Kim is under discussion and may happen as soon as June.
While regional parties may agree on the objective of denuclearization, each country has its own agenda and national interests to advance. Reaching a long-term and sustainable agreement with Pyongyang on freezing or dismantling its nuclear weapons and missile programs will require close U.S. policy coordination with Seoul, Tokyo, Beijing and Moscow. Yet, President Trump has done himself no favors by repeatedly questioning the value of U.S. alliances in the region and opening trade actions on these partners at the same time he needs their cooperation. Kim, meanwhile, has given up nothing so far -- his commitments to denuclearization to this point resemble past statements in both language and lack of specificity-- and will use these summit meetings to demonstrate that he and his country are respected as equals by other major powers.
We are now heading into an extremely complicated stage of diplomacy and negotiations. President Trump needs competent advisors who can explain to him the implications of Xi's meeting with Kim and the major considerations given these developments. Trump would have greatly benefited from the advice of former candidate for Ambassador to South Korea, Victor Cha, and recently retired United States Special Representative for North Korea Policy, Joseph Yun, both who have unmatched expertise on the region and critical relationships in key capitals. Even with their losses, he has capable officials in Acting Assistant Secretary of State for East Asian and Pacific Affairs, Susan Thornton, and senior director for Asian affairs on the National Security Council, Matthew Pottinger, should he choose to empower them.