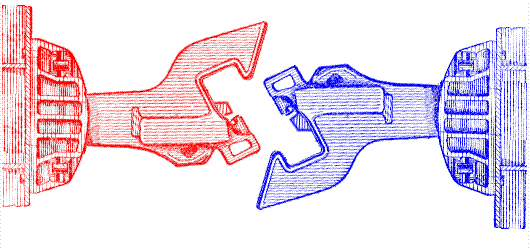 Discussions about decoupling China and the United States have been going on for more than a year, during which time scholars from both countries and elsewhere have aired various opinions. The U.S. side hasn't given a formal definition.
But judging from the remarks and actions of President Donald Trump and his team over the past two years, the decoupling they envision includes two scenarios:
One is cutting off all exchanges between the two countries in all aspects and degrading bilateral relations to the level of the U.S.-Soviet Union during the Cold War. Trump has said that the U.S. reserves "complete decoupling" from China as a policy option.
The other scenario refers to a U.S. strategic orientation, meaning the U.S. would try its best to limit, restrain and reduce exchanges with China to suppress it in various ways.
The first scenario is unrealistic. Since China and the U.S. established diplomatic ties four decades ago, bilateral relations are no longer limited to government-to-government ones. They have become a complex and convoluted relationship between two societies, which can't be cut off with a single executive order by any government. The two countries' economies have become inseparable owing to their very high mutual dependence.
China boasts tremendous development potential and is expected to continue contributing one-third of global economic growth in next decade. As a country of 1.4 billion people, it huge potential consumer demand is no doubt appealing to entrepreneurs.
So decoupling ultimately boils down to market behavior. Businesses are the main actors in the market, and they would be the ones to determine whether or not the countries should decouple.
An annual report by the American Chamber of Commerce in Shanghai indicates that U.S. businesses still consider Chinese consumers as a great opportunity. Despite trade and political tensions between the two countries, 92 percent of American companies have no plan to leave China, and more than two-thirds of them say they will maintain current staff numbers. Only 4.3 percent of them intend to move back to the U.S., and those are rather small companies.
Through the past decades of globalization, China has become an integral part of the world economy. In recent years, in particular, it has worked hard to develop balanced trade; and trade with ASEAN nations and the European Union has continued to grow rapidly. The U.S. clamor about decoupling will disrupt global industry and supply chains, and has already stirred up profound anxiety in the international community.
Judging from Singapore Prime Minister Lee Hsien Loong's article in Foreign Affairs titled "Endangered Asian Century" and remarks by Angela Merkel and other EU officials, others won't follow suit if the U.S. seeks to forcibly decouple from China. For U.S. allies and partners, China is an important economic partner. Trade ties with China are closely related to their economic growth, and their feelings about China's rise are different from those of the U.S. While the United States worries about Chinese challenges to its global hegemony, other countries have no such concerns.
Of course businesses may come and go, and industrial layouts will be adjusted according to market conditions. But those are normal phenomena in a market economy, and have nothing to do with decoupling.
The second scenario — a U.S. attempt to suppress China in various ways — has already been unfolding over the past few years. American suppression of China is all-around but most of the focus is on technology, especially core technologies. For many years, the U.S. has led global science and technology from commanding heights, boasting the most Nobel Prize laureates and the most patents. It remains the clear leader in technological innovation.
The American IT industry has been the absolute global pacesetter since the 1990s, but in some areas, such as 5G and artificial intelligence, China has either overtaken it or is rapidly catching up. This is unacceptable to the U.S., which wants to preserve its monopolistic advantages in the most important fields of science and technology.
The key to China-U.S. competition, either in the economic sector or the military arena, is core technologies, and the U.S. will not willingly allow China to catch up or overtake it. The current focus is on chips.The Trump administration has issued multiple executive orders prohibiting U.S. government agencies and private companies from using Huawei technologies and products. It has barred U.S. companies from doing business with Huawei or supplying chips to Huawei, and is even blocking foreign companies using American technologies from expanding business relations with Huawei, on pain of long-arm sanctions. Ranking Trump administration officials have spared no effort to persuade European allies and partners to severe ties with Huawei, resorting to both carrot and stick.
Such attacks on a private company are unprecedented in the history of international relations. But the assault against Huawei does not hurt Huawei alone because it is a key client of American software suppliers. In 2019 alone, Huawei purchased $18.7 billion in parts manufactured by American companies. Cutting off relations with Huawei will deprive American businesses of opportunities to sell hardware and software, endangering tens of thousands of U.S. jobs.
A recent study by Boston Consulting Group shows that, over the long term, an all-around China-U.S. decoupling would result in U.S. chip manufacturing revenues shrinking by 37 percent, greatly reducing its global market share. Is the Trump administration ready to pay such a price by suppressing Huawei?
China has no choice but to cope with U.S. suppression of Chinese technologies. Its main countermeasure has been opening-up and innovation. That China defines the period since the Third Plenum of the 11th Communist Party of China Central Committee as the period of reform and opening-up shows the importance it attaches to opening.
Despite the U.S. trade war against China and the COVID-19 pandemic, as well as negative impacts on China's international environment, the country's commitment to opening-up hasn't changed a bit. China has further revised and shortened its negative list for overseas investors; the central government has pledged full support to Hainan province as it deepens reforms and opens up, as well as to building the entire island into an experimental free trade zone. Notably, Beijing just held the first offline post-pandemic international fair for trade in services and plans to build a comprehensive demonstration zone for an expanded service trade.
These moves provide evidence that China's doors are opening wider to the rest of the world. This will no doubt increase its appeal to international economic and trade partners and serve as a powerful response to U.S. efforts to decouple.
And China's efforts have paid off. Despite the impact of COVID-19 in the first eight months of 2020, the country took in 619.78 billion yuan ($91 billion) of overseas capital, a 2.6 percent year-on-year increase. In August, 84.13 billion yuan of overseas capital was used nationwide, an 18.7 percent year-on-year growth. Facts tell the tale.
After 40 years of reform and opening-up, Chinese economic growth has transitioned from high-speed to high-quality. And the main connotation of high quality is that it has mastered more core technologies. Innovation is the primary driver of quality growth. It is unrealistic for a big developing country like China to rely on large-scale imports of technologies from overseas to support long-term economic progress.
China is a big manufacturing country, but not yet a strong one, and the difference all lies in core technologies. The country will remain vulnerable without mastering core technologies. This is a problem we must resolve in building a modern country. Even without U.S. suppression, China would have to strive to grasp core technologies. And it has had some success stories to tell in recent years. In high-speed railway technologies, for instance, China has already developed some core technologies with indigenous intellectual property rights.
U.S. suppression of Chinese technologies will not ease in the foreseeable future, and bilateral competition in technology will be long-term. Chips and semiconductor technologies can be seen as China's primary weakness and a key area awaiting a breakthrough to deal with the technology war the U.S. has launched.
Suppressive policies by the United States will bring some difficulty to China but will at the same time inspire us. The state and domestic enterprises will increase inputs; society will be more respectful of knowledge and talent; state policies on IPR protection will be improved.
With the Chinese people's solidarity and wisdom, difficulties will be temporary and surmountable. The U.S. attempt to contain China's development via decoupling will only end with the U.S. eating the bitter fruit it has cultivated.