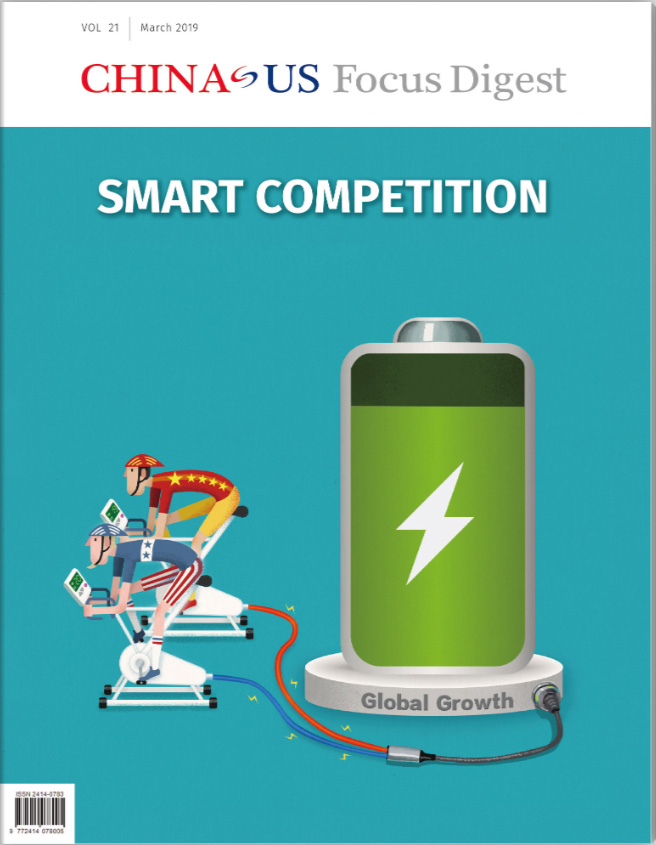 Strategic competition is not what China wants. That is a misjudgment based on U.S. retrospection about bilateral relations over the years — which may not change in the near term. The crux now is how to cage the differences and arrest the free-fall, while at the same time striving for cooperation via dialogue and confidence-building measures.
The inauguration of Joseph R. Biden on Jan. 20 will provide an opening for renewed China-U.S. dialogue. Both sides need cool heads as they consider where we've come from and where we're going. They should make every effort to avoid a new cold war, while expanding the space for cooperation. Of course there's no basis for assuming blindly that a new U.S. administration will instantly change everything.
This year's U.S. general elections exposed the unprecedented multiple crises facing capitalism, triggered by political radicalism and the polarization of society. The wealth gap continues to widen; equality is steadily deteriorating; identity politics, populism and "America First" remain mainstream. The 73 million votes cast for Trump show that the polarization of American society has solidified. Antagonism between the elite and those at the bottom layer of society and between labor and capital will become increasingly fierce, and will continue to influence U.S. domestic and foreign policy.
The Biden administration will face daunting challenges in resolving domestic problems and adjusting foreign policy. Adjustments to China-U.S. relations will also be subject to constraints.
The two countries need to reevaluate and prudently, position themselves to handle bilateral ties at the levels of both strategy and action. A new pattern is needed in which they can engage both in active cooperation and peaceful competition. The present imperative is to build a "cage" — a framework with bottom lines, and rules — to prevent vicious competition from getting out of control. This is a positive way to turn around bilateral relations.
First, proceeding from bottom-line thinking, the two countries' competitive relationship should be acknowledged and clarified. China-U.S. competition is objective existence; an ideal world simply does not exist. Whether their future will be competitive cooperation or cooperative competition, and whether they can enlarge the space for cooperation and realize peaceful competition hinge on policy interactions.
The two devastating world wars and the U.S.-Soviet Cold War teach us that China and the U.S. must coexist in peace and avoid getting bogged down in mutually diminishing zero-sum competition — especially cold or hot wars. Anything less will be disastrous for both countries and the world. This was precisely what President Xi Jinping meant when he emphasized in his congratulatory telegram to Biden that he wishes for China and the U.S. to proceed in a spirit of no conflict, no confrontation, mutual respect and win-win cooperation. They should focus on cooperation, manage differences and promote healthy and steady development of bilateral ties. This is a bottom line of the cage.
Second, the two countries need to have a correct understanding of their cultural and ideological differences to reduce hostility and avoid sinking into an ideological quagmire. Currently, swaths of people in the two countries have developed negative feelings about each other. Unilateral restrictions by the U.S. side, as well as the pandemic, have brought bilateral personnel and people-to-people exchanges to a virtual halt, even affecting students seeking to study overseas in either country. It is worrying that key Democratic Party figures and major U.S. think tanks are making ideologically charged statements against China.
In a jointly signed article in Foreign Affairs, Kurt Campbell and Jake Sullivan claimed that China presents a greater ideological challenge to the U.S. than the former Soviet Union. Ignorance about Chinese culture and the Judeo-Christian sense of cultural superiority have led to prejudice against the Chinese political and social systems among U.S. elites in both major political parties. Many now look at cultures and political institutions that are different from their own from a perspective of confrontation. If the "shining city on a hill" thinking doesn't change, U.S. understanding of China will go awry and misjudgments will inevitably follow.
In this regard, the first imperative is to stop fixating on talk about cold war or hot war and deescalate present tensions. The persistent ideologically charged Cold War-style rhetoric on the U.S. part has severely worsened the biosphere of bilateral ties and resulted in increasingly negative feelings on both sides.
The new U.S. administration should restrict and guide officials-in-waiting, and major think tanks, so that they can evaluate and make comments on the present and future of China-U.S. relations from a positive and objective perspective to create a balanced, objective public opinion environment for resetting the relationship.
Second, cultural and ideological differences between the two countries should be read rationally, to prevent ideology from becoming an overriding priority in bilateral ties. Some would-be members of the upcoming new U.S. administration, as well as Democratic Party veterans, are advocating rallying allies along ideological lines to jointly cope with China — for example, excluding and suppressing China in the field of high technology, with a "technology group of 12"; enhancing U.S. dialogue with Japan, India and Australia in the Indo-Pacific to promote a four-nation alliance against China; and focusing in trade negotiations on asking China to change its development path featuring "state intervention." This model of thinking, which mistakes cultural differences for ideological ones and labels China as "non-democratic," will only drive China-U.S. relations to a dead-end. This is the framework of the cage.
Third, the two sides should consider taking parallel, pragmatic confidence-building measures as soon as possible in selected areas of common interest, patch up any serious trust deficits, expand dialogue and look for opportunities for cooperation. This will create conditions amenable to orderly, peaceful competition and function as the stabilizer of the cage.
One inspiration that can be drawn from the steady progress of China-U.S. relations over the decades is the two countries are not like Britain and Germany before World War I, nor like the U.S. and Soviet Union during the Cold War. The two have successful experiences in seeking points of convergence based on cooperation in the face of changes in conditions. Such points of convergence and room for cooperation still exist.
It may be advisable to proceed from the easy to the difficult —that is, to selectively conduct dialogue and take confidence-building measures:
First, restore cultural and people-to-people exchanges as soon as possible, starting with the acceptance of foreign students for study. State-to-state relations are built on good feelings between peoples. If the public-opinion foundation of the relationship is undermined and is not repaired in a timely manner, cooperation will become castles in the air.
Second, taking COVID-19 as a pressing joint battle, the two countries should engage in emergency cooperation in such aspects as vaccine research and development, distribution of vaccines, prevention and treatment and mutual recognition of international health codes. They should actively discuss how to strengthen the role of the World Health Organization, establish efficient pandemic response mechanisms and improve preparedness for future epidemic attacks.
Third, trade negotiations should be resumed as soon as possible, and consultations on adjustments in the two countries' supply chains, which have been disrupted by changes in America's China strategy and shocks from the pandemic. Given the significant influence of bilateral economic and trade ties, both the content and format of negotiations should be pragmatic and feasible to truly benefit people of both countries.
Fourth, dialogue on financial concerns is needed to prevent financial risks from evolving into a financial crisis. The two countries' close collaboration during the 2008 financial crisis remains fresh in memory. The practical significance of such dialogue is to preempt tremendous global financial risks. Depreciation of the U.S. dollar and dramatic ups and downs in capital markets are inevitable, so preventing a new financial crisis that keeps the world economy operating at rock bottom in the long term will be a challenge.
China and the U.S. should again promote the G20's leadership role as a primary platform for global economic governance and facilitate a steady opening of the Chinese financial market, including a massive inflow of U.S. capital and subsequent risk management.
Fifth, dialogue and negotiations on network security are necessary. Cybersecurity concerns national security and people's livelihoods in both countries. Practical dialogue is imperative. It's content should include making rules to prevent cyberattacks, establishing the threshold for when cyberattacks constitute acts of war, exploring rule-making for global network governance and corresponding mechanisms and building a crisis- management platform for timely communication and consultation on cybersecurity issues that have already arisen or may arise.
Sixth, restore and enhance cooperation in coping with climate change. China and the U.S. should be exemplary in the international community for reducing damage induced by climate change. In collaboration with Europe and other nations, they should find ways to meet the challenges. President Xi delivered an important speech at the recent Climate Ambition Summit, during which he proposed to "close ranks," "raise ambition" and "boost confidence" and announced China's emissions reduction goals for 2030. Hopefully the incoming U.S. administration will join hands with China to facilitate implementation of the Paris agreement.
By now, China and the U.S. should have developed sufficient wisdom and political will to take full advantage of new opportunities. So long as both sides have an understanding of new patterns and new developments in bilateral ties, and so long as they earnestly strive to create conditions for peaceful coexistence, peaceful competition and multifaceted cooperation, they certainly can bring benefits to people on both sides and the world at large.