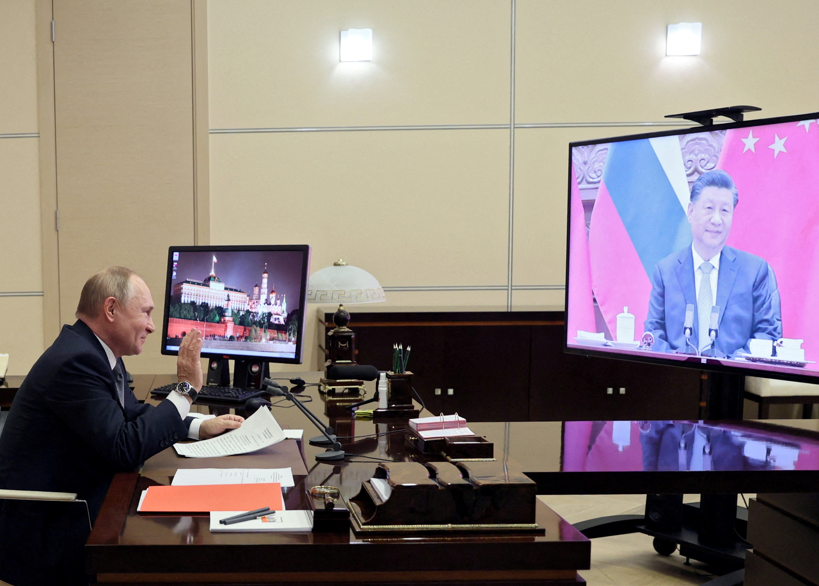 Russian President Vladimir Putin holds talks with Chinese President Xi Jinping via a video link at his residence outside Moscow, Russia December 15, 2021. (Sputnik/Mikhail Metzel/Pool via REUTERS)
Chinese President Xi Jinping and Russian President Vladimir Putin recently met online for their second virtual summit of the year and spoke highly of the current state of Sino-Russian relations. They agreed to hold further talks and participate in the opening ceremony of the Beijing Winter Olympics, reiterating that they won't accept any attempt to politicize the Games. And they expressed a desire to work together to safeguard the security interests of both countries.
Ahead of the videoconference, a spokesperson for the Chinese Foreign Ministry said China would rev up coordination between the two countries, which proclaimed a strategic partnership in 1996 and have since enjoyed rapid development in close, good-neighborly relations.
For one thing, they've gradually moved away from the "hot politics, cold economy" condition that once characterized bilateral ties. Two-way trade volume reached $123 billion from January to November this year, exceeding that of 2019, before the pandemic. For another, the two sides have further consolidated their comprehensive strategic partnership.
In June, Xi and Putin announced the extension of the China-Russia Treaty of Good-Neighborliness and Friendly Cooperation, signed in 2001, which has become the foundation of long-term, stable development of ties in the 21st century. However, both sides are confronted with an increase in external threats. Authorities from the two countries released only 10 minutes of the meeting, which lasted for an hour and a half, which may indicate that balancing external threats through strategic coordination was the core purpose of the summit, even though the nature of specific external threats diverged.
Russia supports multipolarity in international politics, but NATO and some of its partners have undermined the country's security interests. China stands for multilateralism, mutual respect and peaceful coexistence, and it works to safeguard the international order; but its security has been put at risk as a result of interference from external forces that advocate separatism.
Yet Beijing and Moscow do face some common external threats, especially geographical ones. For example, Russia and Ukraine have been mired in a prolonged hybrid war since 2014. The new version of the National Security Strategy signed by Putin in July stated that Russia's relations with the West had sharply deteriorated as a result of the Ukraine crisis and identified the United States and some of its NATO allies as unfriendly states.
To defend its interests, Russia moved troops to its border with Ukraine in August to counter NATO's eastward expansion, and war seems on the verge of breaking out. Moscow also adopted some red lines with Washington. After a virtual meeting between Putin and his U.S. counterpart, Joe Biden, in early December, Kremlin spokesman Dmitry Peskov noted that Moscow and Washington had some deep divisions.
NATO and China had no conflict of interest, but in 2019 China was suddenly labeled a threat. Multiple factors were at play, including NATO's gradually increasing ideological cohesiveness around collective security, increasing tensions between Washington and Beijing and the closer friendship between Moscow and Beijing. After its June summit in Brussels, NATO released a communique branding China a "systemic challenge to the rules-based international order and to areas relevant to alliance security."
Objectively, China is more of an imaginary threat to NATO even as some NATO member states pose de facto threats to China. For a long time, for example, U.S. warships have been steaming into the South China Sea and sailing through the Taiwan Strait. Other NATO member states including the United Kingdom, France, Germany and Canada have also sent warships to the South China Sea, and in rare moves, those from the UK, Canada and France transited the strait.
As part of its Indo-Pacific strategy, the U.S. signed a trilateral security pact with the UK and Australia known as AUKUS, the goal of which is to help Australia field a nuclear submarine. No matter how the new alliance justifies the existence of AUKUS, it is seen by China as an external threat.
Russia didn't pay much attention to the Indo-Pacific strategy at first, but then it found India moving away from it and toward the U.S.-dominated security mechanism. The Kremlin must ponder how to prevent anti-Russian forces from creeping northward.
"To make the good relationship truly great, Moscow must rethink, adjust and upgrade its approach to India," Dmitri Trenin, director of the Carnegie Moscow Center, wrote in an opinion piece.
To counter external threats, China and Russia are looking to increase their coordination to achieve a balance in both international and regional power. But any result that plays out in international politics must come from multiparty interaction. Endless fighting among states can create a common history of international conflict but will only impede a common future of peace and prosperity.