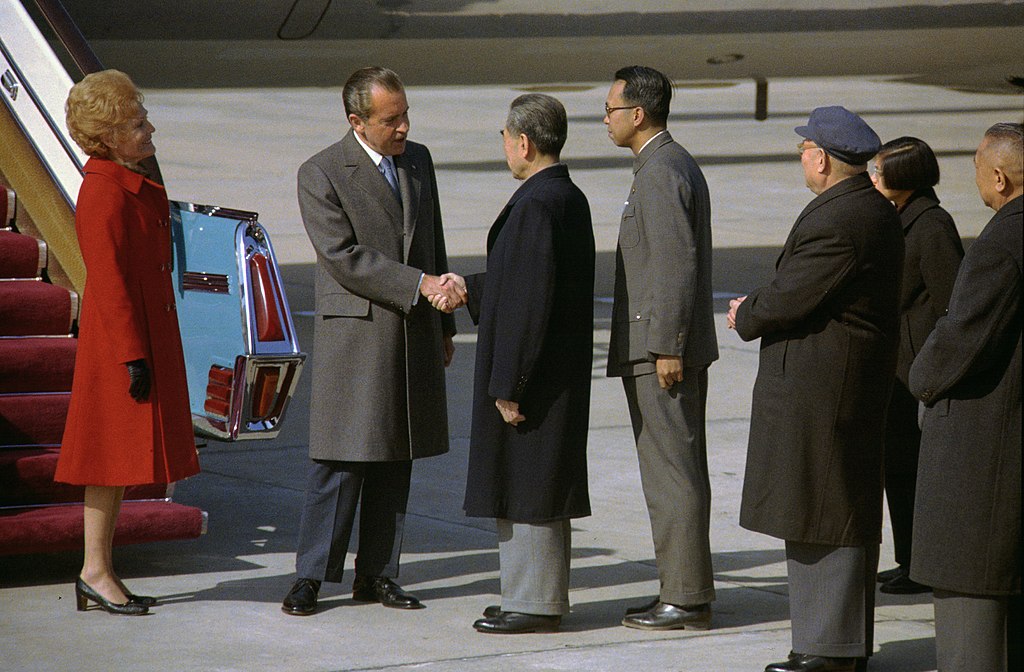 President Nixon shaking hands with Chou EnLai standing at the foot of the Air Force One stair ramp, while Pat Nixon and Chinese officials stand nearby, February 21, 1972, symbolically ending 17 years of Sino-American tension. (White House Photo Office Collection)
Half a century ago this month, Chinese leaders received Richard Nixon on a historic visit that ended two decades of estrangement between China and the U.S. The visit has been rightly hailed as an example of diplomacy and statesmanship at their best.
Fifty years later, as the Sino-U.S. relationship stands "on a precipice" – according to Henry Kissinger whose secret trip in 1971 laid the groundwork for Nixon's visit – important lessons may be drawn from "the week that changed the world" to help the policy-makers of today chart the future for the enormously complex and consequential relationship.
Responsible leadership vs. "political correctness"
During their virtual summit last November, Chinese President Xi Jinping stressed the importance of "shouldering responsibilities as major countries of the world" while his U.S. counterpart Joe Biden underscored the need to "manage competition responsibly."
But heading into its second year, the Biden administration has been criticized for either lacking a coherent China policy or mimicking Trump's destructive approach. Jeff Bader, a key advisor to President Obama on Asia, faults Biden's team for an "intellectual laziness to justify policy on the basis of bipartisanship." In China, grievances range from pandering to a tough stance favored by Republicans, reversal of decades-long policy regarding Taiwan, and a no-holds-barred attempt to create a "small yard with high fences" in the technological realm. The gap between reassuring words and menacing actions has fueled support for a tougher response to U.S. hostility.
On that point, there is much that Chinese and U.S. decision-makers could learn from Nixon's 1972 visit, before and during which both sides made bold decisions in defiance of "political correctness."
To carry out the diplomatic overture, both Nixon and Mao Zedong needed to overcome fundamental obstacles at home. Since 1949, the U.S. backed the Nationalists in Taiwan and tried to strangle the nascent Communist government on the mainland. By the end of 1960s, the Chinese had fought a bitter war with American troops on the Korean peninsula and been aiding North Vietnam as they fought a guerrilla war with the U.S. Red Guards in China chanted "Down with U.S. Imperialists," whom Mao also denounced as "paper tigers." Nixon had been a fervent anti-Communist and advocate for Taiwan, stating in 1964 that to recognize Red China would be "disastrous to the cause of freedom."
Yet facing the common threat posed by the Soviet Union, Chinese and American leaders decided to bridge the ideological chasm and do what was right based on national interests.
To signal a change of policy, Mao invited veteran U.S. journalist Edgar Snow to stand next to him on the Tiananmen rostrum during the National Day parade in 1970. The next spring, having learned that Chinese and American table tennis players had exchanged gifts during the world championships in Japan, Mao took the daring decision to invite the U.S. team over to China.
Nixon picked up the message. He ended the 21-year trade embargo on China just two months after ping-pong diplomacy and sent his National Security Advisor on a secret mission to the Communist country in July.
Fifty years on, as then, rivalry with China is not in America's interest. America will have to brace itself hard if it succeeds in turning China into an enemy. The economic impact would be suicidal. The trade war has already taken away hundreds of thousands of American jobs. Treasury Secretary Yellen admitted last year that tariff hikes "hurt American consumers" while failing to address fundamental problems.
Anyone taking China lightly would be making a serious mistake. The world's second largest economy added $3 trillion last year – greater than the entire British economy. Not just an economic giant, the country is led by an adroit political party that has just celebrated its centenary and vowed to replicate its success of the past. The exquisite yet subdued opening ceremony of the Winter Olympics is meant to tell the world that China has passed the stage of craving for recognition. The Chinese president and his people are clear-eyed about where China should be and confident that the nation has what it takes to get there. If the U.S. did not bet against the poor and weak China of 1972, it would be ill-advised to bet against China today or expect it to cave in to outside pressure.
Respecting sensitivities is not a sign of weakness
Nixon's visit culminated in what came to be known as "the Shanghai Communiqué," which became a foundational document for stable China-U.S. relations as well as peace across the Taiwan Strait. Taking a long-term view, the US was ready to meet China halfway through direct and candid dialogue.
To that end, in his first private meeting with Chinese Premier Zhou Enlai, Nixon affirmed that "there is one China, and Taiwan is part of China." According to an anecdote, the Chinese added a stop for the U.S. delegation in Hangzhou, a southern city famous for its scenic West Lake. It was reported years later that Kissinger was intrigued by a causeway running through the water and was told that both sides of it belonged to the same lake. This presumably inspired Kissinger to suggest the wording "all Chinese on either side of the Taiwan Strait maintain there is but one China." This mutually acceptable formulation, the product of supreme diplomatic wisdom, sealed the communiqué and the success of Nixon's visit.
But this kind of mutual respect and willingness to work through differences has been eroded in recent years, particularly in the case of Taiwan, with tensions ratcheting up to a debilitating level as each side accuses the other of bad faith.
The U.S. government has criticized China's toughened stance on Taiwan, while pushing the envelope against Beijing's red line. Senior U.S. officials stated that their one-China policy is "guided by the Taiwan Relations Act, the three Joint Communiqués, and the Six Assurances." This has angered China. For starters, the domestic legislation and the private assurances to Taiwan are Washington's unilateral pronouncements that both contradict the three joint communiqués and have no binding force for China. Also, this year marks the 40th anniversary of one of the three communiqués which specifically addressed the issue of selling arms to Taiwan. Few can say that the U.S. has honored its commitment made in the August 17, 1982 communiqué that "its arms sales to Taiwan will not exceed, either in qualitative or in quantitative terms, the level of those supplied" since 1979. The recent U.S. approval of a possible $100 million sale of equipment and services to upgrade Taiwan's missile system, the second arms sales package under the current administration, is seen as another serious backtracking on that commitment.
Skeptical about a hollowing-out of America's one-China policy and an emboldened, pro-independence regime in Taipei, Beijing is seeking to reverse these ominous trends by keeping all options on the table lest the island should declare itself "independent." Last year, Xi warned that "no one should underestimate China's resolve and ability to defend national sovereignty and territorial integrity." It is particularly unwise for the Biden administration to pick a fight and upset the Chinese on an issue that "goes to the core of how they see themselves," mused Obama in his final press conference before leaving office. Apparently this parting advice is lost on Biden, or his senior officials at least.
Don't shoot the messenger of goodwill
When relations fray, sporting ties become important messengers of peaceful intentions, a sign of hope that the outlook would brighten up. That is why events like the Olympics carry special significance.
Half a century ago, ping-pong diplomacy made Nixon's visit an easier sell to the American public. A pair of cuddly pandas, an unexpected gift from the Chinese to Nixon, cemented the impression of a country extending a hand of peace and friendship.
In recent years, hardening domestic attitudes have threatened to become a major hurdle to accommodative policies in both China and the U.S. Policy-makers need to exercise caution in the face of calls for curtailing people-to-people exchanges. In this regard, the de facto call for a "diplomatic boycott" of the Beijing Olympic Winter Games is most unfortunate and shortsighted.
Fortunately, the sense of goodwill is not extinguished among the ordinary people. After losing an Olympic curling match, the Chinese curlers gave their American opponents each a much sought-after set of mascot pins – suitably "pandas in ice" – as souvenir. The American curling players tweeted about it, calling it "a wonderful display of sportsmanship." Such interactions are essential in shaping public perceptions. At the opening ceremony of the Games, I.O.C. President Thomas Bach appealed to the world to "respect the same rules and each other" and expressed his belief that it is possible for "fierce rivals" to "live peacefully and respectfully together" – a reminder that cannot be more timely in the current context of China-U.S. relations.
Given how much is at stake in the world, with a raging pandemic, a climate crisis and regional hotspots to contend with, it is time to rise above the politics of the moment and make decisions that will advance the greater good. This requires China and the U.S. working together as a team, not against each other. Nixon's visit half a century ago has taught us as much.