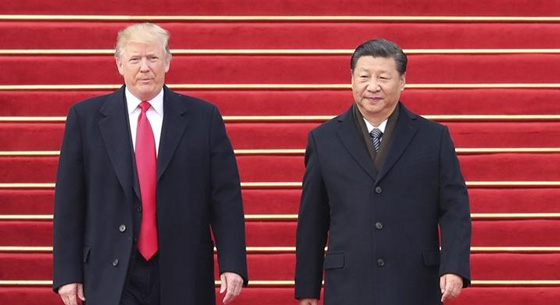 U.S.-China Relations under Trump
Fading is the "mutually assured destruction" (MAD) defining of Cold War rivalries, as great power relations have marinated long enough in globalization to give way to a deep interdependence, one which lends itself more so to Mutually Assured Gains or "MAG". Such is the case with U.S.-China relations, though the national-level of this relationship offers more of a precarious bag of mixed results. The start of Trump's presidency placed U.S.-China relations in turbulent waters—with Trump's contact with Taiwanese leaders and threats of tariffs on Chinese goods—though subsequent exchanges between Trump and Xi steadied these tensions. On the other hand, the Trump administration replaced the U.S.-China Strategic & Economic Dialogue with a more simplified "Comprehensive Economic Dialogue" that focuses on the bilateral trade deficit, the first meeting of which resulted in all but an impasse. President Trump's speech at the 2017 Asia-Pacific Economic Cooperation (APEC) summit not only stressed an "America first" trade agenda that seemed anathema to economic cooperation itself, but also announced a Cold War-esque Indo-Pacific Strategy to contain China's rise. It is promising however that the Trump administration held the "U.S.-China Social and Cultural Dialogue (SCD)," a continuation of the U.S.-China Consultation on People-to-People Exchange of past administrations that advanced the bilateral relationship at its most granular level: the subnational level. Educational, scientific and other subnational ties as well as programs to support them were cultivated and primed for future development at the SCD. This brings us to a very necessary shift of focus to the subnational-level, where U.S.-China relations is also very much alive and where mutual needs are yielding more productive cooperation.
Localizing U.S.-China Relations
California Governor Brown continues to carry forward the State of California's agreements with several Chinese national ministries on climate change cooperation and commerce. Given Trump's abdication of responsibility on climate change, Chinese President Xi met with Governor Brown instead of Trump on matters of U.S.-China climate change efforts, and Brown also helped recruit many Chinese local governments to join the Under2Coalition, a subnational climate action pact. The State of Washington government also took similar steps in the area of commerce by holding a first-of-its-kind Chinese Provinces–Washington State Trade and Investment Cooperation Forum over the summer. These efforts extend to and play out at the city-level, which is nowhere more evident than in the work of the Tai Initiative , a nonprofit organization specializing in U.S.-China subnational networking and capacity building. For example, as the sister city relationship between Columbus (State of Ohio) and Hefei (Anhui Province) approaches its 30th anniversary, the Tai Initiative recently escorted Columbus city officials to Hefei to help prepare to strengthen and create new ties.
Much like at the national level of U.S.-China relations, both cities face common problems and hold mutual goals, and respond by working together. In 2012 the pair entered the EcoPartnership program, a U.S.-China subnational environmental cooperation program overseen jointly by the U.S. State Department and China's National Development and Reform Commission, through which they explored cooperation on electric bus battery and other electric vehicle technology. During the November 2017 visit facilitated by the Tai Initiative, Columbus and Hefei officials explored future potential for exchanging professionals to share best practices in managing population growth. As capital cities in their respective states/provinces, both Columbus and Hefei are dealing with the mutual issue of heavy urbanization, and are poised to help solve their shared problem by sharing solutions over time.
Subnational groundwork for U.S.-China relations of the sort cultivated by the Tai Initiative is also increasingly facilitated by intercultural education organizations such as the Chinese Intercultural Association, based in Irvine, California. These programs and others, ranging from sister cities to university-based initiatives to those in private enterprise, weave threads of inter-societal knowledge, capital, technology, innovation and untold other resources between the two nations. This is Mutually Assured Gains (MAG), the modern means of cultivating peace and prosperity that embrace interdependence as a bulwark against conflict. These local processes happen every day, and can help remake U.S.-China relations if and where the national level fails.