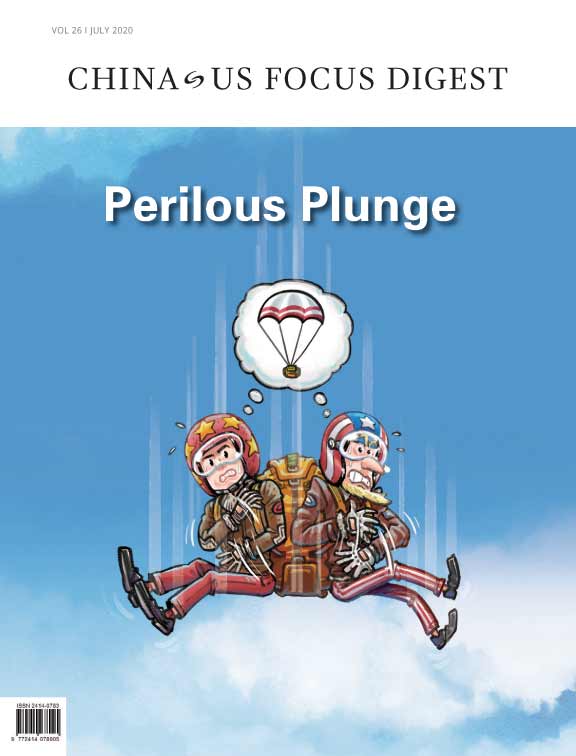 Click to read China-US Focus Digest Vol 26
The current relationship between China and the United States is more troubled than at any time in its history and not in line with China's strategic expectations, the interests of the two countries or the well-being of the two peoples. Nor is it in line with the general expectations of the international community.
The reason we have reached this point is directly related to the political manipulation of some U.S. politicians and the U.S. political cycle. It is interesting that some of those politicians are infused with the smell of gunpowder and even actively advocate a new cold war. By comparison, even the White House's aggressive policy paper on China, which was released in May, sounded rational.
Subjectively speaking, China hopes that relations can bottom out quickly and then begin to rise again. It is not too much to say that it's urgent to turn around the China-U.S. relationship now.
But how can this be done? It is, of course, necessary for both sides to move closer toward each other. However, the policies and actions of the United States are not within the scope of China's influence or control. In fact, noninterference in others' internal affairs has always been a basic principle of Chinese diplomacy, so it doesn't want to ask — and is in no position to say —what the United States should do. Therefore, as the U.S. goes its own way, China can only do the same.
China should maintain continuity and stability in its basic diplomatic position and principles, and on this basis it should move on to facilitate the reversal and improvement of bilateral relations.
Specifically, China's response must have two main pillars:
On the negative side, it should prevent strategic miscalculations by constructing crisis prevention and control mechanisms for possible strategic points of conflict, such as Taiwan and the South China Sea.
Recently, the United States has been testing China's bottom line and patience on these two questions, which is dangerous and irresponsible. China has also made its position clear. The interactions between the two sides have led to discussions about the prospect of a local conflict. It should be noted that both sides have a basic consensus that there should be no conflict and no confrontation. However, the question is the possibility that front-line personnel might make strategic miscalculations that could lead to a shoot-out that pushes them into a localized war. From this perspective, crisis prevention and control mechanisms are particularly important. In terms of possibilities, both China and the United States share similar views on this issue, which provides a political basis for building and strengthening of avoidance mechanisms.
The Trump administration said in its May policy paper that the United States conducts defense contacts and exchanges with China to communicate strategic intent, prevent and manage crises, reduce the risks of miscalculation and misunderstanding that could escalate into conflict and to cooperate in areas of shared interest. The U.S. military engages with the People's Liberation Army to develop effective crisis communication mechanisms, including responsive channels for de-escalation in unplanned scenarios.
The heads of defense for both countries spoke on the phone for an hour and a half on Aug. 6, and the U.S. secretary of defense expressed his intention to visit China at the end of the year. These military exchanges and interactions are both a rare highlight in current China-U.S. relations and a reassurance of stable bilateral relations.
On the positive side, China's response mainly includes the following:
• China should maintain and strengthen high-level exchanges, including head-of-state meetings, and accurately understand the U.S. strategic intentions. To some extent, there is asymmetry of information in the countries' perceptions of each other's strategic intentions. In particular, the U.S. perception of China's strategic intent is highly inaccurate. For example, the U.S. believes that China's participation in the reform of the global governance system represents an intent to change the international order.
The U.S. policy paper on China states that the Communist Party of China "has chosen instead to exploit the free and open rules-based order and attempt to reshape the international system in its favor. Beijing openly acknowledges that it seeks to transform the international order to align with CCP interests and ideology."
However, China's participation in the reform of the global governance system is neither intended to overthrow the existing order nor to start a new one. Its intent is to see the international order and the international system become more just and reasonable. China sees this as a concrete contribution to the world, while the U.S. sees it as a challenge to the international order. Clearly, China needs to be more precise and articulate in expressing its strategic intent, and maintaining high-level strategic communication — especially head-of-state diplomacy — is critical to this end.
• China should explore areas of common interest (justice, for example) and strengthen cooperation in these areas. The current tone of U.S. policy toward China is one of strategic competition, but does not exclude cooperation where possible. On the contrary, the United States welcomes cooperation, such as law enforcement cooperation to stem the flow of illicit Chinese fentanyl and illegal immigration from China to the United States.
The U.S. policy paper states: "The United States recognizes the long-term strategic competition between our two systems," but it adds that "competition need not lead to confrontation or conflict. … We remain open to constructive, results-oriented engagement and cooperation from China where our interests align."
In essence, there are two keywords in the Trump administration's China policy. They are "constructive" and "result-oriented." Subjectively, the United States wants to have a constructive relationship with China, but this ultimately depends on the strategic interaction between the two and the actual benefits for the United States. Against the background of China-U.S. strategic competition, China should make full use of every opportunity to cooperate with the U.S.
• China should maintain and promote social and cultural exchanges and work to build positive perceptions. The U.S. has adopted a whole-of-government strategic competition stance toward China, but it has not yet launched a broad social mobilization. If the whole-of-government plus a whole-of-society strategic competition model is realized, China-U.S. relations will be in an extremely unfavorable and irreversible situation.
There is a need to recognize that Sino-American sociocultural exchanges face major challenges. For example, the United States has taken numerous steps to restrict the activities of Chinese media in the United States and the visas of Chinese journalists. Law enforcement agencies have even put pressure on American universities, forcing some of them to cut off cooperation with the Confucius Institutes. The U.S. State Department has even designated the Confucius Institute U.S. Center as a foreign mission. In addition, the U.S. has ended all Fulbright exchanges with the Chinese mainland of China and Hong Kong Special Administrative Region. Some U.S. universities have suspended the visiting scholarship funded by the China Scholarship Council.
Meanwhile, Americans' favorable view of China has eroded to a new low. A Gallup 2020 survey conducted in February found that only 33 percent of respondents had a favorable view of China, down 20 percentage points from 2018. In July, a Pew poll found that 73 percent of respondents had an unfavorable view of China, up seven percentage points from March, while another 57 percent saw China as a competitor to the U.S. On top of that, 26 percent of respondents saw China as an enemy of the United States.
All this reflects the ability and effectiveness of the U.S. government in shaping public opinion and, from another perspective, the importance and necessity of strengthening social and cultural exchanges between the two countries, especially between young people, for the lasting and stable development of bilateral relations.
Whether China-U.S. relations can return to normalcy is not something that can be achieved by positive efforts on the Chinese side alone. It should be said that the Chinese side has already shown enough sincerity and goodwill, such as its earnest implementation of the China-U.S. phase one economic and trade agreement and its high-level officials expressing willingness to stabilize relations.
It is now time for the U.S. side to respond appropriately. As Cui Tiankai, China's ambassador to the U.S., has said, the fundamental question in China-U.S. relations is whether the U.S. can accommodate China, a country with a different history, culture and system that is integrating deeply into the existing international order. The United States is in the midst of a presidential election campaign, but this is a must-answer question that requires serious thought and a responsible response, no matter who is elected president.