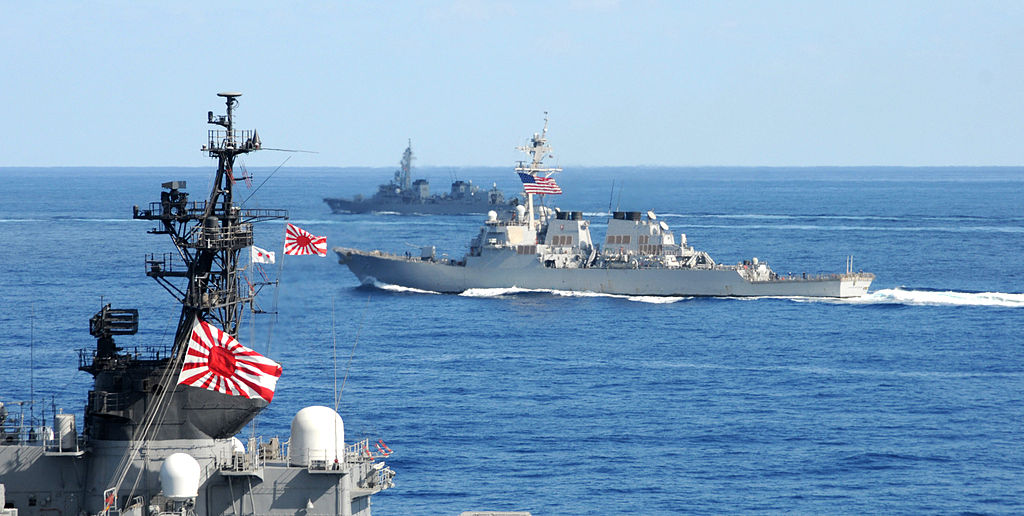 Exercise between US and Japanese navies.
Nature abhors a vacuum and this is presently true in Asia, where regional states are fretting over the lack of reassuring leadership on the part of both the United States and China. Caught between a reckless America, led by an apparently unhinged populist, and a revanchist China, seemingly bent on recreating a neo-tributary system, the middle powers have stepped into the fray.
A new concert of middle powers, including Japan, Australia, India, South Korea, Singapore, Indonesia, and, more recently, even some European powers with Indo-Pacific territories, have stepped up their efforts to create a post-American order in Asia that isn't dominated by China.
While almost everyone welcomes Chinese largesse, few are oblivious to the risks that come with a more powerful and militarily assertive Beijing. In fact, the era of optimism over a Chinese-led Asia was ultimately short-lived. It took off during the height of the Asian financial crisis, when Beijing refused to opportunistically revalue its currency at the expense of beleaguered neighbors, while supporting Asia-driven multilateral efforts to address the roots and consequences of the financial contagion. In contrast, the Clinton administration and Japan came under fire for not providing sufficient assistance during the crisis. In fact, Washington, the World Bank and the International Monetary Fund were largely blamed for causing the crisis, thanks to their aggressive push for liberalization of underdeveloped financial markets in developing East Asia.
By the mid-2000s, China's 'charm-offensive' strategy essentially peaked, as Beijing relished blossoming ties with practically all of its neighbors, including American treaty allies such as the Philippines. From Seoul to Singapore, China was seen as a broadly self-restrained behemoth fast becoming a leading trade and investment partner and, over time, a constructive counterweight to a unilateralist America under the Bush administration.
Paradoxically, the 'Sino-mania' bubble began to burst shortly after Wall Street went bust, precipitating the 2008-2009 Great Recession, which undermined the foundations of American power and unleashed a dangerous phase of triumphalism in Beijing.
From 2009 onwards, China was more offensive than charming, aggressively pushing its excessive territorial claims in adjacent waters, while indulging in predatory investment practices, which eventually brought small, poor states such as Sri Lanka to the brink of strategic servitude.
In recent years, independent-minded states such as Malaysia and regional powers such as Australia have begun to sour over Chinese investments, contemplating a fundamental reexamination of their previously warm relations with Beijing. Meanwhile, the Philippines successfully took China to international court for violating key provisions of the United Nations Convention on the Law of the Sea (UNCLOS) through massive reclamation and militarization of disputed land features in the South China Sea.
Despite its best efforts, the Obama administration's 'Pivot to Asia' strategy was widely seen as more rhetorical than substantive. The rhetoric raised expectations of a highly engaged America, but the country was largely impotent in constraining Chinese maritime assertiveness and the creation of an expanding zone of Sino-centric economic dependency in developing Asia.
The Trump administration, which has become the new champion of trade protectionism and nativist anti-immigration policies, has only crystalized existing concerns over American decline. Abruptly dispensing with Barack Obama's signature global economic policy – the Trans-Pacific Partnership Agreement – the Trump administration has yet to put forward any major economic initiative for Asia, while China forges ahead with its Belt and Road Initiative (BRI) across the entire Eurasian land mass.
While America remains militarily supreme, the Trump administration has also yet to introduce an effective maritime strategy against China. Ongoing Freedom of Navigation Operations (FONOPs) have, so far, proved insufficient to constrain Beijing's maritime appetite, but provocative enough to give its target nation the pretext to further militarize the disputes. It's not clear whether doing more of the same will be enough.
While a brewing Sino-American cold war is a cause for worry, it's also encouraging other regional players to step up to preserve the best elements of the liberal international order. This is happening on both economic and geopolitical fronts.
Through negotiating a TPP-11 (minus America), the Asia-Pacific middle powers have moved closer to creating a truly post-American economic initiative, which is not dominated by China and preserves the 'gold standard' of trade liberalization. The TPP-11 nations hope to bring about a consequential economic bloc, which focuses on protection of intellectual property rights, opening up of excessively protected and inefficient sectors in places such as Japan, and expansion of intra-regional trade through removal of non-tariff barriers, economies of scale, and productivity enhancement brought about by easier flow of technology and capital.
The middle powers have also sought to push back against China's BRI due to concerns over debt sustainability, good governance, environmental standards, and predatory practices, including debt-for-equity arrangements.
Indonesia and other Southeast Asian countries are also playing a more proactive role in shaping the Regional Comprehensive Economic Partnership (RCEP) in a truly inclusive way, i.e. so that it does not exclude China but, crucially, is not dominated by it. They are also working to streamline tariff rates and customs procedures across a region with many overlapping bilateral free trade agreements, and to address the developmental concerns of poorer Indo-Pacific nations. Through the RCEP, middle powers hope to augment global free trade regimes, halt China's predatory trade practices and push back against the Trump administration's trade war.
The middle powers have also invested vast sums into their own expansive infrastructure projects. Japan has formulated the multi-billion-dollar Connectivity Initiative, which emphasizes sustainable infrastructure across Asia; India has forged ahead with the International North–South Transport Corridor (INSTC) railway and port projects to strengthen regional integration; South Korea has introduced the 'New Southern Policy,' to focus on infrastructure development in key Southeast Asian countries; and Australia has recently signed an investment agreement with the Association of Southeast Asian Nations (ASEAN) to "develop a pipeline of high-quality infrastructure projects, to attract private and public investment."
Geopolitically, the middle powers have also been lending weight to America's pressure campaign against Chinese maritime assertiveness. At the forefront of these parallel efforts is Japan, the country that is arguably the most perturbed by China's rise. China's revanchist claims in adjacent waters cover the East China Sea, where Japan occupies the contested Senkaku islands, and the South China Sea, where the bulk of Japan's energy imports pass. In recent years, the Shinzo Abe administration has steadily increased defense spending and systematically chipped away at pacifist legal restrictions in order to make Japan a major military force.
In recent months, Japan has engaged in many firsts. It deployed, for the first time ever, its gigantic Kaga helicopter carrier, which was accompanied by two guided-missile destroyers on high-profile port calls across the Indo-Pacific. Along the way, Japan's Marine Self-Defense Forces (JMSDF) armada conducted joint drills with the U.S. Navy's Ronald Reagan aircraft carrier strike group and the UK Royal Navy's HMS Albion, reflecting growing interoperability and concerted pushback among like-minded nations against China.
Japan also, for the first time since the end of the Second World War, deployed an armored vehicle to participate in joint U.S.-Philippine military exercises. During his recent meeting with his Vietnamese counterpart, Nguyen Xuan Phuc, Abe reiterated his commitment to assist ongoing efforts to preserve FONOPs and strengthen the maritime security capacity of Southeast Asian states. Japan is even expected to help Hanoi develop energy resources in areas contested by China.
Earlier this year, the British, French and Australian naval forces also conducted FONOPs close to Chinese-occupied land features in the South China Sea. India and the U.K. have also announced plans for naval cooperation through carrier battle group operations, ahead of the UK's deployment of its latest aircraft carrier, the HMS Queen Elizabeth, to the Indo-Pacific.
No longer relying on America alone, the middle powers of the Indo-Pacific are taking matters into their own hands in order to uphold free trade and freedom of navigation in the world's most dynamic region.