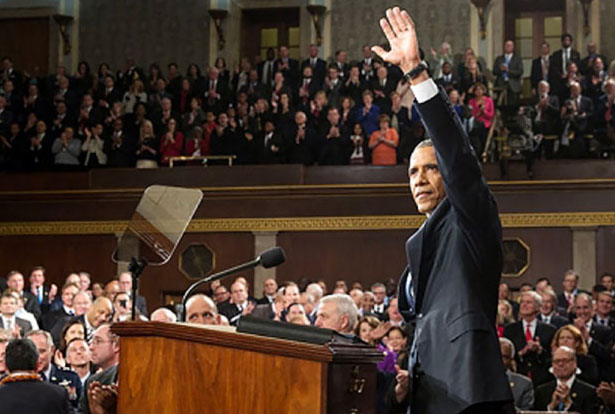 On 20 January, President Obama delivered his sixth State of the Union Address, in which China came up three times. He specifically described what needed to be done to regain America's foothold in the global economy and strengthen domestic growth. He stated that America, rather than China, should "write the rules" (for the world's fastest-growing region). The U.S. should replace China as the world's manufacturing hub, "bring jobs back from China" and step up economic reform just like China. He also mentioned the need for "faster trains" as part of the efforts to build "21st century infrastructure," which are being built on a massive scale both at home and abroad by China. His words point directly to the areas deemed crucial by the Obama administration in competing against China in the coming two years left of his term.
Chinese strategic analysts tend to believe that it was after his not so successful visit to Beijing in November 2009 that the Obama administration began the strategic "pivot." Since then, attempts have been made to curb China's growing strength through the following ways: deploying military assets in the Asia-Pacific to deter the likelihood of China using force to settle island disputes; solidifying relations with regional allies to hold back China's policy objectives; and protecting American presence and interests in regional trade and investment by proposing the TPP to limit China's access to regional markets.
However, the ensuing hike in military input in the Asia-Pacific not only conflicted with the cuts in military spending, but also proved ineffective in asserting control over China's defensive action. The policy to strengthen its alliance has not succeeded in slowing down the rapid growth of trade and investment links between China with the rest of the region. What caused the so-called need to "rebalance" is not a dramatic change in China's military or foreign policy. China has been trying to shape the international and Asia-Pacific trade dynamics and investment market through its steady and rapid expansion of foreign trade and overseas investment as a natural result of its growing economy. It is based on this reality that the Obama administration has decided to turn the focus of its competition with China to economy, technology and rules for trade and investment.
There is no denying that this new focus will pose enormous challenges to China's set policies in these fields. Needless to say, the United States remains far ahead of China in terms of economic strength, industrial sophistication, in its ability to dominate trade in services and financial sectors, and its fully normalized ties with countries in the region. These factors give the United States a considerable competitive edge vis-à-vis China. What China relies on in competing with the United States in the Asia-Pacific is its geographical location and low prices which have benefitted its trade greatly over the years and the capacity to invest aboard thanks to its gigantic foreign reserve built up by trade surplus year after year. And it is still uncertain how successfully China will advance its proposed Silk Road Economic Belt and 21st-Century Maritime Silk Road.
Nevertheless, it is not all bad news that China and the United States will intensify economic and technological competition. According to U.S. statistics, trade with China reached $580 billion in 2013 and exceeded $600 billion in 2014. Such economic interdependence dictates that both countries will benefit from each other's economic and technological progress. The competition will also increase China's sense of urgency to expedite economic reform and adjustment and introduce or develop more competitive technologies, economic structure and management mechanisms. More broadly, the contest between China and the United States in the Asia-Pacific economic integration process will definitely inject more dynamism into the economic growth and trade in the region.
Focusing on competition in the economic aspect does not necessarily mean that the United States will let down its guard, containment or deterrence against China. That being said, competition in the near term will focus on the economy, which will actually channel more positive energy into China-US relations than military or diplomatic containment. It can be expected that China will prove itself to be a responsible big country and participate more in global governance and preservation of the international order, which will surely become an area of cooperation between the two countries, as evidenced by President Obama's appreciative tone in his State of the Union Address when speaking of the carbon emission reduction deal struck with China last November.