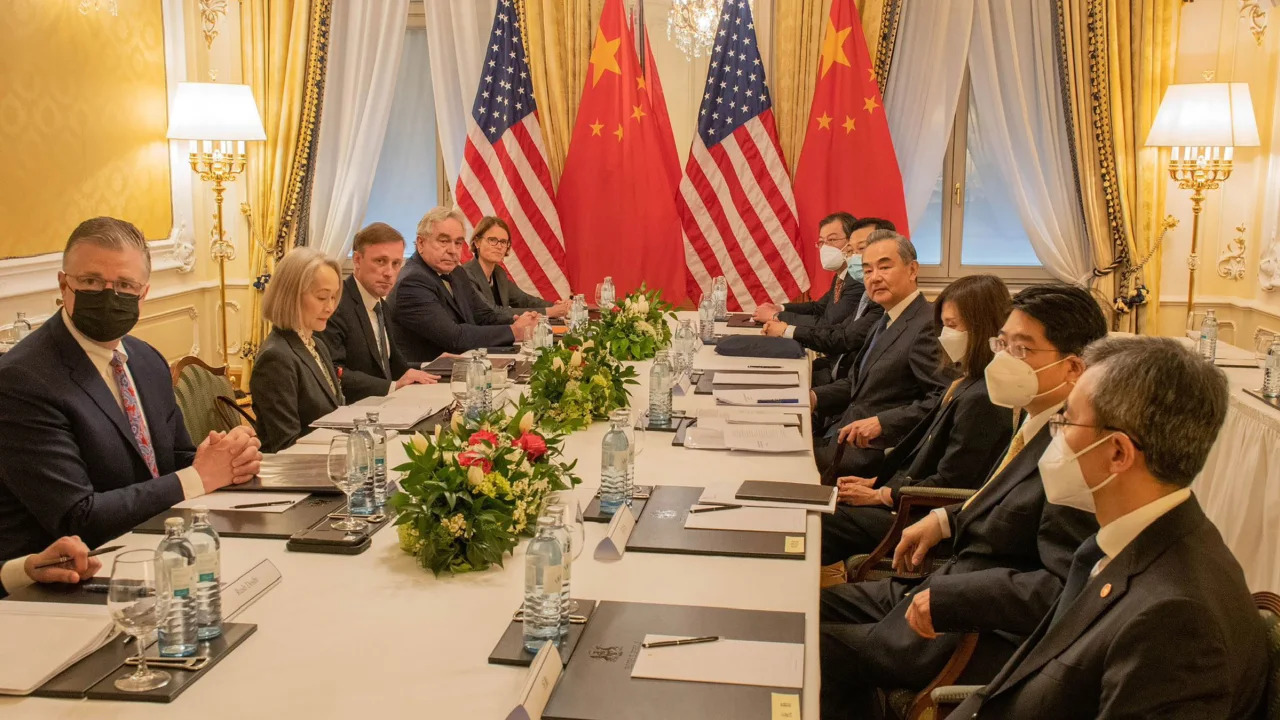 (From Acting White House National Security Council Spokesperson Adam Hodge/Twitter)
Wang Yi, director of the Communist Party of China Central Foreign Affairs Commission General Office, met with U.S. National Security Adviser Jake Sullivan in Austria on May 10 and 11. The meeting attracted broad international attention because of three background factors.
First, it was an important high-level meeting between senior officials from the world's two largest economies after the COVID-19 pandemic.
The shocks to global socioeconomic development and international security philosophies brought by COVID-19 are comparable to a world war: Three years in a pandemic dealt a heavy blow to many countries' economies; cut off normal trade and personnel exchanges; disrupted the previous global industrial division of labor and international trade order; rebuilt, to some extent, many countries' concepts of economic security and mindset for national development, resulting in global economic stagnation, even recession; and exerting a far-reaching influence on human progress.
The importance of relations between China and the United States — the world's two largest economies and important engines of global economic development — has gone far beyond the bilateral level. Will the two countries continue heading toward decoupling and finally confront each other over their parallel economic systems? Or will they manage to repair the cracks in the world economic system and provide fresh dynamism for a post-COVID economic recovery and globalization? Countries are all waiting to see.
Second, it was an important dialogue between two countries of global influence — as the Ukraine crisis persists and global security continues to worsen.
Both Russia and Ukraine have found themselves in a state of fatigue in which neither can launch an effective offensive, afford to lose, find an exit or ultimately prevail. There is clear evidence that the conflict will be long-term.
The crisis marks the disintegration of the post-WWII international regime. Military conflicts escalate, extreme means are frequently employed, the risk of nuclear war lingers, the arms race intensifies, the international order is collapsing and the two sides are bogged down in a game of "chicken." The trend of a world suffering from camp confrontation is becoming increasingly obvious, and international politics are rapidly headed toward the law of the jungle.
Meanwhile, a series of conundrums in regional and global security governance derived from the crisis are in a state of free fall, bringing humanity to the brink of another global security train wreck. Yet there is hope: Brokered by China, the almost overnight reconciliation between longstanding foes Saudi Arabia and Iran has shown the world the light of peace.
At present, anti-war feelings are also running high in the United States. An increasing awareness of strategic autonomy is driving U.S. allies and partners, who want to rid themselves of the fetters of war. There have been ever-louder voices for ending the chaos and conflicts in the international community. So then, can the continuous worsening of the Ukraine crisis be reversed? The world is again setting its eyes on China and the U.S.
Third, the Austria meeting was an important attempt at crisis control between China and the U.S. against the backdrop of escalating competition and, especially, risks over Taiwan.
Changes in China-U.S. relations are an inherent motivating force for the centennial changes in the international community, as well as a miniature of this round of great changes. Proceeding from its historically hegemonic mindset and Cold War-era zero-sum thinking, the U.S. is looking at the changes in the two countries' comparative strengths, strategic dynamism and strategic foundations through rose-colored glasses. It sees the great rejuvenation of the Chinese nation as a primary cause of the decline of U.S. power, and identifies China as its foremost strategic rival.
The United States is mobilizing an all-of-government, all-of-society effort to suppress China, constantly making trouble on matters concerning China's core sovereignty, security and development interests. Through its alliance system, it is pressuring other countries to take sides, using ideology, monetary aid and sanctions, thereby adding new fissures to an already divided world.
However, such acts of constraining others' right to development have shown the true colors of U.S. hegemony, while China's practice of seeking survival, development and unity — guided by its holistic view of national security — has offered hope for changing the world order. American strategists are seeing the dangers of bi-polar confrontation in an era of multi-polarization.
Ordinary Americans have begun to see the danger of playing with fire over Taiwan. There are increasing voices in the U.S. — and among America's allies and developing countries — asking President Joe Biden to reconsider relations with China and rejecting a new cold war. Whether the brakes could be applied as China-U.S. relations slide toward that very outcome has become a significant concern for many countries.
During the meeting in Austria, the two sides engaged in candid, in-depth, substantive, and constructive discussions about removing obstacles for bilateral relations, stopping the downward spiral and stabilizing ties. Wang comprehensively reiterated China's solemn position on Taiwan. The two sides also exchanged ideas about conditions in the Asia-Pacific and Ukraine, as well as about regional and international issues of common concern. And they agreed to continue taking advantage of this channel of strategic communication.
The meeting released four positive signals to the world:
First, China has always looked at China-U.S. relations from a strategic perspective.
China has always attached great importance to the development of the relationship. It has considered bilateral relations in light of the well-being of the people of both countries and that of "a community with a shared future for mankind." It has emphasized the significance of China-U.S. relations to both sides and to the world. It has handled China-U.S. relations based on principles of mutual respect, peaceful coexistence and win-win cooperation, as proposed by President Xi Jinping. It has attached importance to solving problems in global security governance through constructive strategic cooperation, promoting a stable bilateral relationship with Chinese wisdom and Chinese strength, providing security guarantees for the great rejuvenation of the Chinese nation and avoiding various traps set by anti-China forces in the U.S.
Second, China has always kept an open mind about dialogue and consultation with the United States.
The Trump administration initiated the China-U.S. trade conflict, and China has subsequently faced a series of suppressive measures by the U.S. government. It has always welcomed moments when the U.S. side wanted to talk, opposed provocation, emphasized that dialogue is better than confrontation and carried out communication with utmost sincerity.
From the Zurich meeting in October 2021 to the Rome meeting in March 2022, the Luxembourg meeting in June last year and the recent meeting in Vienna, high-level dialogue and consultation have continued between China and the U.S. As a responsible major country, China has always promoted stability in the bilateral relationship with proactive diplomatic efforts.
Third, both China and the U.S. are striving to remove obstacles in the bilateral relationship and to find ways to stop and stabilize the downward spiral.
Currently, the American economy is underperforming at home. The dispute over the nation's debt ceiling are worsening. One after another, financial institutions are going bust, while the Republican Party, which has taken back control of the House of Representatives, is using this as a political weapon to launch an all-around assault on the White House.
Under mounting domestic political pressure, the Biden administration badly needs a dose of economic stability and dynamism. China, meanwhile, is going all out to promote economic growth by following the strategic road map planned at the 20th National Congress of the Communist Party of China, building a new order of development and national security and promoting Chinese-style modernization. It, too, needs a stable external environment. The Austria meeting added positive energy not only for both major economies but also for global economic recovery.
Fourth, the Austria meeting further confirmed that China and the U.S. will continue take advantage of this channel of strategic communication, and they created some conditions for managing the relationship in the future.
The meeting was an important component of the combination blow Chinese diplomacy reflected after the 20th CPC National Congress. It served as a key link in formulating China's national security environment. Nearly 10 hours of face-to-face, candid, in-depth communication, including tense wrangling over Taiwan, were conducive to both sides' crisis management posture. They were also conducive to reducing the disruptions to China-U.S. relations by third-party factors, reining in Taiwan independence forces and such U.S. pawns as Japan and South Korea, which tirelessly seek a new cold war between China and the United States. It preserved greater strategic space for rebuilding China-U.S. relations in a new era.
As the Chinese proverb goes, "It is better to watch what one does than to listen what one says." A G7 Leaders' Summit has been set for May 19 to 21 in Japan. We'll be looking to see whether the United States is sincere. Will it help create "guardrails" for crisis management with China? The entire international community wants to know. The ball is now in America's court.