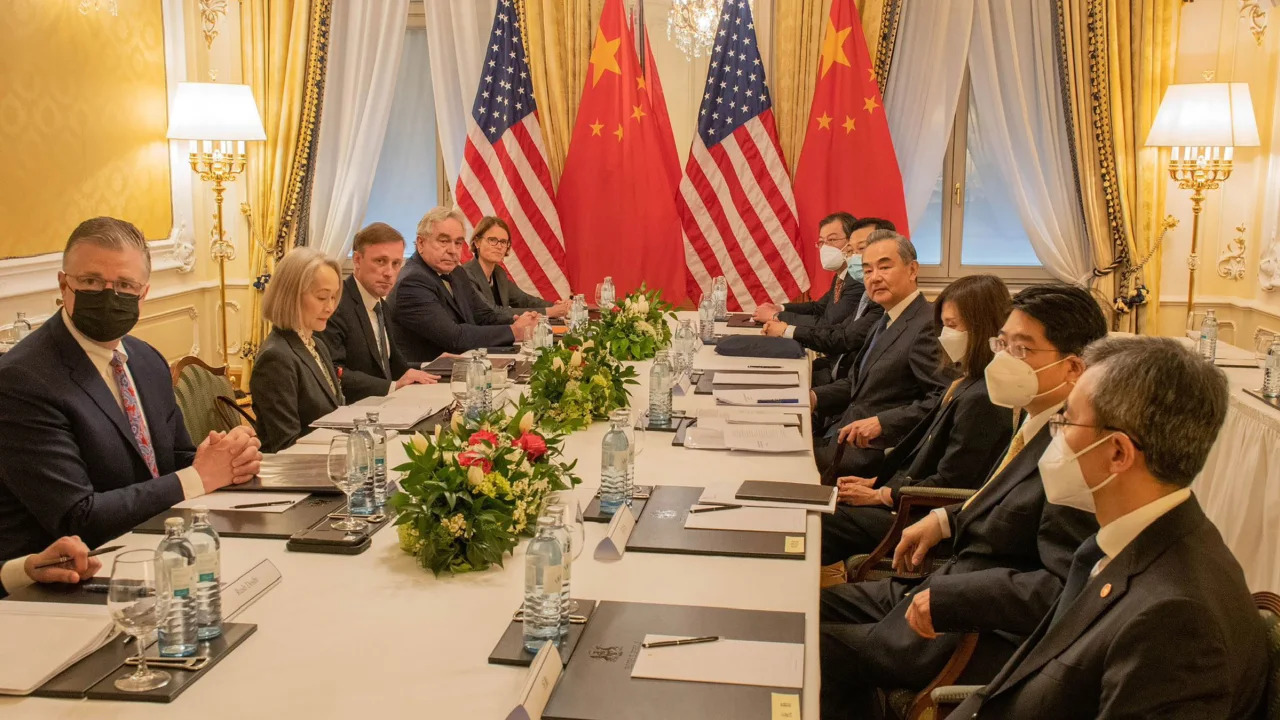 It is always better to talk. After nearly three weeks of non-communication between senior government officials of the United States and China, U.S. National Security Adviser Jake Sullivan and Chinese State Councilor Wang Yi had two full days of closed-door private consultations in Vienna, Austria, on May 10 and 11. The talks were not announced beforehand and came as a surprise to observers, but they are overdue and welcome.
The two sides had not had any high-level engagements since the February shoot-down of a high-altitude Chinese balloon by the U.S. Air Force off the coast of South Carolina. The Chinese side had claimed that the balloon was a weather monitoring aircraft that had drifted off course over the continental United States, while the American side argued that it was on an intentional intelligence surveillance mission hovering over U.S. intercontinental missile silos and sensitive military installations in Montana. The high-resolution photography and signals intelligence collection equipment on board the balloon strongly suggests that it was on an intelligence collection mission, even if it had drifted off its original course. (The craft had already traversed Alaskan and Canadian airspace.)
The balloon incident led U.S. Secretary of State Antony Blinken to cancel a long-scheduled important visit to Beijing. That aborted trip had been intended to reestablish a framework and road map for a variety of government-to-government consultations and engagement.
Subsequently, over the more than three months since the February incident, the Chinese government suspended all interactions with the American side (although not announcing it). The American ambassador in Beijing, Nicholas Burns, could not get an appointment with his counterparts in the Chinese government until May 8, when he finally met Foreign Minister Qin Gang. The Chinese side even declined American entreaties to schedule a telephone or video conference with Chinese President Xi Jinping, while high-level interactions between other ministerial officials were also frozen (by the Chinese side), including the Chinese defense minister, who refused to take telephone calls from his American counterpart.
Beijing was clearly giving Washington the cold shoulder — not so much because of the balloon incident but rather because the U.S. government permitted Taiwan's leader, Tsai Ing-wen, to stop twice in the United States in April — once in New York and once in Los Angeles. On the latter stop, Speaker of the House of Representatives Kevin McCarthy flew to California to greet her at the Ronald Reagan Presidential Library. This in turn provoked another coercive military response from China against Taiwan. The Chinese government is increasingly upset by Washington's erosion of the normalization agreements reached in 1979, which mandated very limited and strictly unofficial interactions between officials of the U.S. and Taiwan.
Thus, the stonewall treatment of Washington by Beijing over the past few months involved much more than the balloon incident. In the interim, the U.S. government made several entreaties to Beijing to reopen channels of communication. Finally, with the Burns-Qin and Sullivan-Wang meetings this past week, there was a breakthrough.
Both sides have been very tight-lipped about what was discussed in the Vienna encounter, although each used nearly identical language in describing the talks as "candid, substantive and constructive." By contrast, in the Burns-Qin meeting the Chinese foreign minister admonished his American counterpart on several issues — primarily about Taiwan and "hollowing out the one-China principle" by "saying one thing and doing another." Qin went further to blame the U.S. for a series of "erroneous words and deeds," and warned the United States to "stop damaging China's sovereignty, security and development interests," to "stop continuously suppressing and containing China," and to "reflect deeply" on its actions.
No doubt, Wang Yi echoed these themes in his meeting with National Security Adviser Sullivan. Nonetheless, both meetings and sets of officials addressed the need for "stabilizing" relations and "expanding high-level communications."
So bilateral dialogue has restarted between the two powers. That is very good news, as it is always best to talk directly —especially when relations are so strained and a dangerous unintended incident or crisis could unexpectedly erupt. The question is where will it go from here? It is highly likely that the two sides discussed (and likely worked out) a "road map" for sequential mutual steps to be taken by each side in order to stabilize ties and re-institutionalize high-level government-to-government interactions.
The problems and strains on both sides run deep, and they are real. So it will not be easy to overcome the obstacles. But meeting and talking is a beginning and the best way forward.