The United States-China relationship, the most consequential bilateral relationship in the world, stands at a delicate juncture. Four months after a wayward surveillance balloon blew its trip off course, U.S. Secretary of State Antony Blinken visited Beijing to begin the process of restoring a semblance of normality to ties. The two countries may finally be in sight of erecting some of the 'guardrails' that President Biden and President Xi had envisaged on the sidelines of their G20 Leaders Meeting in Bali last November. The two countries must not pass up this opportunity. For these 'guardrails' to be secure and enduring though, they must be both conscious of the eroded political foundations of their bilateral relationship as well as abide by certain broad common understandings.
First, the "pressure valve of dialogue" must become the first and most fundamental guardrail on the relationship. Dialogue must not be construed as an instrument of leverage or a favor to be bestowed. It must be based on the foundation of equality and mutual respect too. While both sides remain at liberty to introduce sanctions on designated individuals and entities deemed to be a threat to national security or the public interest, neither side should harbor the illusion that business-as-usual measures or lines of communication can be maintained with parties that it has unilaterally sanctioned. The European Parliament had suspended the ratification of the European Union-China investment agreement in May 2021 following Beijing's (counter) sanctioning of a number of EU actors. The United States should not expect China to react any differently to similar treatment. Sanctioning incumbent cabinet-level officials is particularly disrespectful and should be eschewed.
Second, the practice of self-restraint rather than the pursuit of behavior modification of the other must become the order of the day. Both Washington and Beijing must rise above their parochial visions of ideology and justice and sculpt a durable consensus for the diminished new era of ties. Democracy versus autocracy cannot become the organizing principle, as was the case during the Cold War. There is a certain irony here. Even during the peak of the Cold War, Soviet communism was not deemed to pose a threat by itself; it was only to the extent that authoritarianism and communism were used as instruments of geopolitical expansion was Soviet communism deemed to be a threat. Even hard-boiled critics of China today will acknowledge that the Communist Party of China's ideological evangelism stops at the water's edge. Chinese socialism is not an instrument of geopolitical aggrandizement or a model for export.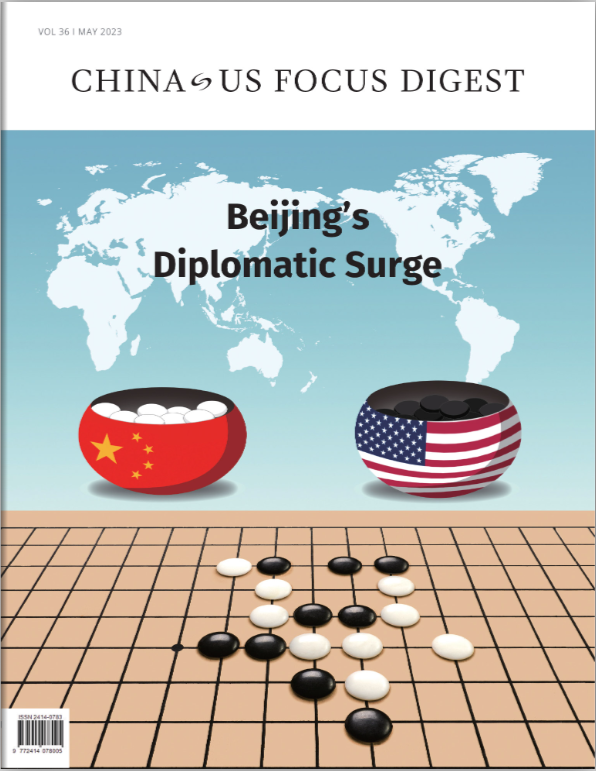 Click to read China-US Focus Digest
Third, the new U.S.-China consensus must be framed constructively and with a view to reassuring the other, without losing sight of the grave underlying challenges. In Bali, President Xi had proffered "three noes" - China does not seek to change the existing international order; does not interfere in America's internal affairs; and has no intention of challenging or displacing the United States. For his part, President Biden tendered "five noes" – the United States does not seek a new Cold War; does not seek to change China's system; the revitalization of its alliances is not directed at China; does not support Taiwan independence; and does not seek conflict with China. These assurances provide a thick layer of geopolitical ballast which, if realized, could steady the ship of U.S.-China relations.
Fourth, the two sides should operate on the principle of 'trust, deliver, and look ahead.' It serves little useful purpose for either side to dwell incessantly on the underlying intentions – and integrity – of its counterpart's assurances. Rather, both sides should accept them in good faith, abide by them, and look forward to memorializing them in a joint communique in the years ahead if the opportunity arises. At the same time, both sides should aspire to maintain an observable symmetry between words and deeds in the conduct of their relations. Contrary to its assertions, the Biden administration's numerous technology denial measures against China are not grounded simply in national security and supply chain resilience considerations. These measures are also intended to furnish an unfair economic competitiveness edge as well as selectively decouple the two economies in areas of commercial exchange that reach well beyond the perimeter of national security. The inclination to say one thing and do another must be discouraged.
Fifth, respect for the core interests of the other party, starting with respect for its territorial integrity, must be the bottom line in U.S.-China relations. Washington had vowed in the Shanghai Communique that it would "not challenge [the Chinese] position" that Taiwan is a part of the People's Republic of China - even as it "acknowledge[d]" but did not "recognize" or "admit" Taiwan to be a part of China. Today, the United States relentlessly challenges that proposition, including stripping out the phrase "Taiwan is a part of China" from the State Department's fact sheet on Taiwan relations. The challenge must stop, and Washington must credibly signal that its 'One China policy' is not being hollowed out beyond recognition. For its part, Beijing must credibly signal that peaceful reunification remains on the table and that there is no specific timeline for reunification. Violations of sovereignty, like the balloon incident, must not occur either.
Finally, both sides should anchor their relationship within settled international law and the United Nations-centered rules-based order – not the 'rules-based order' that is centered on America's rules and America's order. Hypocrisies in this regard must not be allowed to stand. China must come into full compliance with the South China Sea arbitral tribunal's ruling. The recent ruling by a Law of the Sea-constituted tribunal that the United States' sprawling Diego Garcia base in the Western Indian Ocean is housed on illegally occupied territory (under the United Kingdom's colonial administration) must be recognized as being just as final and binding too. The U.S.' non-market industrial subsidies in the Inflation Reduction Act are just as much a challenge to the international trade and investment order as China's non-market policies and practices have been. And as egregious as Russia's military aggression has been in Ukraine, NATO's use of force in the former Yugoslavia and Washington's 'endless wars' in the Middle East (Iraq, Libya, Syria) were just as much a violation of the United Nations Charter. The U.S. remains the only nuclear weapons state (NWS), furthermore, that does not formally rule out the employment of a nuclear weapon against an attack with non-nuclear means by an adversary. This much change, and all parties must re-commit to a much more responsible version of UN-centered stakeholder-ship.
Prospects for sustained progress in U.S.-China relations may be modest, at best, in the near term. With election season looming, Mr. Biden will be looking over his right shoulder to ensure that he is not politically outflanked as being 'soft on China.' The domestic purpose of the proposed guardrails is to devolve a modicum of predictability and balance to bilateral ties - lest instability or uncontrollable tensions in the U.S.-China relationship hand his harder-line Republican opponents a handy beating stick. Be that as it may, an opportunity to forge a more stable and constructive relationship might yet open up, post-2024, depending on the result of the U.S. presidential election. To seize that opportunity, much hinges on getting the 'guardrails' done right at the present time, with the Blinken visit providing a good start.