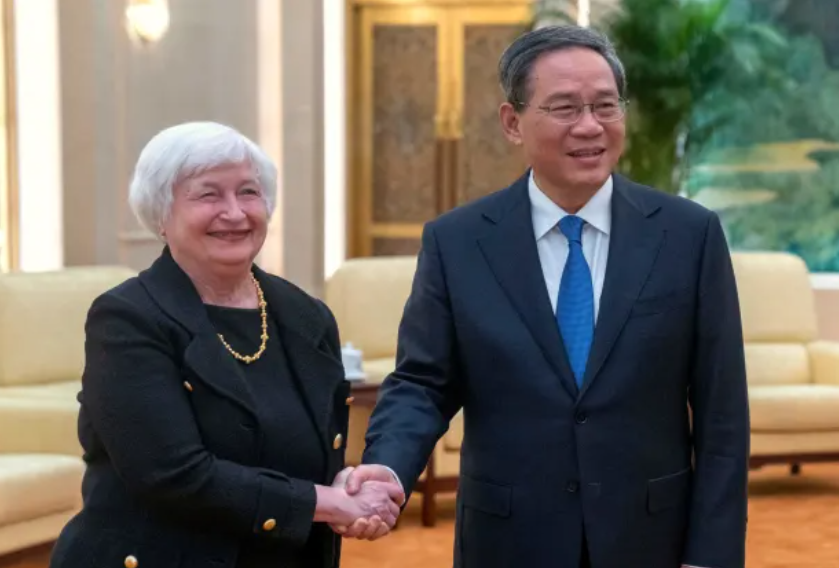 Chinese Premier Li Qiang (R) shakes hands with US Treasury Secretary Janet Yellen during a meeting at the Great Hall of the People in Beijing on July 7, 2023.
In recent years, any mention of the Sino-U.S. relationship was likely to be met with gloomy and pessimistic descriptions of a downward-spiral. However, the visit to China of U.S. Secretary of State Antony Blinken last month and the more recent visit of Treasury Secretary Janet Yellen signal that the internal imperative to engage remains strong.
People tend to style the current state of U.S.-China relations as something like that of the Soviet Union and United States during the Cold War. U.S. cold war. But the weight of economic interdependence should be kept in mind, as it still counts. It is the major difference between the then and now.
Yet there is a caveat: Maybe history is accidental. If the relationship between China and the U.S. is allowed to enter free fall, history is likely to become inevitable and repeat itself once again, which will benefit no one.
Yellen's recent statements have sent signals of easing relations. In April, Yellen said in a speech at Johns Hopkins University that a decoupling of the U.S. and Chinese economies would be "catastrophic." In June, she once again stated at a hearing in the U.S. House of Representatives that a U.S. attempt to decouple from China would be disastrous and a big mistake. She added: "I certainly don't think it's in our interest to stifle the economic development of the Chinese people. China has succeeded in lifting hundreds of millions of people out of poverty, and I think that's something that we should applaud."
On the other hand, as an important cabinet member under President Joe Biden, Yellen's position is by no means independent and neutral but rather an extension of the whole U.S.-China policy, which is considered by China to be all-around containment. In a roundtable in America attended by representatives of Boeing, Bank of America, agricultural giant Cargill and others, Yellen said that a stable and constructive relationship between the two countries would benefit U.S. companies and workers, but that Washington also needs to protect national security interests and human rights.
She added that regular exchanges could help the two countries monitor economic and financial risks at a time when the global economy faces headwinds, such as the Russia-Ukraine war and the pandemic. At the same time, she raised the concerns of the U.S. business community with Chinese officials — including Beijing's expansion of subsidies for Chinese companies, market access barriers for foreign companies and especially "the punitive actions taken against U.S. companies in recent months" — which make her feel "uneasy." Yellen also criticized China's new export controls on gallium and germanium, key minerals used in technologies such as semiconductors, saying that the move highlighted the need for "resilient and diversified supply chains."
In a meeting with Chinese Premier Li Qiang in Beijing, Yellen said the United States hopes to engage in healthy competition with China based on fair rules that benefit both countries, rather than a "winner take all" approach, and she hoped the visit would foster more frequent communication between the two countries.
All the this shows that Yellen's visit was designed to extend the existing biased position of the U.S. on the bilateral economic relationship, rather than really listening to China's stand and having a constructive exchange based on mutual understanding.
Undoubtedly, maintaining a stable and constructive relationship and having regular exchanges to reduce economic and financial risks are interests shared by China. However, without any concrete measures, these words amount to hollow rhetoric and lip service.
When meeting with U.S. Secretary of Commerce Gina Raimondo and Trade Representative Dai Qi in late May, Chinese Minister of Commerce Wang Wentao raised seven wide-ranging economic and trade concerns,— U.S. economic and trade policy toward China, its semiconductor policy, export controls, foreign investment review, Taiwan-related economic and trade issues, the Indo-Pacific economic framework and 301 tariffs. At the same time, the Chinese side also pointed to broad space for cooperation in finance, energy, environmental protection, infrastructure, agriculture and other fields.
China will continue to expand market access, improve the business environment, protect intellectual property rights and promote high-level opening-up. It welcomes investment by American companies in China to share China's development opportunities. China also emphasizes the need for the U.S. to abandon zero-sum games and Cold War mentality, respect China's core interests and major concerns and handle sensitive and difficult issues in economic and trade relations between the two countries in a spirit of equality, cooperation and inclusiveness. This is the basis for stable policies in Sino-U.S. economic and trade cooperation, along with environmental and institutional safeguards.
A recent New York Times article noted that the world's two largest economies, which together represent 40 percent of global output, remain integral partners in many ways. China is America's third-largest trading partner, after Canada and Mexico. And U.S. imports of goods and services from China hit a record $563.6 billion last year. China is also a major export market, with half of all soybeans the United States sends abroad going to China. The U.S.-China Business Council estimated that U.S. exports to China supported nearly 1.1 million jobs in the United States in 2021.
China is the world's largest producer of steel, solar panels, electronics, coal, plastics, buttons and car batteries, and it has quadrupled its car exports in just two years, becoming the world's largest auto exporter through its growing clout in electric vehicles. Financially, it is one of America's largest creditors and holds nearly $1 trillion of U.S. debt. Revenues that large U.S. companies derive from China amount to more than their revenue from the next three countries combined — Japan, Britain and Germany.
While the U.S. says it seeks de-risking, it should be mindful not to throw the baby out with the bathwater.