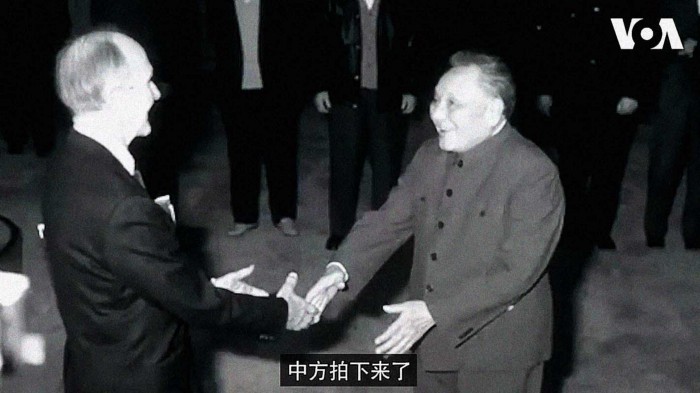 Chinese leader Deng Xiaoping (L) greeting US NSC Adviser & presidential envoy to China Brent Scowcroft.
On Aug. 7, 2020, Brent Scowcroft, a two-time U.S. national security adviser to the president, passed away. The news cast a shadow of concern and sorrow over Chinese strategists.
People with a longtime commitment to China-U.S. relations and faith in China's integration into the world — though scorned as believers in nostalgia diplomacy —cannot help but lament the rapid deterioration of bilateral relations.
As an influential figure in contemporary China-U.S. relations, Scowcroft made a name for himself and became a respectable old friend of Chinese academia, not only because of the strategic thinking he demonstrated but also for his efforts to tackle all challenges and engage in dialogue at the most critical moments.
Qian Qichen, the former Chinese vice premier and foreign minister mentioned an engagement with Scowcroft in 1989 in his book "Ten Episodes in China's Diplomacy."
"When the clamor in the West, led by the U.S., for action to impose sanctions on China was intense, Washington sent a special emissary to China."
The role of special-emissary for diplomacy was initiated after former U.S. President George H.W. Bush wrote a secret letter to former Chinese leader Deng Xiaoping, who responded immediately. General Scowcroft, then the national security adviser, made a secret trip to China as the special emissary of George H.W. Bush in July 1989 to maintain China-U.S. relations in a time of difficulty, endorsing the principle that "whoever started that trouble should end it himself," which Deng had proposed to Washington.
Bush sent another three letters to Deng over the next six months and received two replies in which they further discussed the principle and agreed to bring China-U.S. relations back on track together, instead of straying further off course. Scowcroft then paid a second visit to China in December that year, a public one this time, to chart a road map to restored bilateral relations.
The geopolitical upheavals that consumed Eastern Europe in 1990 impaired the zeal of the Bush administration for repairing relations with China. However, Iraq's invasion of Kuwait sparked the Gulf War, amplifying the significance of maintaining China-U.S. cooperation within the United Nations Security Council. After several rounds of meetings between Chinese and U.S. foreign ministers, various positions were reached and the road map was implemented. Meanwhile, the U.S. began to partially lift its sanctions against China, and China resumed its course of global integration.
It was the most successful attempt to untie a problematic knot since the establishment of China-U.S. diplomatic relations. In "A World Transformed," a memoir co-authored with Bush, Scowcroft gave a detailed account of that history in a dedicated chapter titled "Untying a Knot."
"I think this was a case in which personal relationships had cultivated a degree of trust by each side in the motives of the other …, even if we did not agree on how to move on," Scowcroft said, adding: "There would be much good faith required by both sides to permit us to follow the road map successfully, but without such faith even the most rigidly laid out set of reciprocal steps would not have worked."
Bush took some heat in the domestic political arena when he tried to patch up relations with China in a spirit of genuine friendship and a belief that China-U.S. cooperation was in the interest of the world. Having reached a series of understandings, Bush vetoed a bill raised by Nancy Pelosi and adopted by the House of Representatives and Senate that would have denied Most Favored Nation status for China. But the House voted to override the veto, after which the White House went through a tough coordination process with the Senate to ensure the veto survived there. It is hard to imagine how history would have turned out had the veto been overturned.
It is not exactly rare to see China-U.S. relations descend to critical levels, as we saw 31, 21 and 19 years ago. Fortunately, both sides eventually managed to resolve these crises through communication based on their common interests. Nevertheless, bilateral ties are undergoing a divisive crisis now. Even though it is less drastic than before, its breadth and depth are unprecedented.
The day before and after the death of Scowcroft, President Donald Trump issued a pair of executive orders that would ban any transaction relating to China's social media apps TikTok and WeChat and with the technology company Tencent. Moreover, the U.S. Treasury Department y announced that it would impose sanctions on Chinese officials with connections to Hong Kong. These moves signaled that the crisis in China-U.S. relations was spilling over into capital markets and cyberspace and that decoupling had gained steam.
Technically, we can for the first time define worsening China-U.S. ties as a crisis in great power relations. It is more urgent and difficult to manage the downward spiral than ever before. Worse still, unprecedented failures in communication by both sides only increase tensions.
Over the past couple of months, high-ranking officials from China and the U.S. have essentially suspended communication, and any exchanges of policy information have come from public statements. Harsh words and simmering public opinion have let to groundless assumptions in the absence of face-to-face explanations, heightening the risk of miscalculation.
The political right wing, which is at the helm of U.S. policy toward China, is neither motivated nor interested in enabling communication; nor is it convinced of the importance of maintaining China-U.S. ties. The one and only idea that guides their practice is aggressive realism and a policy orientation deeply rooted in ideology and the law of the jungle.
The political arena in the U.S. has been deprived of the basic conditions needed to repair bilateral relations as well, since Congress has become a major toolkit for executing China containment policies. The ongoing presidential campaign is feeding aggressive practices against China.
As time has passed, some younger statesmen have come to oversee the country's China policy. They're eager to make a difference by means of radical approaches, but they lack professional experience and a proper understanding of history, and they are too impatient to wait for the results of strategic and policy dialogue. As a result, they do more harm than good to bilateral relations.
It almost goes without saying that we cannot apply the communication model of George H.W. Bush and Brent Scowcroft to today's U.S. policy towards China during this crisis. However, it does not make sense for China to simply give up communication and let the crisis take its course. As China-U.S. ties plummet, it has become ever more imperative for China to call for communication, so as to defend itself and push dialogue forward.
Some in China say the U.S. is determined to go all out to cripple China, so it's a waste of time to pursue communication. This is too arbitrary and broad to be true. Admittedly, a new bipartisan consensus on strengthening efforts to cope with China's rise has built up in the U.S., and the country is aligning to contain China's growth and competitiveness over the next 10 to 20 years. Still, the U.S. remains divided over concrete implementation strategies. The Democratic Party advocates limited contact and cooperation with China. But even many Republicans and professionals have expressed reservations about the extreme practices of the White House.
Today, the interests of China and the U.S. are deeply intertwined at bilateral, regional, and global levels. Even when the U.S. and the former Soviet Union were caught in a standoff of absolute isolation and division during the Cold War, the two superpowers held on to some highly professional communication mechanisms.
Why does China need to maintain communication to handle the current crisis? From where I stand, communication opens up channels for us to clarify facts, eliminate some misunderstandings and steer clear of more serious miscalculations and inappropriate responses in a complex and ever-changing environment. Theyy reserve some space for us to adjust bilateral ties in the coming days. In so doing, the two sides could bring bilateral ties back to an essentially stable state that features constructive coordination under the right circumstances.
Communication is an integral part of China's struggle with the U.S. If China intends to counterbalance the drastic moves of the U.S. and its sabotage of bilateral ties — in other words to maintain China-U.S. relations while protecting our own sovereign security and development interests — then keeping communication channels open provides a chance to forestall any dramatic conflicts and the thorough disruption of bilateral cooperation, which is also in the interests of the U.S.
With whom does China need to communicate? There are still many elite intellectuals and others in the United States who care about China-U.S. relations and recognize the significance of bilateral cooperation for both countries and for the world. They do not want to see continued deterioration in relations. This group includes the establishment camp composed of Democrats and Republicans, those with rational thinking from the Trump administration and the military, pragmatists from state and county-level governments, professionals and the public at large. They are all our targets of communication.
U.S. Secretary of Defense Mark T. Esper mentioned his intention to visit China for the first time this year in a speech made in July, followed by a phone call with the Chinese Minister of National Defense. This heartening sign reveals that high-ranking officials from both sides are still willing to engage in communication.
What does China need to communicate? We should start with our strategic objectives and policy intentions, which are without exception the chief purpose of communication between countries. Even if the two sides are not on the same page, communication can deepen their mutual understanding, expand their horizons and provide more information with which to make better judgments.
The second purpose is the basic principle of managing bilateral relations. Even if two countries are hostile toward each other, they should stick to logic and bottom-line action. In this regard, it is pressing for both sides to make clear that they will abide by basic principles, such as showing respect for each other's political system, non-interference in each other's internal affairs and refraining from elevating an ideological struggle to a core U.S.-China conflict or element of rivalry. This appears to be China's primary concern in light of communication with the U.S.
Third, we should exchange views on crisis control and risk management. This aspect involves strategic and political agendas, wide-ranging and highly specialized implementation standards and operation procedures and the construction of relevant mechanisms. This seems to be top concern of the U.S. regarding communication with China for now. This is where China should learn from the U.S. and the rest of the world.
Finally, we should focus on fields of cooperation that can be saved, even if bilateral political ties worsen.
How does China communicate? To enable communication, we must clarify, activate and improve existing but paralyzed mechanisms. As a matter of fact, many professional and official communication and exchange mechanisms between the two countries in various fields, such as epidemic control and medical care, are still in motion, despite political disturbances. We should support their normal operation.
Continued communication also calls for the modification of working styles: We expect to see more candor and less formalism and dogmatism as we seek more substantial communication. In addition, we must make an effort to expand communication channels and create favorable conditions to encourage people from different communities to capitalize on their talents and expertise and explore more online and offline communication channels for renewed communication. This practice is in line with the objective social conditions of both countries featuring diversity, and it's how we ensure that "when small rivers have water, the big ones are filled." At the same time, rather than pressing for immediate results it is better to think long-term in communication and work toward long-term results with meticulously developed plans.
We should "at least keep open a door," as Scowcroft said in his memoir when recalling the crisis he faced in China-U.S. relations. It was also the shared wish of Deng Xiaoping and George H.W. Bush under the precarious conditions of the time. Deng, in his last letter to Bush on Nov. 15, 1989, said, "It is my wish to reverse the ongoing deterioration of China-U.S. relations by the time of my retirement."
These men represent a generation of political wisdom with an open spirit, and they managed to untie the knot in perilous times with a highly pragmatic attitude. For them, communication was not a utilitarian instrument but the carrier of their faith.