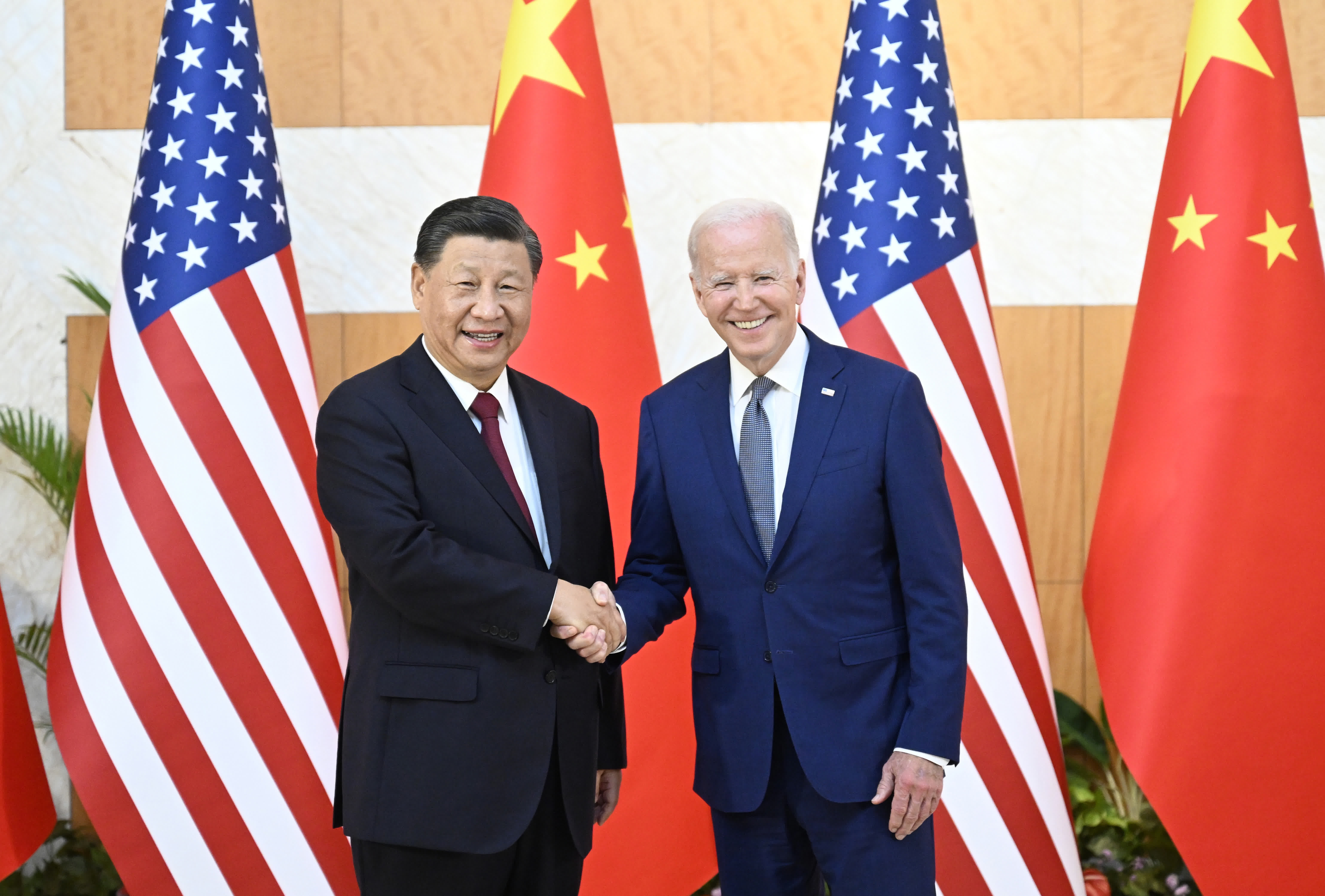 (File photo)
Chinese Foreign Minister Wang Yi, who is also a member of the Political Bureau of the Central Committee of the Communist Party of China, recently traveled to Washington to meet with U.S. President Joe Biden in the White House and speak with Secretary of State Antony Blinken and National Security Adviser Jake Sullivan. He underlined the need to figuratively "return to Bali" and then embark on the road to San Francisco — a theme that ran through his visit. His communication with U.S. officials was constructive and substantive. Both sides sent positive signals to stabilize and improve China-U.S. relations.
The United States has enhanced strategic competition with China in recent years, thrusting bilateral ties to their lowest point since the establishment of diplomatic ties. Chinese and U.S. heads of state met in Bali, Indonesia, in November last year and achieved the consensus that communication channels at all levels should be kept open and launched negotiations on principles guiding bilateral ties, and getting things back on a healthy and stable development track.
Nonetheless, the U.S. has continued hyping the so-called Chinese spy balloon incident while ignoring the facts, dealing a heavy blow to the progress both nations had made based on the Bali meeting. Subsequently, communication at all levels and in all arenas was blocked, and bilateral ties fell to the freezing point.
Biden is getting pressure from both domestic society and U.S. allies in handling ties with China. The international community fears that the competition Washington has been advocating will descend into conflict. Since June, high-level China-U.S. interactions have shown signs of improvement as the Biden administration sent Blinken, Treasury Secretary Janet Yellen, Special Presidential Envoy for Climate John Kerry and Commerce Secretary Gina Raimondo to China.
It's worth noting that official interaction between China and the U.S. is taking on a benign development trend, sprawling from executive departments to legislatures and from the federal level to local governments. In mid-October, U.S. Senate Majority Leader Chuck Schumer visited Shanghai and Beijing with a bipartisan congressional delegation. On Oct. 25, Chinese President Xi Jinping met with visiting California Governor Gavin Newsom and emphasized that sound development of China-U.S. relations requires pooling the strengths of all sides and that the foundation and best hope for positive China-U.S. relations lies with the people. The future lies with the youth, and the vitality lies with sub-national entities, Xi said.
The thaw in China-U.S. ties hasn't come easy, and so we should cherish it all the more. A series of progressive moves and signs have shown that both nations hope to see bilateral relations stabilized and change for the better as soon as possible. A Biden-Xi meeting in San Francisco may be in the offing.
Stabilization has become the common goal of the two leaders in managing the relationship. Therefore, three major communication channels — diplomacy/strategy, economy/finance and military/security — are being reactivated. Mechanisms are being formed in intergovernmental communication, which helps provide a solid foundation for exchanges between the two heads of state.
In the diplomatic and strategic realm, when Sun Weidong, the Chinese vice foreign minister, and Daniel Kritenbrink, the U.S. assistant secretary of state for East Asian and Pacific Affairs, met to discuss regional issues at the end of September, they stressed that the benign interaction between China and the U.S. in the Asia-Pacific conforms to the common interests of both sides and constitutes a common aspiration of countries in the region.
Wang Yi said during his U.S. visit that Beijing and Washington look forward to engagement and consultation on maritime affairs, arms control and foreign policy planning. In addition, they will explore the signing of a memorandum of understanding on cooperation for people with disabilities. They agreed to work together to increase the number of direct flights between the two countries.
In the economic and financial field, China-U.S. communication has also presented a new look, with clear, targeted, results-driven features. Following the consensus reached between Chinese Vice Premier He Lifeng and Yellen in Beijing in July, the China-U.S. economic working group had its first virtual meeting on Oct. 24. Hosted by vice ministerial-level officials from the financial departments of both countries, the meeting addressed issues involving the Chinese, U.S. and international macroeconomic situations and related policies, bilateral economic cooperation and collaboration to cope with global challenges.
The China-U.S. financial working group held its first meeting via video link the next day, Oct. 25. Vice ministerial-level officials from the People's Bank of China and the U.S. Treasury Department co-hosted this meeting, with attendees from a range of financial regulation agencies, including the National Administration of Financial Regulation, the China Securities Regulatory Commission, the Federal Reserve and the U.S. Securities and Exchange Commission. Both sides engaged in professional and pragmatic discussions on domestic and global financial stability, financial supervision and regulation, sustainable finance, anti-money laundering, countering the financing of terrorism, global financial governance and other concerns.
Further, China and the United States have established a new working group on commercial issues, which is composed of vice ministerial-level and director-level officials, as well as private sector representatives, to seek solutions to specific business issues. As the abuse of pan-securitization and export controls has negatively affected China-U.S. economic and trade ties, the commerce departments of both nations have launched an export control information exchange as a platform to expound on their export control systems and facilitate communication.
In the military arena, which is as sensitive as any can be, China-U.S. interaction is worthy of attention. Since August last year, when Nancy Pelosi, the U.S. House speaker at the time, visited Taiwan despite firm opposition from Beijing, multiple military communication channels have been suspended. As the U.S. military has frequently been conducting close-in spy flights over China's maritime territory, there is an increasing risk of misunderstanding or misjudgment by frontline officers of the two sides that could give rise to conflicts. The Biden administration reiterated the U.S. president's hope of restarting military exchanges.
At the end of August, Xu Qiling, vice chief of the Joint Staff Department of the Central Military Commission, engaged in talks with representatives of the U.S. military in Fiji. From the information disclosed by parties involved, it may be inferred that the individual he talked to was Admiral John Aquilino of the U.S. Navy, commander of the U.S. Indo-Pacific Command. In addition, the 10th Xiangshan Forum, hosted by the Chinese Academy of Military Sciences, kicked off in Beijing on October 29. The U.S. was represented by Cynthia Carras, country director for China in the Office of the Undersecretary of Defense. The forum provided another critical opportunity for militaries from the two sides to sit down and talk face to face.
Objectively speaking, while both Beijing and Washington expect relations to improve, a variety of differences and disputes remain and numerous problems wait to be solved. As Wang Yi said, the road to San Francisco will not be smooth and cannot be put on autopilot. In particular, Washington's words and deeds regarding the Taiwan question have brought a severe challenge to bilateral relations. Wang said that the biggest threat to peace and stability across the Taiwan Strait are forces agitating for Taiwan independence, which is also the biggest challenge facing the China-U.S. relationship. Hence, such efforts must be resolutely opposed through specific policies and actions, he said.
In a nutshell, the current international scene is rife with chaos, and China-U.S. relations are at a critical crossroads. The Israeli-Palestinian conflict shows again that the world is not at peace. It is important for China and the U.S., the world's two biggest economies and members of the UN Security Council, to respect each other, to peacefully co-exist and to cooperate for mutual benefit — which will also inure to the benefit of the people of the two countries and the whole world. If Xi and Biden can meet in San Francisco, it will greatly help put China-U.S. ties back on the rails.